Encouraging poorer youngsters to read
Updated: 2012-05-07 07:51
By Huang Ying (China Daily)
| | | | | | | | | |
| --- | --- | --- | --- | --- | --- | --- | --- | --- |
|   | | Print | | Mail | | Large Medium  Small | 分享按钮 | 0 |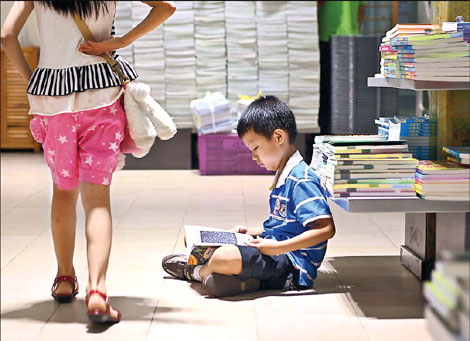 A boy reading a cartoon story at a bookstore in Shenzhen, Guangdong province. Statistics have shown that urban children, who make up 30 percent of the total number of youngsters in China, have access to as much as 80 percent of available children's books. The figure falls to 20 percent for rural children. Provided to China Daily
Charity launches drive to hand out books to village primary schools in rural Yunnan
Grade six student Zhu Xueli from Yunnan province owns just one extracurricular book, How the Steel was Tempered. She bought it at a second-hand bookstall with pocket money she had saved.
As an ordinary primary school student from a rural area, her access to books is limited because of endemic poverty and few supplies.
To improve matters for village primary schools, China Youth Development Foundation launched a new program under Project Hope - Happy Reading - on April 5. It's a campaign that aims to create a good reading environment for elementary students living in impoverished rural areas with public support.
Statistics have shown that urban children, who make up 30 percent of the total number of youngsters in China, have access to as much as 80 percent of available children's books. The figure falls to 20 percent for rural children, who account for 70 percent of the child population, according to China Youth Development Foundation.
The program involves the donation of books to primary schools and training teachers there to become qualified in reading guidance and exploring the children's interest in reading.
"All the donated books are selected by experts in children's reading and all of them are classified into three categories to feed children of different grades," said Tu Meng, secretary-general of the foundation.
Before officially launching the program, a series of surveys was conducted at Wufeng county in Central China's Hubei province by the Chinese Academy of Science and Technology for Development at China Youth Development Foundation's request to ensure the project works in the schools. In addition, the research team selected an urban primary school in Hubei's capital Wuhan for comparison.
The severe shortage of books poses the biggest realistic obstacle to extending children's extracurricular reading activities and lack of good guidance in reading also tends to be a hurdle, the survey report concluded.
In Wufeng County Primary School, only 8.7 percent of students have read more than 20 books in the past year, compared with 46.6 percent in urban schools. Forty-three percent of parents questioned at the rural schools attributed children's difficulties in reading extracurricular books to economic poverty, according to the survey results.
The greatest value of this program is that it is likely to change a child's life positively forever because elementary schooling is a period during which a person's values as well as other habits are gradually formed, culture and education experts said.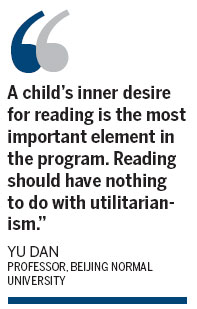 "Once this period is missed in terms of reading, no matter how many books he or she reads later in life, they just supplement their store of knowledge instead of the establishment of values," said Yu Dan, a professor at Beijing Normal University, who is also a popular scholar of culture with her televised lecture series on The Analects of Confucius.
How to read books is another focus of the program, because it will affect children's response to reading.
Wang Kai, host of CCTV's financial channel, who also hosted the launch ceremony of the charity program, said that when he was young his teacher used to ask him to write down what he had learned and how he felt after reading a certain book. When this occurred, reading became more of a burden to him than a pleasure.
Wang's experience is still shared by many children today. A lot of children fear reading not because of reading itself but because of subsequent requirements. For example, there is often a demand to extract beautiful sentences and write them down, said Li Chengfang, vice-principal of Wufeng Experimental Primary School, a pilot school for the program.
During the pilot period, the usual method for teaching reading was changed. Staff abandoned the traditional requirements and gave students the freedom to read and to exchange ideas about the books with their schoolmates.
"The new method has saved children a lot of time and expanded their reading quantity. During this they developed a heartfelt love of reading," Li said.
"A child's inner desire for reading is the most important element in the program. Reading should have nothing to do with utilitarianism," said Yu Dan.
huangying@chinadaily.com.cn
(China Daily 05/07/2012 page22)