A balance of fact and fiction
Updated: 2012-05-02 08:09
(China Daily)
| | | | | | | | | |
| --- | --- | --- | --- | --- | --- | --- | --- | --- |
|   | | Print | | Mail | | Large Medium  Small | 分享按钮 | 0 |
Q+A | Ha Jin
China Daily reporter Mei Jia interviewed Ha Jin on Nanjing Requiem, his latest book, which has been released in both Chinese and English.
It seems you experienced "painful" days when writing the novel. Why?
I made a mistake in adopting a limited third-person point of view in the beginning, but after more than 30 revisions I overhauled the whole thing and restarted the novel in the first person.
How do you manage to balance historical facts and fictional creation?
Some American readers like excitement and flourishes in language, but the novel is about a major tragic event and I could not - dared not - use colorful language. I meant to make it plain and straightforward. Also, the novel was narrated by a Chinese woman, to whom English was a foreign language - there is no justification for a lyrical language like that used in Waiting.
What was your goal in writing the story?
I meant to explore the mental and psychological damage done to the victims, because the actual atrocities are recorded abundantly in history books.
You said the novel is actually a story about the United States, because it features the American, Minnie Vautrin. Why?
What I said in an interview was that it was part of the American experience as well as an international experience, because I see the Nanjing Massacre that way. By telling the story of one of them, I wanted more people to know about this tragedy.
The novel is being translated into other European languages. We should keep in mind that there are still Japanese who deny the massacre happened. I am not ashamed to say that I want my novel to serve history in this regard. I am not a political writer, but the book is a special case.
And what you think you can bring to Chinese-language literature once you decide to write in Chinese?
What I said was that I shared Nabokov's sense of being crippled in an adopted tongue. On the other hand, I have tried to avoid using standard English, which can be flat and boring.
I am afraid it might be too late for me to write any significant work in Chinese. Life is short. Once I decided to write in another tongue, I would travel alone to the destination I envisioned for myself.
What have you been up to lately?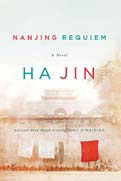 I have been working on a novel, set in New York a few years ago.
As a teacher of creative writing, what is your suggestion for people who do not speak English as a first language and are thinking about writing literature in English?
Unless you are convinced that English is or will become your first language, you should write only in the language you feel at home with. Eventually it is the amount of life you put into your work that will make the difference. Writing is not a good profession, because you have to be willing to consume your life on the page.
Contact the writer at meijia@chinadaily.com.cn.
(China Daily 05/02/2012 page19)