A Chinese love affair
Updated: 2012-04-27 07:39
By Kelly Chung Dawson in New York (China Daily)
| | | | | | | | | |
| --- | --- | --- | --- | --- | --- | --- | --- | --- |
|   | | Print | | Mail | | Large Medium  Small | 分享按钮 | 0 |
Stephon Marbury has connected with Chinese fans on a level that no other American basketball player has managed to do while living and playing in China.
He regularly posts updates to more than 300,000 Chinese fans on weibo, the Chinese equivalent of Twitter. Ahead of his flight back to China on April 25, Marbury posted: "Good morning China! It feels like I've just left. I'm excited about my trip back to Beijing. I'm sure the Beijing people are still feeling the joy of winning the championship like myself."
Late last year, Marbury paid a hospital visit to Yuanyuan, a 5-year-old cancer patient and ardent basketball fan. He went at the behest of her father, who had contacted him via weibo. Marbury also writes a column for China Daily, in which he has covered a variety of subjects including family, cultural differences and, of course, basketball. Chinese fans have rewarded him with intense loyalty and an enthusiasm that has surprised him.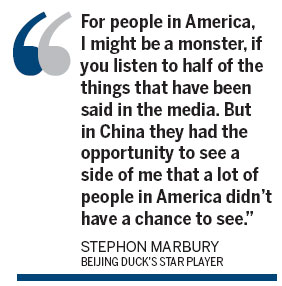 "The connection just happened," he said. "I'm a people person, and I love being around people that love life. Life is the most important thing, basketball doesn't surpass that. I took the time and I had the patience to really communicate with the Chinese people. It took a bit of time for me because I didn't speak the language, but using weibo and having the opportunity to write the column for China Daily, it just happened."
He described his reception in China as incredibly welcoming. "They've given me the opportunity to teach, and show who I am as a basketball player, and show them that I'm truly committed. When I first came to China, I said, 'Just look at what I do, not what reporters have said about me'. For people in America, I might be a monster, if you listen to half of the things that have been said in the media. But in China they had the opportunity to see a side of me that a lot of people in America didn't have a chance to see."
Marbury also had a lot to learn when he arrived in China, he said.
"In general, people in the US just don't know about China," he said.
"If you've never been some place, you're not going to know. There are more people in China who understand America than there are people in America who understand China. Before I went, all I knew was Yao Ming, the Great Wall and that there were a lot of people there. But being there, you can feel the peace and the love of the culture. The people are great, although I think they're different from other people because of the purity of the race in China. It's not like New York or Los Angeles where you have this mixture of people. It's different."
Although Beijing has become home, New York will always be New York, he said. "It'll never change, and I love it. I'm not confused about what people in the sports world say about what New York means to me, just because it didn't work out for me with basketball in New York. It'll always be my home - but I'm also very excited about heading back to Beijing."
(China Daily 04/27/2012 page22)