China a cornerstone in sustainable growth for Mercedes-Benz
Updated: 2012-04-23 07:58
By Zhuan Ti (China Daily)
| | | | | | | | | |
| --- | --- | --- | --- | --- | --- | --- | --- | --- |
|   | | Print | | Mail | | Large Medium  Small | 分享按钮 | 0 |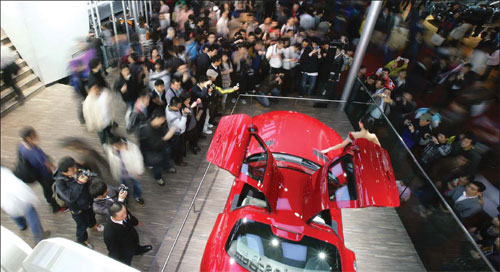 The Mercedes-Benz exhibition booth is one of the most popular at the auto show every year. Photos provided to China Daily
Growth in China's overall auto industry's may not be as strong in 2012 as in recent years, yet car sales are still predicted to be adequately supported by sustained growth in the economy.
According to the China Association of Automobile Manufactures, auto sales in general are still likely to increase this year, but it is the premium car segment that appears to be heading toward yet another banner year.
Faced with a dynamic economic landscape and challenges of the future, Mercedes-Benz acknowledges the fierce competition, but maintains a healthy outlook on its own momentum.
With an "unwavering commitment to the China market, the premium automaker is dedicated to keeping its customers captivated with its products and services", said the auto icon's top China executive.
"With the luxury passenger car segment predicted to enjoy a faster increase than the overall auto market in 2012, Mercedes-Benz is committed to continually enhancing and diversifying our product portfolio, further expanding our dealership network and upgrading services to support a sustainable growth in the China market, as we progresses ahead in 2012," said Klaus Maier, president and CEO of Mercedes-Benz (China) Ltd.
The three-pointed star has been ensuring that its core values of "fascination, responsibility and perfection" are rooted deep in the minds of Chinese consumers, he noted.
"The efforts of Mercedes-Benz have received great support from our Chinese customers, who have given us another promising quarter this year. During the first three months of 2012, we delivered nearly 54,720 units on the Chinese mainland, growing 24 percent year-on-year," adds Klaus Maier.
"With the rising middle class in the country, SUVs are among the most popular choices for Chinese consumers. In fact, our SUV family accounted for one-third of Mercedes-Benz sales in China last year," added Bjoern Hauber, executive vice-president of sales & marketing at Mercedes-Benz (China) Ltd.
"2012 marks the Year of SUV for Mercedes-Benz, with our new M-Class receiving encouraging response since its launch in March. The locally produced GLK officially begins its sales at Auto China in April. Among our broad SUV portfolio, we will also introduce several newly updated models within this year to satisfy the increasingly diversified needs of our customers."
China is currently Mercedes-Benz's third-largest market worldwide and is expected to become its biggest market by 2015.
With clear potential for substantial future growth, China has become a crucial factor for Mercedes-Benz's sustainability in the market and is the cornerstone of the luxury automaker's 2020 growth strategy to reclaim its No 1 position in the global market.
Staying close to customers
The premium auto market is diversifying in customer tastes and preferences as well as expanding to all areas of China. With younger professionals enjoying increased financial status and regional areas of China sharing in the economic growth, Mercedes-Benz stresses a need to stay close to customers on all levels.
Mercedes-Benz currently has 214 dealership outlets across 96 cities in China, and plans to further expand its network by adding around 50 outlets this year, with a particular focus on regional markets, penetrating second, third and even fourth-tier cities.
Following last year's establishment of the nearly 30,000-square-meter Mercedes-Benz Brand Center in Beijing - the automaker's 10th globally and also currently its largest in Asia - a second and even bigger brand center is due to be established in Shanghai in 2013.
Along with its rapid network expansion, Mercedes-Benz at the same time ensures that the high service standards at its dealerships are not compromised.
With a localized version of its global after-sales brand promise "My Service" launched across China last year, Mercedes-Benz is leveraging its heritage and technical expertise to provide an appreciative service approach to customers.
Following Beijing, Shanghai, Guangzhou and Yangzhou, Mercedes-Benz's fifth parts distribution center is due to be established in Chengdu this year to ensure dealers and customers are better served across China.
Growing with the community
With corporate social responsibility one of Mercedes-Benz's strategic pillars, a dedication to growing sustainably with the community forms an important part of the automaker's core values.
The Mercedes-Benz Star Fund in China has made a positive impact on society through its support for environmental protection, education, music, art, sports, social care and disaster relief, as well as the culture of driving.
With an initial fund of 30 million yuan, the Star Fund has the automaker's largest startup amount for any of its charities worldwide and is also the first fund launched in collaboration with its nationwide dealers. It is at the same time among the largest startup funding in the Chinese auto industry.
The program has donated 29 million yuan toward the preservation of UNESCO World Heritage Sites in China. In addition, 125 music classrooms have been built in Hope Schools across 22 Chinese provinces under its "Happy Music Classroom" program, a cause that has benefitted 40,000 students to date.
This year Mercedes-Benz introduced the MobileKids program to China, which its German headquarters has been running successfully for 10 years. It is the first and biggest road safety initiative for children around the globe.
zhuanti@chinadily.com.cn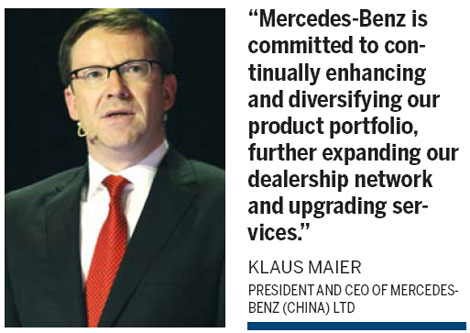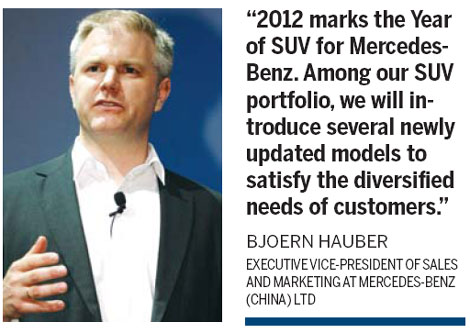 (China Daily 04/23/2012 page23)