Investor says mobile Internet best sector to make healthy returns
Investors searching for the best way to profit from China's Internet industry should bear in mind two key words - "early" and "mobile", said Kai-Fu Lee, chairman and CEO of tech incubator Innovation Works, on Tuesday.
"China's growth shall continue and China will become a tech giant," said Lee, adding that early-stage mobile Internet investment can produce a good internal rate of return.
By the end of 2011, China had 513 million netizens, including 356 million mobile Internet users, according to a report released in January by the China Internet Network Information Center.
About 35 percent of urban Chinese use smartphones, the world's third-highest level, following Singapore's 62 percent and Australia's 37 percent, according to a survey in November by Google Inc and the research company Ipsos.
Lee said mobile Internet startup costs in China are very low.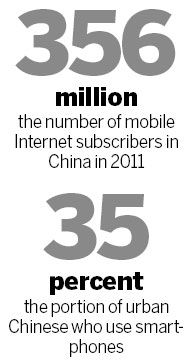 Usually, an angel investor - a wealthy individual who helps to fund a business startup - or an institutional angel investor only needs $300,000 to invest in an early-stage company in China, which would garner a 20 percent stake.
In the United States, a similar investment would cost around $2 million.
According to Lee, companies attract angel investors at the seed stage - the start of their development. They are followed by venture capital and private equity firms. In the end, the company will go public.
"If the valuation of a mobile Internet company at the seed stage is $2 million, it can be expected to be $30 million after 18 months when venture capital enters," said Lee.
Innovation Works, established by Lee in 2009, has so far incubated 47 projects. Of these, 28 are in progress, 13 have completed their first round of fundraising, also known as A-round investment, two have been traded in mergers and acquisitions, and four were failures.
Innovation Works is an investment company focusing on making early-stage investments in mobile Internet, consumer Internet, e-commerce, and cloud-computing ventures.
One of these mobile Internet companies, Yingyonghui (AppChina), is the largest third-party Android marketplace in China, providing a multi-channel platform for the consumption of Android applications.
Yingyonghui received A-round investment of 40 million yuan ($6.35 million) in February from Innovation Works and Beijing-based private equity firm Fang Fund Partners.
In areas that require advanced technology, such as cloud computing, the US will continue to be the leader for the foreseeable future. But in other areas, such as mobile Internet services, social applications and games, promising companies will emerge in China in the years to come, according to Lee.
The development of the mobile Internet will explode when smartphones can be purchased for less than 1,000 yuan, said Lee.
The other factors driving mobile Internet development are more direct and effective distribution channels, lower costs and more convenient payment methods, Lee said earlier at the Iresearch Annual Forum in Beijing.
He said that the mobile Internet will develop in three phases: first in technical equipment, then in entertainment and socialization, and finally in advanced applications - the same development pattern as the Internet for personal computers.
Famous Chinese angel investor Xue Manzi said that he had great confidence in the mobile Internet sector because hundreds of millions of people spend several hours a day using their phones to surf Sina Weibo, China's top micro-blogging website, and read news.
According to Xue, China's young entrepreneurs have a good business environment because it is easy for them to contact investors. Even if they have failed in previous ventures, opportunities still remain for them to raise funds.
Xue added that with the advent of the age of the mobile Internet and social media, he expected to see new companies greater than Chinese e-commerce giant Alibaba Group and Baidu Inc, the operator of China's most-popular website.
But he warned those venturing into this sector not to expect an easy ride, and stressed that patience should be their watchword.
caixiao@chinadaily.com.cn
(China Daily 03/28/2012 page16)
Today's Top News
Editor's picks
Most Viewed