That's no wolf, that's my Lady
Updated: 2012-03-27 08:20
By Wang Hongyi in Shanghai (China Daily)
| | | | | | | | | |
| --- | --- | --- | --- | --- | --- | --- | --- | --- |
|   | | Print | | Mail | | Large Medium  Small | 分享按钮 | 0 |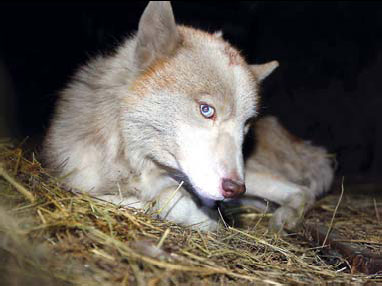 Wolf or husky? The 1-meter-long captured animal, suspected of attacking seven people, is caged at a zoo in Tengzhou, Shandong province, awaiting tests. Wang Min / for China Daily
A suspected killer wolf caught by police is to be given a DNA test after a man said it was his pet dog, a husky.
The white-coated animal was caught on March 23 at Nanshahe town in Tengzhou, Shandong province, and identified by a local zoo as a 5-year-old she-wolf.
Police believe it was responsible for attacks on seven people, two of whom died.
But a local man surnamed Wang claimed it was his pet dog Lady that he had reared for two years, and who was gentle in nature.
"We have invited experts from some universities in Shandong, and they will professionally determine whether it's a wolf or a dog," Zhang Changpu, a wildlife protection officer at the Zaozhuang Forestry Bureau, said on Monday.
Xing Hao, a local zookeeper, told China Central Television: "Its cry is like that of a wolf and the corners of its eyes are tilted, not straight like that of a dog. Its tail is also straight, not sticking up like a dog, and its ears are upright. All these indicators are in line with a wolf's characteristics."
But Wang disagreed. "It's not a wolf but my dog. I recognized her at a glance from a news photo," Wang told China Daily.
"Her name is Lady and she is very gentle. I have raised her for nearly two years. At around 11 am last Friday, she ran away from home and never came back."
Wang said he now works in another city in Shandong and was only told of events by friends on Friday night.
"I recognize my Lady," he said. "I hope I can get my pet back as soon as possible."
Wang has contacted local police and the zoo, but he said had no evidence to back his claim.
"During her capture, she was hurt badly both physically and mentally. She's very scared of people," he claimed, relying on reports from family and friends who went to see the dog on Saturday.
"It's quite understandable for local departments to do this, as they want to protect local residents," Wang said.
"But Tengzhou is a small place where huskies are hardly ever seen. It's very possible that people mistook her for a wolf."
A vet from Shensheng Pet Clinic, who didn't give her name, said there was "no significant difference" between some breeds of husky and wolf, as they share a common ancestor.
"Most people don't know this and it's very likely to have been a wrong identification," she said.
Police shot a wolf dead on March 19 following the seven reported attacks, two of which were fatal, on people in Tengzhou in six days. But police have not confirmed whether the dead wolf is the one responsible.
Many wolves come down from hills to hunt for food, but a resident said there were also people who raised wolves in the area and one of these animals could have escaped.
Special teams of local police are continuing to patrol around the hills and towns.
wanghongyi@chinadaily.com.cn
(China Daily 03/27/2012 page7)