Middle income group grows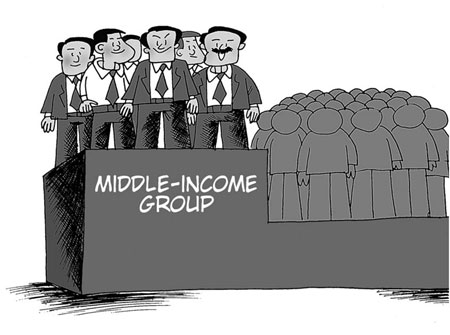 The number of middle-income Chinese people will account for 40 percent of the total population as the nation's urbanization drive will turn another 150 million farmers into city residents by the year 2020, according to a recent economic report jointly conducted by the Social Sciences Academic Press (China) and Shanghai Academy of Social Sciences. Bi Chuanguo / for China Daily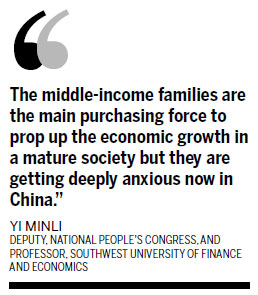 Call for money to be redistributed to spur domestic consumption and consequent growth
Expanding China's middle-income families is supposed to be the core to boosting domestic consumption and speeding up the transformation of the growth model of the national economy which mainly depends on exports and the State's investment, observers say.
The Chinese government has set a goal this year to create more medium earners to effectively reverse the trend of a widening income gap, said Premier Wen Jiabao in the annual government work report during the National People's Congress earlier this month.
"We will improve the salary system, put in place a mechanism for regular salary increases and steadily raise the minimum wage," Wen said.
But that is of little immediate comfort to Daniel Zhang, a 28-year-old application developer working at UFIDA Software Co Ltd, an administrative software company in Beijing. He has a monthly salary of 6,000 yuan ($947) after tax and social security payment.
"After necessary living costs that include rent, food and transportation, I only have about 2,000 yuan left to save every month," said Zhang. "Compared with my income, the high costs for medical treatment and housing make me feel insecure about living in the capital city."
Zhang is in the middle-income group of earners. To gain entrance to this growing band, people have to have an annual per capita disposable income of about $30,000 yuan to $70,000 in Beijing. The whole-year average urban disposable income per capita in Beijing was 32,903 yuan last year, according to the Beijing Statistics Bureau.
A middle-income family is generally considered to have an annual income that ranges from 60,000 yuan to 500,000 yuan in the country, according to the National Bureau of Statistics' estimate last year.
"The middle-income families are the main purchasing force to prop up the economic growth in a mature society but they are getting deeply anxious now in China," said Yi Minli, a deputy of the National People's Congress and also a professor with the Southwest University of Finance and Economics. He was speaking during this month's sessions of the National People's Congress and the Chinese People's Political Consultative Conference.
According to the National Bureau of Statistics, urban residents' per capita disposable income across the country was 21,810 yuan in 2011, an increase of 8.4 percent year-on-year after taking inflation into account. Rural residents' net per capita income was 6,977 yuan, 11.4 percent higher than a year earlier. The ratio between the two groups was 3.13:1 last year.
Although incomes rose faster for both low and high income groups during the past 12 months compared with 2010, the increase for middle-income families was relatively slower, according to a statement from the statistics bureau.
Middle-income earners are estimated to make up about 23 percent of China's population at present, compared with about 70 percent in the United States and European countries, said Liang Da, an economist with the bureau.
"The Chinese middle-income group has vulnerable real purchasing power due to high inflation pressure and having poor social security. It has not yet been the main purchasing power for boosting domestic consumption," Liang said.
"It is necessary to immediately launch an income distribution reform plan. Otherwise, the middle-income families would not be the backbone of the social structure by the year 2030, which may have negative effects on all the efforts the central government has made to ensure sustainable economic growth," said Chi Fulin, executive director of the China Institute for Reform and Development, based in Hainan.
If the number of middle-income families grows faster and its consumption potential can be released, it will, no doubt, prop up an annual economic growth rate of 8 percent on average over the next 10 to 20 years, according to Liang.
He suggested raising residents' disposable income through cutting enterprise taxes, especially for small-scale and labor-intensive businesses. "This is the most important method to enlarge the middle-income group," he said.
Narrowing the income gap between urban and rural residents as well as improving the social security system and medical insurance can reduce Chinese families' living costs and stimulate their spending on high-quality goods and services, Liang added.
A research report from UBS AG showed that by the end of 2015, China's domestic consumption is expected to account for 15.6 percent of the world's total spending, jumping from 5.4 percent in 2011, making it the world's second largest consumer market following the US.
chenjia1@chinadaily.com.cn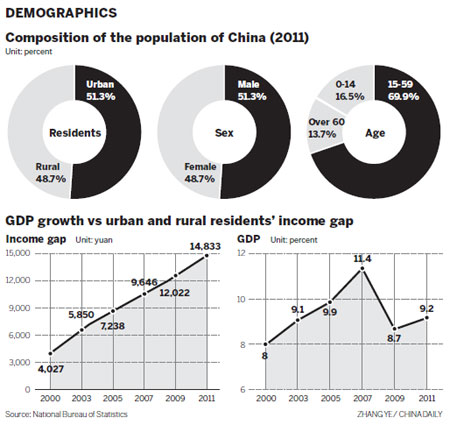 (China Daily 03/27/2012 page14)
Today's Top News
Editor's picks
Most Viewed