Nation weighs shipping system for oil imports
Updated: 2012-03-22 07:53
By Du Juan (China Daily)
| | | | | | | | | |
| --- | --- | --- | --- | --- | --- | --- | --- | --- |
|   | | Print | | Mail | | Large Medium  Small | 分享按钮 | 0 |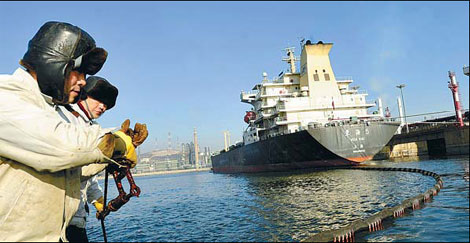 Workers prepare to prevent an oil spill as a tanker docks at Dalian port in Liaoning province. China might develop its own ocean-going shipping system for crude imports. Ma Yidong / for China Daily
China might create its own integrated shipping system for imported oil via cooperative agreements among State-owned shipping lines, refineries and insurance bodies, with the goal of ensuring energy security, said a senior government official.
Up to 90 percent of China's crude oil imports are transported by sea, a situation that leaves it exposed to changing international conditions, said He Yongjian, deputy director of the department of development planning of the National Energy Administration.
He made the comments during a recent forum in Beijing called the Journey of Harmonious Energy, which was part of a national exhibition.
He said ocean shipping is a weak point in China's energy security. "Only one-third of the imported oil is transported by our own ships," he said.
Moreover, when it comes to insurance, foreign companies are dominant, with "very limited" participation by domestic insurers.
He said the government will encourage domestic insurers to expand coverage for seaborne oil trade and explore possible financial instruments for such insurance.
China's oil imports have soared in recent years, but domestic shippers have largely ignored this business. The main reasons for their low participation include the long construction periods for crude carriers and the high risks of long-distance ocean shipping, said Huang Wensheng, spokesman for Sinopec Group, the country's second-largest oil producer.
He added that attacks by Somali pirates involved "huge compensation of about 150 million yuan" ($23.8 million) per ship, which was enough to bankrupt a small or mid-sized insurer.
These factors "can explain why most domestic insurance and shipping companies hesitate to enter the business", Huang said.
China imported more than 260 million tons of crude oil in 2011, taking its external dependency rate to 56.5 percent - in excess of the international "warning line" of 50 percent.
Huang estimated that the figure will surpass 65 percent by the end of 2015. The high external dependency rate has led to an increasingly tight relationship between Chinese and international energy markets.
However, Huang said, domestic oil shippers don't have the capacity to handle these high and increasing import volumes.
"We are working on solving this problem," he said.
Publicly available figures show that the total global ocean shipping capacity is about 700 million tons and tankers account for one-third of it.
However, Chinese tankers account for only about 2.6 percent of global capacity. Even if all of them carried imported oil into China, that wouldn't be enough.
China's oil reserves, he said, are only equivalent to about 40 days of consumption, compared with strategic reserves equivalent to 160 to 200 days for the United States and European countries.
In 2011, the country consumed 3.5 billion tons of standard coal. He said the growth of energy consumption wouldn't stop until 2040, when it would level out.
"But by then, the country's energy consumption will be double the current level, at about 7 billion tons of standard coal," he said.
He also said that China will establish a crude oil futures trading market and phase out the oil import quota in the coming years.
dujuan@chinadaily.com.cn
(China Daily 03/22/2012 page15)