Hotel group develops Chinese brand
Updated: 2012-03-19 08:07
By Shi Yingying in Shanghai (China Daily)
| | | | | | | | | |
| --- | --- | --- | --- | --- | --- | --- | --- | --- |
|   | | Print | | Mail | | Large Medium  Small | 分享按钮 | 0 |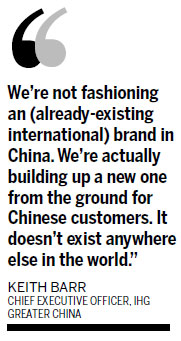 Tea house instead of bar, signature local food rather than fine dining, foot message replacing spa: InterContinental Hotels Group (IHG) is doing everything it can to attract Chinese customers, including building up a new brand for the massive market.
Just 20 days after launching EVEN Hotels, the new hotel brand focusing on health in the United States, the United Kingdom's IHG PLC announced in Beijing the creation of Hualuxe Hotels & Resorts - a brand especially designed for Chinese people.
With its first property scheduled to open in late 2013, the upscale hotel brand says it will cover more than 100 Chinese cities within 15 to 20 years. The majority of Hualuxe properties will be located in second- and third-tier cities as well as Beijing and Shanghai.
"We're not fashioning an (already-existing international) brand in China. We're actually building up a new one from the ground for Chinese customers. It doesn't exist anywhere else in the world," said Keith Barr, chief executive officer of IHG Greater China, adding that Hualuxe is something like Yum! Brands' strategy of opening up East Dawning in China. Yum! Brands Inc owns KFC Corp and East Dawning is a strategy to fuse its business model with Chinese cuisine.
The company has confirmed 12 contracts in spots including Zhangjiajie and Changsha in Hunan province and Lijiang in Yunnan for Hualuxe properties, according to Zhao Huanyan, an analyst with Hotelsolution Consulting based in Shenzhen. "It's not strange at all for IHG to prefer second- and third-tier city over first tier cities," said Zhao. "About 65 percent of IHG's hotel rooms in China are scattered over second- and third-tier cities, if we look at the bigger picture here."
"IHG looked at 230 cities in China and narrowed them down to choose locations for Hualuxe. Beijing for example already has six Crowne Plazas and it would be difficult for us to have another six Hualuxe there when we have other cities that are becoming more urbanized," said Barr. Crowne Plaza is an upscale brand belonging to IHG.
According to a report based on figures from the National Bureau of Statistics in China and the United National World Travel Organization, China's hotel market is expected to overtake the United States to be the world's largest in 2025. Within 13 years China will have 6.1 million hotel rooms, the same as the US. By 2039, the number of China's hotel rooms will be 9.1 million, four times the size it is today.
Only four years ago China was the third largest market for IHG. The number of properties under the management of IHG's various brands in China has now exceeded those in Britain to become its second largest market. IHG owns former US brands InterContinental Hotels Group PLC and Holiday Inn Express Hotels and Resorts.
"However, if we compare the market in China with that in the US, we'd find that US hotels ballooned from 1.4 million rooms in 1960 to about 5 million today, of which 70 percent are branded, while China had 2 million hotel rooms in 2011 with only 20 percent of these branded," said Barr.
Do Americans prefer branded hotels more than the Chinese? Barr doesn't think so and insists that there's a gap in the Chinese market because no international hotel brand has won full recognition. "In my years of living and working in China, I have never once gone to a bar with a colleague or a business partner to talk about work. That does not work here because that's not what you do. I, however, have had tea for three hours in the hotel lobby. That is the reason we're replacing the bar concept in Western hotels with tea houses in Hualuxe."
Barr believes elements such as tea houses and foot massages would help Hualuxe become better accepted in China.
In addition to attacking the domestic market, IHG also plans to bring Hualuxe to Asia and possibly the rest of the world. "We've already talked to international companies in major markets such as the Maldives and we were impressed with their interest. Who are the biggest inbound tourists to the Maldives? The Chinese. We're looking at spots with lots of travelers from China such as Bangkok and Tokyo," said Barr.
Zhao said it was sad to see hotels with Chinese characteristics being built and managed by foreign hotel corporations rather than Chinese ones. "It's not only Hualuxe. Amanresorts, which has properties in the Summer Palace, Beijing's most exclusive location, is managed by a Singaporean."
Artemis Wang, a former member of French hotel group Accor SA's branding team in China, spoke of her worry over "brand confusion" for Chinese customers - with overseas hotel giants often having more than five sub-brands under their umbrella and a tendency to upgrade their properties in China.
shiyingying@chinadaily.com.cn
(China Daily 03/19/2012 page14)