Grapes of wrath: Lafite Rothschild battles fakes
Updated: 2012-03-14 08:09
By Wang Xin (China Daily)
| | | | | | | | | |
| --- | --- | --- | --- | --- | --- | --- | --- | --- |
|   | | Print | | Mail | | Large Medium  Small | 分享按钮 | 0 |
Another battle is fermenting between historic winemaker Chateau Lafite Rothschild and counterfeit brands as it prepares to start legal proceedings in a number of regions across the country, according to Chinese-language media reports.
"As the investigation is still underway, I cannot reveal what companies are involved," said Zhang Yazhou, an attorney for the French company, according to Legal Evening News.
"But I can tell you that counterfeiters in Beijing are among them," Zhang added.
It will not be the company's first move against sellers of fake Lafite-branded wines.
In early 2011, it prevailed in a lawsuit filed in Changsha, Hunan province, against Shenzhen trade firm Jinhongde Wine, which used the trademark "Lafite Family".
The court ordered Jinhongde to stop using the name and pay 300,000 yuan ($47,434) in compensation, but not before sales of so-called Lafite Family wine expanded from Guangdong to Hunan and Sichuan provinces, bringing enormous profits to the Shenzhen firm.
Just a month before the Changsha court verdict, Lafite Rothschild sued another Shenzhen wine trading firm, Chuang Industry, in Chengdu, Sichuan province.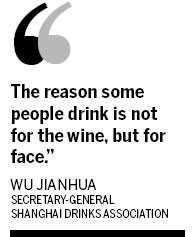 Chuang Industry even created an elaborate story in its promotional literature that said a French nobleman named Lafite founded the Lafite Empire, where the wine established its reputation.
But the name Lafite originates from the chateau where it is made. The name in French literally means "small hill".
It is not a person's name at all, Zhang said.
Unlike some illegal makers and traders that bottle local wine and attach a European label, Chuang Industry did import wine from France. It presented a statement from a French winemaker called FDL when it attempted to prove the wine was legal.
The true Lafite Rothschild confirmed that there is no such brand as Lafite Empire in France. It was unable to find the alleged vintner FDL, probably because it is providing generic wine for overseas markets, Zhang said.
Because FDL's alleged document was not notarized, it was excluded from evidence in court.
The Chengdu court ruled that the name Lafite is a major component of the winemaker's trademark and the name Lafite Empire misled consumers.
In November, the court ordered Chuang Industry to pay 500,000 yuan in compensation.
The two Shenzhen firms then lodged appeals, with Jinhongde's request rejected, and the court still considering Chuang Industry's case.
But the successful lawsuits have not deterred other counterfeiters.
At a beverage fair in Chengdu last year, scores of wines with the name Lafite were promoted around the venue and in nearby hotels.
A legal team for the French consortium is now busy preparing to sue other fake Lafite brands, said Li Yongbo, another of their attorneys.
Lafite Rothschild's effort to defend its rights is also receiving government support.
Enforcement officials in more than 50 cities have informed attorneys about the sale of Lafite counterfeits over the past 12 months, with some of the suspects arrested by local police, according to Chinese media.
The winemaker's research shows counterfeit Lafite is most widely sold in less-sophisticated cities, attorney Li said.
"Shenzhen tops all Chinese cities, and there is also a lot in Chengdu, Shenyang and Xi'an," he said.
"The reason some people drink is not for the wine, but for face," Wu Jianhua, secretary-general of Shanghai Drinks Association, told the Shanghai Evening Post.
Miche Negrier, director of Lafite Rothschild's export department, said it is important to educate Chinese consumers about brands.
Many Chinese people drink a premier wine due to its cost and to follow a fad, Negrier said. "But we hope that consumers like Lafite Rothschild because of the wine quality itself."
Consumer ignorance provides fertile ground for fake brands, said Chen Taoqi of Mass Gravity Consultant Co, who has been in the wine business for years.
Since 2008, Rothschild Group has been developing a 25-hectare vineyard in Penglai, Shandong province.
The Lafite China winery will use the vast expertise it gained in France, Chile and Argentina, according to the company.
"We will prove that a large wine country can also produce quality wine and doesn't have to resort to counterfeits," the company told Legal Evening News.
China surpassed Japan to become the largest Asian market for true Lafite wines in 2010 and ranks fourth globally after the United States, Germany and France.
wangxin@chinadaily.com.cn
(China Daily 03/14/2012 page17)