Building of nuclear plants to resume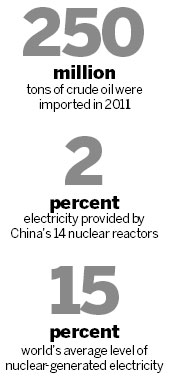 China will soon resume the approval and construction of nuclear power plants, senior officials said during the plenary session of the Chinese People's Political Consultative Conference (CPPCC) National Committee on Wednesday.
Wang Yuqing, former director of the National Nuclear Safety Administration, said about 10 approved new nuclear plants, whose construction was put on hold last year after Japan's Fukushima nuclear accident, will soon be given permission to start construction.
"The halt will soon be lifted, as a comprehensive plan on nuclear safety control has been submitted to the State Council," said Wang, who is also the deputy director of the Committee of Population, Resources and Environment of the CPPCC National Committee.

Today's Top News
Editor's picks
Most Viewed