Steel makers eye overseas investments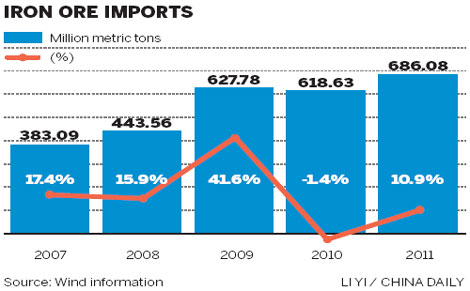 The high price of imported iron ore and China's sluggish steel market will prompt domestic companies to invest heavily in overseas mining operations, according to a senior official with the China Iron and Steel Association.
"It is estimated that Chinese-invested overseas sources will bring in 100 million to 200 million mertic tons of iron ore annually in the coming three to five years," said Zhu Jimin, the chairman of the association, on the sidelines of the annual session of the National People's Congress.
Zhu said an over-reliance on high-priced imports of the mineral is squeezing profits at Chinese steel mills, piling further pressure on an industry that's already experiencing a decline in domestic demand.
In 2011, China imported 686 million tons of iron ore,equal to 60 percent of the domestic steel industry's consumption during the year. The majority of the imports came from Australia, Brazil and India.
China is the world's largest steel maker and the biggest consumer of iron ore, but Chinese companies currently own less than 10 percent of the imported ore, said Li Xinchuang, deputy secretary-general of the China Iron and Steel Association, in July.
The heavy dependence on overseas supplies has made life tough for China's steel makers, who saw the industry's average profit margin reduced to less than 3 percent in 2011.
Meanwhile, India, the world's third-largest supplier of iron ore, raised its export duty on the mineral at the end of 2011, a move that was copied by Vietnam in February.
Australia, the largest overseas provider of iron ore to China, having 297 million tons in 2011, will also introduce its Minerals Resources Rent Tax on July 1. That's likely to drive the price of iron ore imports higher in the coming years as producers pass on the extra costs to purchasers.
The high prices set by overseas suppliers will push more Chinese companies to invest overseas in the hope of relieving the pressures of shrinking profit margins, Zhu said.
Zhu, who is also the chairman of the board at Shougang Corp, one of the largest steel companies in China, having 246 billion yuan ($38 billion) in revenue in 2011, said the company will invest heavily in overseas mining operations to improve its self-sufficiency in iron ore.
He said 25 percent of the iron ore used by the company in 2011 was produced through its overseas investment. That figure is set to increase to 60 percent by 2015.
"We are in discussions with a number of mining companies. We are very interested in investing in Australia and Africa," said Zhu. With more Chinese companies investing abroad, Zhu said, the price of iron ore is likely to decline.
In the first three quarters of 2011, the price of imported iron ore was about $164 a ton. However, the fourth quarter saw the price begin to decline, reaching roughly $135 a ton in February.
mengjing@chinadaily.com.cn
(China Daily 03/07/2012 page15)
Today's Top News
Editor's picks
Most Viewed