Private investment may bring more competition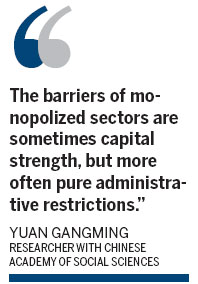 BEIJING - Monopolized sectors may see more competition as China encourages private investment, amid expectations by experts that breakthrough policies are to be released soon.
Earlier this month, Premier Wen Jiabao reiterated that stimulating private investment and advancing reform in monopoly industries were the major tasks of this year's economic agenda.
Wen pledged that the government will make policy improvements to encourage private investments in monopolized fields, such as railways, finance, energy, telecommunications, education and healthcare.

Today's Top News
Editor's picks
Most Viewed