Daley cops a spray
Updated: 2012-02-24 07:51
(China Daily)
| | | | | | | | | |
| --- | --- | --- | --- | --- | --- | --- | --- | --- |
|   | | Print | | Mail | | Large Medium  Small | 分享按钮 | 0 |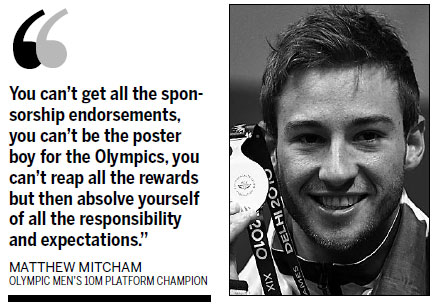 Australian Olympic champion diver hits out at Brit who can't have his 'cake and eat it too'.
Olympic champion Matthew Mitcham has accused British diving rival Tom Daley of wanting to have his cake and eat it by trying to reduce the burden of expectation while serving as a "poster boy" for the London Games.
As the only non-Chinese to win a diving gold at the 2008 Beijing Olympics, Australian Mitcham has a fair amount of pressure on him as well this year but he told reporters at a World Cup event at the Aquatics Center in London that he had learnt to live with it.
The 10-meter platform champion expressed surprise at a statement released last week on behalf of Daley, one of the host nation's most high-profile athletes thanks to multiple sponsorships, that played down his chances.
"I just thought you can't really have your cake and eat it too," he said.
"You can't get all the sponsorship endorsements, you can't be the poster boy for the Olympics, you can't reap all the rewards but then absolve yourself of all the responsibility and expectations.
"I just found that curious. He does have a lot of pressure on him, I do feel a little bit sorry for him, but that's what we do (deal with it). That's what a mature and experienced athlete does."
Daley, world champion in 2009 as a 15-year-old, was warned by his Russian coach, Alexei Angulov, last week that the Chinese were working three times harder and had fewer media and sponsor distractions.
A subsequent statement issued on the diver's behalf said he had limited his media work and rejected the comparisons with the Chinese.
It added: "We fully agree that British public expectation is too high around Tom" and described double world champion Qiu Bo as very much the favorite who "may yet become the greatest diver of all time".
Mitcham missed last year's world championships in Shanghai, where the Chinese won all 10 diving golds, through injury but that absence gave him time to think about his strategy for London and work on mental strength.
He knows, as someone who achieved the highest single diving score in an Olympics with a near perfect last plunge to win the 10m gold, that the mighty Chinese are not unbeatable despite their recent domination of the pool.
"They did win every gold medal (in Shanghai) but I have beaten Qiu Bo before, I beat him at the World Cup in 2010 and he was certainly at that level from 2009 onwards," he said.
"The Chinese aren't infallible, The way they train, they try to do it by repetition, to take away any of the inconsistencies, but they tend to have a problem at that really high level with stress and diving under pressure.
"That's what happened in 2007 at the World Championships, a Russian won. At the World Cup in 2008 a German won. At the Olympics I won, in 2009 Tom won, in 2010 I won. That's in the 10m event.
"The 10m event seems to have been the one where they (the Chinese) have been weakest," he said.
Daley will have a big day in the pool on Thursday when he partners Pete Waterfield in the synchronized 10m platform. The week-long World Cup event is the first to be held in the spectacular Aquatics Centre.
Mitcham has the individual 10m prelims on Friday, with the semi-final and final on Saturday.
Reuters
(China Daily 02/24/2012 page23)