Discovering Jiangsu province's Atlantis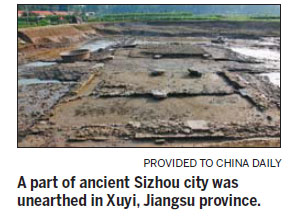 NANJING, Jiangsu - For more than 300 years, the legend of an ancient city destroyed by flood and buried under Jiangsu province's Xuyi county has lived on.
Huai'an city's farmers often find bizarre rectangular stones in their fields. And vast amounts of broken tiles and piles of carved stones were discovered when a bridge was built in the county about 25 years ago.
These artifacts made people think of the ancient city of Sizhou, the mysterious story of which has been passed down for generations by the county's residents.

Today's Top News
Editor's picks
Most Viewed