A can-do question
Updated: 2012-02-20 08:03
By Tiffany Tan (China Daily)
| | | | | | | | | |
| --- | --- | --- | --- | --- | --- | --- | --- | --- |
|   | | Print | | Mail | | Large Medium  Small | 分享按钮 | 0 |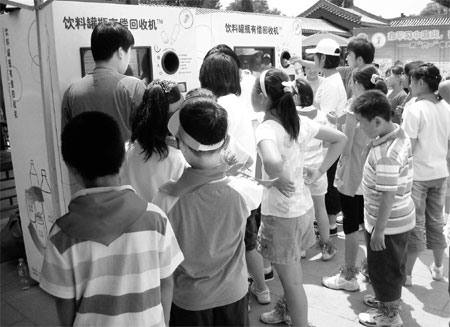 Children line up to try a reverse vending machine designed by Beijing Green Channel Technology. Photos Provided to China Daily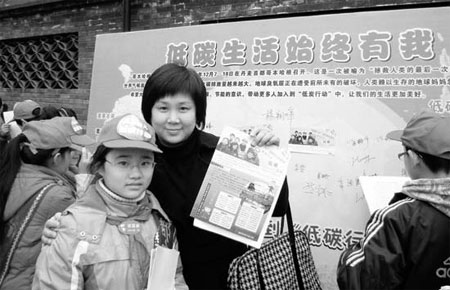 Yang Zhaohui and a Beijing student attend an event to promote low-carbon lifestyles.
A new recycling machine allows customers to turn empty drink containers into cash but also raises concerns about financing the country's green sector development. Tiffany Tan reports.
How would you like a machine that turns trash into cash? Yang Zhaohui's company has produced 73 such machines since 2007. The electronic devices, the size of big refrigerators, spit out coins in exchange for empty drink plastic bottles and aluminum cans. Drop a typical 500-ml plastic bottle into the designated slot and get 5 fen ($0.8 cents) in return. Containers that are 1.25 liters and larger are worth twice that.
"You get compensated for recycling," a wide-eyed young man, trying out the machine in a Zhongguancun supermarket, tells Beijing TV.
"Most of the time when I finish drinking, the bottles go straight into the garbage bin. I don't even bother with recyclables."
The contraptions are like vending machines that work the other way around - hence the name "reverse vending machines".
Although these devices have been around since the 1970s, Yang's are the first to be tested in China's mainland market.
Yang, who is CEO of Beijing Green Channel Technology, is on a mission to blaze a path in the country. After discovering China's existing recycling structure fell short on collection and efficiency, she and her two business partners went to work.
They designed a reverse vending machine (RVM) that would trade recyclables for cash, rather than the discount coupons or shopping credit customarily offered overseas.
"The idea is to reward people immediately," says Yang, a 40-something Beijinger, who has a master's in business administration from England's Aston Business School and another master's in business economics from the Chinese Academy of Social Sciences.
Her machines automatically group plastic bottles and aluminum cans, preparing them for pickup by recycling companies once the RVMs reach their capacity of 400 bottles and 1,000 compressed cans.
There's no need to scavenge for these recyclables and then deliver them to junk shops for sorting. And there are no more wasted trips, too, for recycling companies' workers.
"They normally drive out to pick up trash three times a day," Yang says.
"Even if they end up collecting nothing, they still go They produce higher carbon emissions during a routine delivery but gain little in the end."
In 2009, some 112 million tons of garbage were collected and disposed of throughout China, a study by the Beijing-based environmental NGO Green Beagle finds.
The Chinese capital, with its population of 20 million, processes at least 18,400 tons of trash a day.
Roughly 37 percent of this waste is recycled, says Mao Da, a postdoctoral fellow at Beijing Normal University and an expert in solid waste management. The rest of the garbage is put in landfills, burned or composted.
China is now the world's leading carbon emitter. China, the United States and India together generate nearly half the world's carbon pollution, according to news reports.
Although China's total emissions are still growing, a government report says the country has achieved a 20-percent reduction in emissions per unit of gross domestic product between 2005 and 2010. It plans to cut another 17 percent by 2015.
Yang's work is driven by the desire to be a role model of social consciousness to her 17-year-old daughter and to contribute to China's sustainable development.
But she's also an entrepreneur, who needs to make a profit - and this has been her biggest challenge since establishing Green Channel in 2007.
The company has not yet recovered the cost of developing its reverse vending machines, so it's bolstering its income by producing gift items made of recycled materials, like stationery and calendars that bear its "Ecofroggy" mascot.
Green Channel does not make any money from the bottles and cans it collects. The ideal moneymaker would be to sell ads on the machines.
After almost two years of pilot tests, the company's 63 RVMs set up throughout Beijing were taken back to the workshop last autumn.
The machines will be returned to their previous locations in electronics shops, shopping malls and schools once they've been upgraded. But before this can happen, Yang needs funding from private investors.
"We have already experienced a very dark period for the company," she says.
"In the past four years, we've struggled every day - so we've put on a lot of weight. That's evidence of our burden."
During the interview in her Beijing office, her iPhone incessantly buzzes with text messages and phone calls from clients and colleagues.
Green Channel's financial difficulties are quite common among China's green sector startups, experts say.
Developing a sustainable economy, promoting resource conservation and lowering emissions are goals enshrined in China's 12th Five-Year Plan (2011-2015). So the green industry gets a leg up from policies in such areas as taxation and bank loans.
But private investors are another matter. They're intrigued by this new industry's potential but wary to jump in.
"In the past, they've only invested in traditional industries," says Ge Yong, director of New Ventures China, a nonprofit that supports environmentally focused small and medium enterprises.
"Now, they find this is something pretty interesting. But they need to learn about it. It takes time."
New Ventures China, whose work involves connecting investors with businesses, and enhancing the enterprises' management skills and policy understanding, helps Green Channel. It also endorsed Yang's application for a fellowship at the Unreasonable Institute in Boulder, Colorado.
Yang was among the 26 of 300 applicants who made it last summer.
Her co-fellows at the institute, which seeks to solve "the world's biggest problems by arming the entrepreneurs who can take them on with mentorship, capital and networks", included a Liberian man who assists rehabilitating child soldiers in his country and a woman who helps impoverished Pakistani girls stay in school.
"We were looking for entrepreneurs who set out to overcome one of our world's greatest challenges and who were relentlessly determined to make their venture succeed," the institute's co-founder Teju Ravilochan says in an e-mail. "While China is growing at a huge rate, if it does not have the support of companies like (Yang's), the rate of resource depletion globally could reach alarming rates."
Relentlessly determined is what Yang is. She sees "risks and challenges as opportunities" and has no plans to veer from her chosen path, no matter how steep or bumpy.
"Recycling is a weak part of the Chinese economy now," she says.
"That's why I'm here."
You can contact the writer at tiffany@chinadaily.com.cn.
(China Daily 02/20/2012 page20)