Delegations sign record-setting soybean deals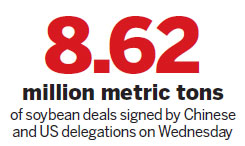 DES MOINES, Iowa - A Chinese trade delegation signed agreements with US grain companies on Wednesday to buy 8.62 million metric tons of soybeans from the United States and will ink more deals on Thursday for a record-setting purchase topping 12 million metric tons.
Chinese powerhouses like COFCO Co, the country's largest State-owned grain trading house, and Sinograin, which manages State grain reserves, signed deals in Des Moines, Iowa, with companies such as Archer Daniels Midland, Bunge and Cargill.
The Chinese delegation was expected to sign more purchase agreements in Los Angeles on Thursday, which would bring the total amount to a record of more than 12 million metric tons, said Kirk Leeds, director of the Iowa Soybean Association.

Today's Top News
Editor's picks
Most Viewed