Chandler has no regrets about China
Updated: 2012-02-16 08:32
By Sun Xiaochen (China Daily)
| | | | | | | | | |
| --- | --- | --- | --- | --- | --- | --- | --- | --- |
|   | | Print | | Mail | | Large Medium  Small | 分享按钮 | 0 |
Former Denver Nugget says he's glad he made the decision to ply his trade here
BEIJING -Wilson Chandler, the biggest import in Zhejiang Lions history, has mostly enjoyed his China adventure.
"A lifetime experience," is how the former Denver Nugget described his CBA sojourn with the Hangzhou-based team.
"By coming here I've done something that most people dream of - visiting China. I've seen some very nice cities. It is different (to get used to a different culture) but not in major ways, more like the very simple things, like food, travel and language," Chandler (pictured) wrote in an e-mail interview with China Daily on Wednesday.
Playing and living in China for almost five months, Chandler has acclimatized well to his new surroundings.
He has visited must-see sights such as the Great Wall and the Forbidden City, ridden the bullet train back and forth from Zhejiang's capital city, Hangzhou, to metropolitan Shanghai while chatting with fans on his micro blog.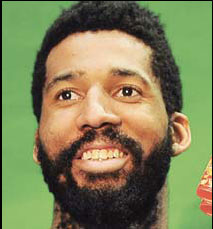 Chandler, a tattoo aficionado, even had a Chinese artist etch his Mandarin name "Qian De Le" near his left elbow, and, despite some pain, China is now forever physically and mentally engraved on the Michigan native.
If last year's NBA lockout had not forced him to explore his overseas options, the restricted free agent would have continued his NBA career with a lucrative new contract from either Denver or another team.
However, he does not regret his decision, stressing the CBA experience could ultimately boost his career in the NBA.
"It has been a very good learning curve and experience for me and has helped me mature in some ways and develop parts of my game that I hadn't worked on in a while," Chandler said.
Standing 2.03 meters, the muscular small forward outplays most of his Chinese rivals at the same position due to his superior strength and leaping ability.
The 24-year-old averaged 27 points and 11.8 rebounds, with smart finishes at the basket complemented by an improved mid-range jumper.
Still, the deadly shooter is impressed by what he has seen in the CBA.
"The level of play is very strong," he said. "The imports that participated this season were awesome. Chinese players are just as good, and the team-oriented players that have solid statistics are smart, tough and play with much passion."
Vowing his team would fight for the title when he joined the Lions last September, Chandler found it tougher than expected as he just managed to help the squad qualify for the postseason last night after stunning the Beijing Ducks 114-94.
"It's been a very competitive season. The goal has always been to win the championship, but to make the playoffs was very difficult," Chandler said.
Some hardcore fans of the Lions expected 40-plus point games from him every night, but the low-key Chandler said he's given all he's got for the team.
"My performance has been great at times, and just OK at others. I have tried to do my best and to help my team win as best I could," Chandler said. "Sometimes what the fans want and expect and what your coach wants are different. Hopefully, the people of Zhejiang province, as well as all of China, will say that I did pretty well while over here."
Unlike J.R. Smith, who struggled with a communication barrier with the Golden Bulls' Chinese coach, Ding Wei, Chandler was full of praise for his head coach, Jim Cleamons, a former assistant to LA Lakers coach Phil Jackson.
"I believe in our team because we have an NBA coach. The goal has always been to fit in. Scoring is not my only responsibility. I am asked to score, pass, defend, rebound and make smart decisions and lead. I try every night to do that.
"The fan support, the excitement and playing for a coach that has coached in the NBA has been great," Chandler said of his favorite experiences in China.
Dislikes? A cold stadium to practice and play in.
Set to return the US after the Lions' playoff season ends, Chandler said he would "absolutely" pick China as an overseas destination if he had to make the move again.
"Certainly, of course I would, and specifically Hangzhou or Shanghai," Chandler said when asked whether he would recommend China to other players in the US.
China Daily
(China Daily 02/16/2012 page24)