Authorities to ban names that identify orphans
Updated: 2012-02-09 08:10
By He Dan (China Daily)
| | | | | | | | | |
| --- | --- | --- | --- | --- | --- | --- | --- | --- |
|   | | Print | | Mail | | Large Medium  Small | 分享按钮 | 0 |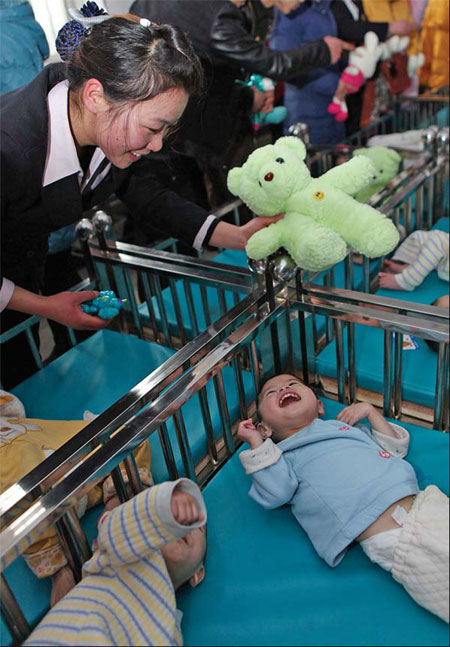 Children with growing difficulties have a happy time with the help of volunteers at Xuchang Social Welfare Institute, Henan province. Niu Shupei / for China Daily
New rules aim to make all children grow up as equals
BEIJING - China plans to forbid orphanages from giving children names that may prove discriminatory against them later in life.
Names to be banned would include those with a political connotation and those that reflect the place or nature in which the child becomes orphaned or abandoned, said an official from the Ministry of Civil Affairs this week.
"We don't want children who grow up in orphanages to carry labels that imply they are different from those who have parents," said Chen Lunan, children's welfare deputy director at the department of social welfare and charity promotion.
He added that the ministry is amending regulations on the management of child welfare institutions to ensure that only the 100 most common Chinese surnames are used for naming children. The new rules are expected to come into effect later this year, he said.
About 100,000 children with unidentified parents live in about 900 orphanages and children's homes nationwide, according to ministry statistics.
Li Jinju, a staff member from an orphanage in Central China's Henan province, said that all children taken into its care before 2010 were given the name Dang, which means Party in Chinese.
"We used to think they were children of the Party because they had been taken care of thanks to the Party and the government," said Li. "However, some children grew up and felt uncomfortable that their name showed that they were raised in an orphanage and that their parents did not want them."
Guo Dangye, a 32-year-old resident of Datong city in Shanxi province, said her name reminded her daily that she was an "unwanted" child.
Guo was abandoned a few days after she was born without a right hand. A local orphanage took her in and the staff named her Dang Ye.
When she was adopted by a family surnamed Guo, they changed her name to Guo Dangye.
"A lot of people could not help digging up my past when they saw my name for the first time, and then they expressed sorrow or contempt, which made me really upset," said Guo, now a lecturer at Datong University.
Huang Fang, who works for a government-funded orphanage in Guangzhou, Guangdong province, said her organization in 2008 gave up the practice of naming abandoned children after the place where they were found.
"For example, if the child was found by police in Tianhe district and sent to our welfare home, the child would be surnamed Tian," she said.
Huang said her organization was already referring to the 100 most common Chinese surnames. All children enrolled in 2012 will be surnamed Zhao, she said.
Huang said she applauded the government's efforts to set restrictions on naming, recognizing the possible harm caused to those children's self-esteem by such special names as Dang or Guo, which means the Party or State in Chinese.
"This move shows the government is paying more attention to these children's psychological needs, which helps their development," said Zhang Zhirong, consultant to Half the Sky Foundation, a non-government organization that focuses on helping orphans.
Zhang also urged the government to improve the children's social involvement by placing more of them in standard education and job training programs.
China Daily
(China Daily 02/09/2012 page3)