High-resolution lunar photo map presented
Updated: 2012-02-07 08:23
By Xin Dingding (China Daily)
| | | | | | | | | |
| --- | --- | --- | --- | --- | --- | --- | --- | --- |
|   | | Print | | Mail | | Large Medium  Small | 分享按钮 | 0 |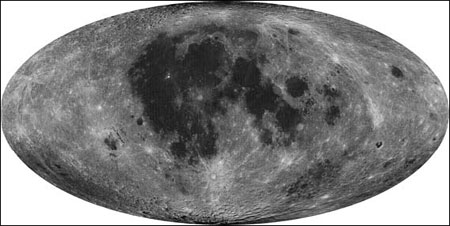 The full-moon map, with a resolution of 7 meters, is the highest resolution map yet of the entire moon. Provided to China Daily
BEIJING - China presented a high-resolution moon map on Monday from photos taken by its second lunar orbiter, Chang'e-2, which will be used to aid lunar studies and help select the best spot for lunar landing missions.
The map, published by the State Administration of Science, Technology and Industry for National Defense, has a resolution of 7 meters, allowing it to identify objects larger than 20 meters, scientists said.
Based on photos taken by Chang'e-2, from a 100-km and then a 15-km orbit during Oct 24, 2010, and May 20, 2011, researchers made 746 images and pieced them together in a complete moon map.
Yan Jun, chief scientist of China's lunar exploration project, said the new images have "opened a new window for lunar studies".
No other country has made and published a complete lunar map from images with a resolution of 7 meters or better.
The clearest moon images yet, released by the United States, have a resolution of less than half a meter, but they do not cover the entire moon, according to Yan.
China's previous lunar map, published in 2008, made with photos taken by the country's first lunar orbiter, Chang'e-1, can identify craters and rocks of at least 360 meters, said Zhao Baochang, who heads a team that designed the camera.
"If Chang'e-1 can see airports and harbors, then Chang'e-2 can see aircraft parked at airports and ships in harbors," he said.
Many impact craters and rocks that are invisible in the first moon map are clearly shown in the new one.
"The more craters we see, the more data we can get for studying the evolution of the moon's geological structure," Yan said.
The moon images will be used in selecting the location of China's first unmanned soft-landing lunar landing, by Chang'e-3, around 2013 and a manned landing in the long run, he said.
The images of the Sinus Iridium, or Bay of Rainbows, the area proposed for the soft-landing, have a resolution of 1.3 meters thanks to photos taken at an orbit 15 km above the moon's surface.
They show rocks as small as 3 meters in diameter, Yan said.
Scientists have found that the Sinus Iridium is not as flat as they previously thought. Instead, it is dotted with craters with a diameter of several meters to less than 100 meters, the images show.
He said China will share the moon map and other images with other countries.
China plans to launch the unmanned Chang'e-3 around 2013. It will make a soft landing on the lunar surface, the second stage of the country's three-stage lunar exploration program. The third stage will bring a moon rock back to Earth in 2017.
Chang'e-2 is a probe sent to test technologies for Chang'e-3.
With its preliminary mission accomplished, Chang'e-2 is now orbiting the second Lagrange Point (L2) 1.5 million km away from Earth.
The craft entered L2's orbit, where gravity from the sun and Earth balances the orbital motion of a satellite, in late August.
It will collect information, monitoring for example the high-energy particles and solar winds around the L2.
China Daily
(China Daily 02/07/2012 page3)