Back behind the scenes, it's a challenging job
She's standing there in a room crammed full of clothes, row after row, rack upon rack of historically authentic clothing and is busy picking out various costumes and putting them on another rack.
Jiang Ping, 52, is a key costumer from Beijing who has worked with dozens of television crews all over the country.
"I have to learn the script by heart, and the next day's call sheet, so I know which clothes to prepare," Jiang explains.
"It's exhausting work and we often joke about being like refugees, rushing around, lugging bags full of clothing."
She got into costuming in 2002 after a friend introduced her to the field and explains that a costumer's assistant can get around 1,000 yuan ($159) per episode. She herself makes 3,000 to 5,000.
She spends at least an hour reading the script and the call sheet then picks out the costumes to fit the scenes to be filmed the following day.
"I usually ask the assistant to match the clothing first, so that they learn fast."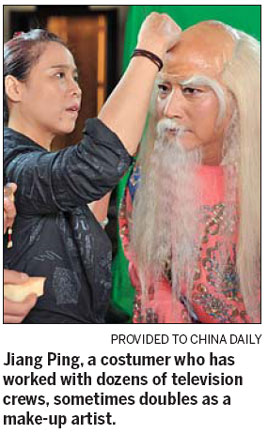 Costume designers will come up with something for the lead roles then change the design until the director is satisfied. Then Jiang contacts a factory to make the costume. Sometimes she and her colleagues have to make a new costume to fit the plot, to make it look worn, for example, so they treat it with a special liquid.
For a 95-part TV series such as The Romance of the Three Kingdoms, it can take at least three months to get the clothing together.
"Some directors even allow the actors to wear their own clothing if it fits the scene," she says.
In one TV series where they were filming in the countryside, she borrowed clothes from local people - and sterilized them. "They have to be clean," she explains, "otherwise the actors won't touch them."
In fact, laundering clothes used to be her daily task back when she was an assistant. Every day she would categorize the clothing in two ways: those needing a good washing and those that didn't.
"I had to wash the collars and cuffs by hands, because they soil easily," she adds, "and after they dried, I'd iron them and hang them up to keep them neat." By 2003, Jiang was a key costumer.
She sticks a tag on each piece of clothing, with the name of the actor or actress, and puts all the items for one performance into a bag then puts them in a truck with racks inside. One truck will do for a modern TV series, but you need several trucks for a big costume drama.
Costumers, property people, and grips (stagehands or gofers), explains Jiang, are actually little more than just doormats and some actors will take their troubles out on them if they're in a bad mood. "Once I even saw two people fighting with knives during a shoot."
Jia Jianyong, 30, couldn't agree more. In 2010, Jia was a director's assistant for a TV crew, but one staff member took him for a grip and ordered him to do something in an ill-mannered way. "I held my anger back three times, but when he did it a fourth time, I quarreled with him and told him to respect others."
Jia says he then calmed down and talked with the person and solved the problem.
Jiang says that the work is hard because they never know when the shooting will finish and the various departments have to coordinate things with each other and that takes time.
Jia adds, "Often, I would be so exhausted at the end of the day that I'd go to bed without taking a shower. Once I worked 30 straight hours." He had to spend last Spring Festival with a film crew.
"I rarely have holidays, but I like being busy and going to different cities," chimes in Lu Wei, a 30-year-old prop master, who's good at woodwork and craftsmanship, after six years on the job.
"Producers want to cut costs while the art director wants perfection. So, I try to make the best props for the lowest cost. I love the challenges of my job, because I learn things each day."
China Daily
(China Daily 01/27/2012 page7)
Today's Top News
Editor's picks
Most Viewed