Life in motion
Updated: 2012-01-20 07:29
By Chen Jie (China Daily)
| | | | | | | | | |
| --- | --- | --- | --- | --- | --- | --- | --- | --- |
|   | | Print | | Mail | | Large Medium  Small | 分享按钮 | 0 |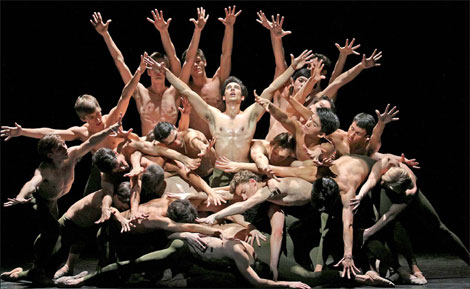 The Hamburg Ballet brings to Beijing John Neumeier's signature work, Third Symphony of Gustav Mahler.
Movement's philosophical and physical forms animate American dancer and choreographer John Neumeier. Chen Jie reports.
John Neumeier, artistic director of the Hamburg Ballet, didn't expect to return to Beijing after his company toured the city for the first time in 1999.
He was hugely disappointed by the facilities and the audience.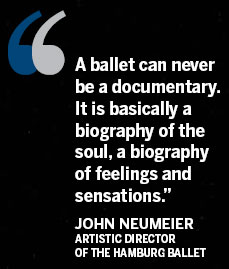 In the Beijing Exhibition Hall Theater, the backstage area was cold, and there were no dressing rooms for dancers to shower after the show.
The auditorium was so shoddy that Neumeier pulled a wad of cotton out of a split seat covering to show his disdain of the conditions.
And the audience walked to and fro and chatted like they were in a teahouse.
He believed the theater was a perfect mess.
But the choreographer has a different opinion 11 years later.
Zhao Ruheng, dance director of National Center for the Performing Arts (NCPA) and former president of National Ballet of China, tells China Daily she continued inviting Neumeier to return China but always got "no" as an answer - that is, until 2010.
"When he met contemporaries on tour in recent years, he realized prestigious companies - Opera de Paris, Royal Ballet, Bolshoi, Kirov, Stuttgart Ballet and American Ballet Theater - had just been to Beijing or will come soon," Zhao says.
"What attracts them? After they shared with him their experiences at NCPA, Neumeier finally decided to try again."
In February 2010, Hamburg Ballet brought his Lady of Camellias to Beijing. All six shows sold out.
Neumeier was impressed by the quality of both the new theater and the audience.
"Eleven years is a very long time for China, and it develops rapidly," the 59-year-old American choreographer says.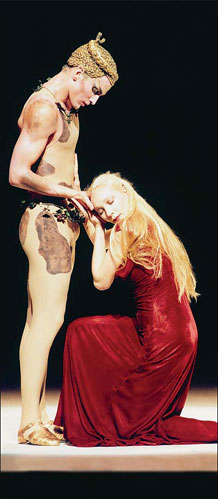 Nijinsky is based on the life and legend of artist Vaslav Nijinsky. Photos provided to China Daily
"The whole society is changing in its attempt to keep abreast with the dynamic of its own economical and commercial development. I was astonished when I saw how Beijing has changed, and I hardly recognized the city."
He so enjoyed his second visit to the capital that he almost immediately signed a contract with NCPA to return in January 2012. He also discussed future cooperation with the National Ballet of China.
"The country has developed enormously," Neumeier says.
"This movement in time and space is also the primary essence of dance. Movement, for me, signifies life. The language of feelings is universal and is maybe most immediate when we experience them through dance."
The choreographer/dancer from Milwaukee, Wisconsin, explains he comes from a place where dance is rarely seen.
"My world is dance, and it all happened naturally," he says.
"But as long as I can remember, I have always wanted to dance - even before I actually knew what it was. Almost from the beginning, I wanted not only to dance myself but also to create dances - to tell wordless stories using movement," he continues.
"I think it is our nature to be in movement. Even while standing still, our heart must pump, the blood constantly flows and our breath rises and falls. Movement is the very sign we are alive.
"But what has always interested me most are those special movements guided by feelings, inspired by emotions, which can give shape to our dreams, desires and longings - movements which move us. It is my wish in choreography to translate our most intimate experiences, our aspirations and our deepest sorrows into moving images of beauty."
So he started tap-dancing and then took ballet-classes.
He continued to study ballet in Copenhagen and at the Royal Ballet School in London. In 1963, Stuttgart Ballet's director John Cranko made him a solo dancer. Six years later, he was appointed director of ballet in Frankfurt, where he soon caused a sensation.
He has been artistic director and chief choreographer of Hamburg Ballet since 1973. Under his direction, the Hamburg Ballet has received growing international recognition.
This time, Hamburg Ballet brings to Beijing and Shanghai, Neumeier's signature works Nijinsky and Third Symphony of Gustav Mahler.
Nijinsky is based on the life and legend of artist Vaslav Nijinsky (1889-1950).
As a dancer, Nijinsky set a new standard, both technically and expressively. In his choreography, he pointed the way toward modern dance.
His personal fate and the mental illness that forced him to spend the last 30 years of his life in various asylums and in the keeping of his wife, gave his short artistic career an even more awe-inspiring and sensational quality.
Nijinsky's character and destiny inspired Neumeier once before to create the short ballet Vaslav, in 1979.
In 2000, to commemorate the 50th anniversary of the Polish-Russian dancer's death, Neumeier dedicated the full-length ballet to him. Neumeier also designed the set and costumes.
"The history of dance has always been alive for me, and the memories of legendary figures whose steps have moved us to where we stand today have influenced my own work," Neumeier says.
"One figure particularly stands out before all others - the dancer, choreographer and man, Nijinsky. Ever since I was a child, I was fascinated with Nijinsky."
He says one of the first books he read was Nijinsky's biography.
"He is not only one of the best dancers of the 20th century," Neumeier says.
"He is above all an outstanding artist. His ideas were so special, so modern and groundbreaking that he was a great inspiration to me throughout my life."
But Nijinsky is not a biographical ballet, he insists.
"A ballet can never be a documentary," he says.
"It is basically a biography of the soul, a biography of feelings and sensations. Perhaps a particular situation, historical or imagined, might be suggested. But this is not a narrative ballet," he continues.
"Perhaps it's not even one single complete ballet, but a series of choreographic approaches to the enormous theme - Nijinsky."
He also uses several dancers to represent fragments of Nijinsky's persona.
The choreographer says people need not worry if they're not familiar with Nijinsky or modern ballet, or believe they won't understand abstract things.
It's about "transporting the emotions Nijinsky had - emotions many of us have - from the stage to the audience", he explains.
"Of course, you will see different things, more connotations, if you know about Nijinsky's life," he says.
"But even if you don't, you will be able to establish a direct emotional connection to the story. I like to compare the feeling created through my ballets with the state you are in when you wake up after a dream," he continues.
"You may not be able to recollect all parts of the dream or to recount it on a rational level. But you wake up with a strong feeling. This is the atmosphere I wish to create for everyone in the audience."
The other piece, Third Symphony of Gustav Mahler, is considered another masterpiece that can be considered Neumeier's name card among 20th-century ballet masters.
Neumeier created seven imposing symphonic ballet works based on Mahler's music from 1975-1994. Third is the first in the series.
"I feel privileged in my world," Neumeier says.
"Although it is one of extreme hard work, concentration, dedication, unconditional commitment and, of course, some disappointments, the world of dance never was a burden, nor do I feel it demanded sacrifice from me. Dance is a labor of love. Each day, I'm reminded of Gustav Mahler's title for the last movement of his Third Symphony: 'What Love Tells Me'."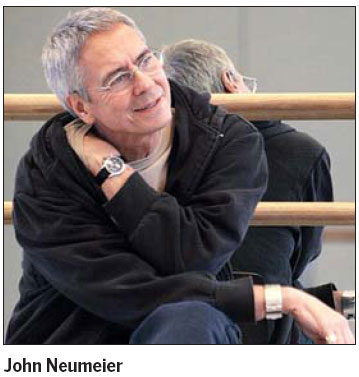 (China Daily 01/20/2012 page18)