Mao defied illness to meet Nixon
Updated: 2012-01-17 08:33
By Zhao Shengnan (China Daily)
| | | | | | | | | |
| --- | --- | --- | --- | --- | --- | --- | --- | --- |
|   | | Print | | Mail | | Large Medium  Small | 分享按钮 | 0 |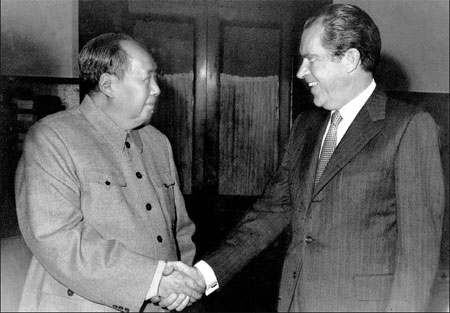 Chairman Mao Zedong meets former US president Richard Nixon at Zhongnanhai in Beijing on Feb 21, 1972.
BEIJING - Both the US and Chinese officials were surprised that 78-year-old Chairman Mao Zedong decided to meet then US president Richard Nixon only three hours after his arrival in Beijing on Feb 21, 1972, Mao's then interpreter said on Monday.
Mao was so ill that he seldom met foreign leaders in person in his later years, at least not before any negotiation had started, said Tang Wensheng on the eve of the 40th anniversary of Nixon's landmark visit to China, which marked the beginning of the normalization of bilateral ties.
"Chairman Mao had been unconscious nine days before this meeting," she said, but both the US and China were eager to see each other to normalize relations that had been frosty for 25 years.
Considering the longstanding differences between the two, including the Taiwan question, Nixon insisted that only a face-to-face meeting with his counterpart in China could bring a breakthrough, Tang said, adding that China also was willing to talk to Washington in any form it preferred and was open about the results of the meeting.
The moment Nixon met Chairman Mao in Zhongnanhai, the central headquarters of the Chinese government, he directly stated the goal of his visit, brief and to the point, according to Tang. "Obviously, Nixon was firm about his objective - to develop China-US relations."
Mao, on the contrary, talked in a light-hearted and interesting way about international affairs and philosophy with Nixon, and "left specific issues for Nixon to talk about with Premier Zhou Enlai", said Tang.
"Chairman Mao's face was flushed with enthusiasm during the meeting, like another person who was absolutely healthy," she said.
The meeting, original planned to last 15 to 20 minutes, went on for 70.
Out of concern that a lengthy meeting would worsen Mao's physical state, even Premier Zhou, an extremely considerate and polite diplomat, frequently looked at his watch to remind former US national security adviser Henry Kissinger, who was also there, not to go on too long, said Tang.
The meeting was historic and successful, but as soon as the US officials left the room, Mao sank back feebly in his chair, with a big oxygen mask on his pale face, she said.
When asked whether he would like to talk about the meeting, Mao gave a limp wave signaling no, Tang said.
"Chairman Mao had devoted all his failing strength to China-US relations, one of the most important relationships in the world," Tang recalled, with tears in her eyes.
When reviewing bilateral relations over the past 40 years, Tang said that the differences between China and the US should not hinder the pursuit of expanding common ground.
"A responsible leader in any country has to act based on national interests, and I believe boosting China-US ties through discussing differences and seeking common ground is in line with both countries' fundamental interests," she said.
China Daily
(China Daily 01/17/2012 page11)