Chinese tourists on Italy ship safe
Updated: 2012-01-16 08:00
(China Daily)
| | | | | | | | | |
| --- | --- | --- | --- | --- | --- | --- | --- | --- |
|   | | Print | | Mail | | Large Medium  Small | 分享按钮 | 0 |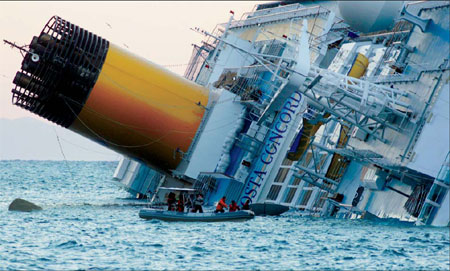 Rescuers search for survivors on Sunday of the crippled Costa Concordia cruise ship that ran aground off the west coast of Italy. At least three people were killed after the Italian ship, with more than 4,000 people on board, struck a reef on Friday. Remo Casilli / Reuters
Rescue teams searching for about 40 people as liner captain arrested
ROME -All Chinese tourists on board the stricken cruise liner Costa Concordia have been accounted for and are receiving help, Rome embassy officials told China Daily on Sunday. The Travel Industry Council of Hong Kong also confirmed that all the Chinese passengers were safe.
The luxury cruise liner ran aground on Friday night just off the Italian coast. So close was the ship to land that many passengers were able to swim to safety. Three people were confirmed to have been killed in the accident but about 40 remain unaccounted for.
The 22 Chinese tourists were from Hong Kong and their trip had been arranged through Wing on Travel and two other travel agencies.
All were accounted for and none had suffered serious injuries, embassy officials said.
"All 22 passengers are now in Rome and some were even considering going on with their holiday. We are helping them with various paperwork," an embassy spokesperson said.
Authorities detained the Italian captain of the ship.
A honeymooning couple from the Republic of Korea were rescued early on Sunday morning, nearly 24 hours after the ship got into trouble, when firefighters heard their shouts. They were brought ashore looking dazed but were unharmed.
At about 1 pm, rescue workers airlifted Manrico Gianpetroni, chief purser, hours after making voice contact with him several decks below.
Searching the crippled liner is a task akin to searching a small town - but one tilted on its side, and largely in darkness and submerged in freezing water. Scores of divers were taking part.
The captain of the luxury 114,500-ton ship, Francesco Schettino, was under arrest and facing charges of multiple manslaughter, causing a shipwreck and abandoning ship, Italian police said.
Passengers, comparing the disaster to the movie Titanic, told of people leaping into the sea and fighting over lifejackets in panic when the ship hit a rock and ran aground near the island of Giglio, late on Friday.
Two French tourists and a Peruvian member of crew were dead and about 40 people were missing.
The vast hulk of the 290-meter-long cruise ship, resting half-submerged on its side, loomed over the little port of Giglio, a picturesque island in a maritime nature reserve off the Tuscan coast. A large gash was visible on its side.
Rescue workers including specialist diving teams were working their way through more than 2,000 cabins on the ship, a floating resort that boasted a huge spa, seven restaurants, bars, cinemas and discotheques.
As the search continued, there were demands for explanations of why the vessel had come so close to the shore and bitter complaints about how long it took to evacuate the terrified passengers.
State prosecutor Francesco Verusio said investigations might go beyond the captain.
"We are investigating the possible responsibility of other people who could be responsible for such a dangerous maneuver," he told SkyTG24 television. There were fears the death toll could rise.
Magistrates said Schettino, whose ship was carrying 4,229 passengers and crew, abandoned the vessel before all the passengers were taken off.
The vessel's operator, Costa Crociere, a unit of Carnival Corp & Plc, the world's largest cruise company, said the Costa Concordia had been sailing on its regular course when it struck a submerged rock.
In a television interview, Schettino said the rock was not marked on any maritime charts of the area.
Costa Crociere president Gianni Ororato said the captain "performed a maneuver intended to protect both guests and crew" but it was "complicated by a sudden tilting of the ship".
"We'll be able to say at the end of the investigation. It would be premature to speculate on this," said coast guard spokesman Filippo Marini.
After a nighttime operation on Friday and Saturday involving helicopters, ships and lifeboats, many passengers had left the area with many taken to Rome airport for flights home.
The ship was involved in an accident on Nov 22, 2008 when it hit a port wall and was damaged while docking.
Local officials expressed concern that the fuel on the ship, at full load as it had just begun the cruise, could spill into the pristine waters. However, there was no sign of any pollution damage on Sunday.
Passengers had just sat down to dinner, a few hours after leaving the port of Civitavecchia near Rome on a week-long cruise to Barcelona and Majorca, when a loud bang interrupted the piano player and the ship began to list.
The ship was carrying mainly Italian passengers, but also many foreigners including British, Germans, French, Spanish and Americans.
Many were elderly and some were in wheelchairs.
Reuters - China Daily
(China Daily 01/16/2012 page1)