Food prices drive up CPI
Seasonal causes and rising labor costs are blamed for fluctuations
BEIJING /GUANGZHOU - China's inflation rate in 2012 will continue to be driven by rising food prices, a result largely of rising labor costs and other agricultural conditions, analysts said.
Data from the National Bureau of Statistics on Thursday showed that consumer price index (CPI), a main gauge of inflation, retreated to 4.1 percent in December, a 15-month low.
But food prices, which account for about a third of the basket of goods in the bureau's CPI calculation system, were up in December by 9.1 percent year-on-year. That rise contributed 2.8 percentage points, or more than two-thirds of the general price increase.
Ba Shusong, an economist with the Development Research Center under China's State Council, blamed the surging food prices partly on seasonal causes. The end of the year is usually the time that producers begin to store goods for the coming Lunar New Year.
Meanwhile, "a sharp increase in food prices may not be in the cards for this year because the price base is already very high," Ba said at a forum on Thursday in Beijing.
He predicted that increasing labor costs will continue to push food prices upward.
Ba's thoughts were shared by many analysts, who agreed that food prices will remain high over the long term.
Wang Tongsan, a researcher with the Chinese Academy of Social Sciences, a top government think tank, said another cause of high price of food has been an increase in land prices.
"This trend won't stop unless the government takes tougher steps to protect the agricultural population," Wang said.
He said the main driver of China's inflation is no longer increases in demand but is instead rising costs. That is an outcome any fast-growing economy will have to face.
In a survey of 100 economists conducted by the financial website hexun.com, more than 70 percent of the respondents agreed that China's CPI in 2012 will remain above 3 percent and below 5 percent.
Lu Zhiming, a researcher with the Bank of Communications Co Ltd, said the inflation rate will take a U-turn this year because the government's current tightening policies will continue to bring down prices until the middle of the year.
The second half of 2012, though, will come with moderate price increases, he said.
"Food prices will always be a major indicator of the CPI change under the current calculation method," said Lu Zhengwei, chief economist with the Industrial Bank Co Ltd. "They weigh more than 30 percent in the system and often fluctuate by a wide margin.
"Considering the fall in non-food prices, food prices are likely to have an even bigger impact on the CPI in the future," said Chen Xingdong, chief economist with BNP Paribas Asia.
Both economists agreed that the weight given to food prices should be lowered gradually because food purchases make up a smaller percentage of consumers' daily expenditure.
"An appropriate proportion would be 25 to 30 percent," Chen said.
More than 40 percent of Beijing, Shanghai and Guangzhou residents expressed dissatisfaction with the measures the government has taken to control prices in previous years, according to a survey published on Thursday.
Only 21 percent of those surveyed said they were satisfied with the government's attempts to control prices.
The survey, conducted this month by Guangzhou Urban Survey and Research Center, interviewed 2,000 residents who were aged 16 years or older.
Sixty-four percent of the residents surveyed were not satisfied with the increase in prices seen in 2011, and 56 percent said prices would continue to rise in 2012.
China Daily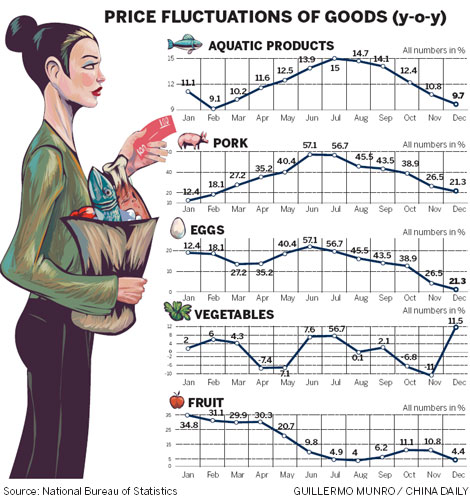 (China Daily 01/13/2012 page13)
Today's Top News
Editor's picks
Most Viewed