US colleges chasing cash favor foreigners over Americans
Updated: 2011-12-30 07:38
(China Daily)
| | | | | | | | | |
| --- | --- | --- | --- | --- | --- | --- | --- | --- |
|   | | Print | | Mail | | Large Medium  Small | 分享按钮 | 0 |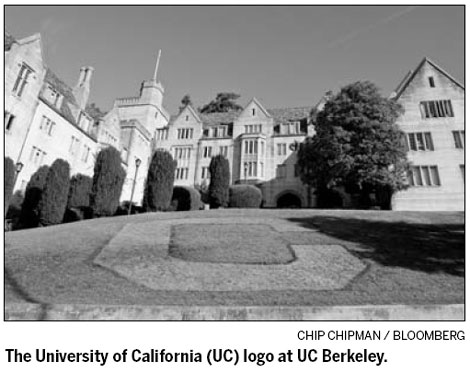 NEW YORK - Park Kwan-hyun spent four years at Beverly Hills High School earning the straight A's and high test scores he thought would get him into the University of California (UC), San Diego. They weren't enough.
The public university admitted 1,460 fewer California residents this year to accept higher-paying international students.
"I was shocked," said Park, who also was rejected from four other UC schools, including the top-ranked campuses in Berkeley and Los Angeles, even with a 4.0 grade-point average and an SAT score above the UC San Diego average.
The UC public higher-education system, rocked by budget cuts, is enrolling record numbers of out-of-state and international students, who pay almost twice as much as in-state residents.
In 2009, UC administrators told the San Diego campus to reduce its number of in-state freshmen by 500 to about 3,400 and fill the spots with out-of-state and international students, said Mae Brown, the school's admissions director. California residents pay $13,234 in annual tuition while non-residents pay $22,878.
As a result, almost 200 freshmen from China enrolled in 2011, up from 16 in 2009, a 12-fold increase. At the same time, the number of Asian-American Californians enrolled fell 29 percent to 1,230, from 1,723 in 2009.
One in five international students nationwide, or 57,000 undergraduates, came from China during the 2010-11 academic school year, a 43 percent increase over the previous year, according to the Institute of International Education in Washington. Colleges are more frequently tapping this pool as the surge in middle-class incomes in China coincides with steep budget cuts at US state universities.
UC San Diego received $227 million from the state in the 2011-12 academic year, down from $301 million in 2007-08. Funding for the nine other UC campuses dropped as well.
"The state is not a fully reliable partner in funding anymore," said Scott Waugh, the provost at UCLA, where foreign enrollments have quadrupled since 2009. "If we're going to give California residents the education they want and deserve, we need non-Californians to help pay for it."
UCLA is increasing the size of its student body to accommodate more non-residents, said Janina Montero, vice-chancellor for student affairs.
US universities are expanding their ties to China and increasingly looking to China for financial support. At least a dozen private and public colleges are opening Chinese campuses. A Chinese government affiliate has spent millions of dollars to establish Confucius Institutes for Chinese language and culture at 75 American schools, including UCLA.
UCLA has received Chinese funding for its Confucius Institute since 2007, with the most recent grant of $320,000 for teacher training in Mandarin and for studying ways to integrate Eastern and Western medicine, according to the university.
Enrollments of Chinese and other international students are surging at state universities across the United States.
At the University of Washington in Seattle, the number of in-state students in the freshman class declined by almost 500 between 2007 and 2011, even as the school enrolled more total students. The percentage of out-of-state students surged to 34 percent of the freshman class from 19 percent over that same period, with more than half from overseas.
Washington residents pay $10,346 in tuition and fees while non-residents pay $27,830.
To boost revenue, the UC system plans to increase non-resident enrollment to 10 percent from 6.6 percent of all undergraduates, said Nathan Brostrom, the UC's executive vice-president of business operations. Much of that increase will be at Berkeley, UCLA and San Diego, the campuses with the greatest appeal to out-of-state students, he said.
Berkeley enrolled 96 Chinese students in 2010, up from 55 in 2009. Enrollment of white students at Berkeley fell 29 percent as total admissions of state residents dropped.
While California and other state universities admit foreign students for legitimate educational reasons, some may be abdicating their responsibility to educate their own citizens, said Patrick Callan, president of the Higher Education Policy Institute.
"At what point is this not diversifying the student population and just becomes another form of revenue chasing?" said Callan, who is based in San Jose, California. "We're in some danger of simply taking whoever can pay the most."
Pang Xiaojing, 22, a communications major from Guangdong province, said the cost of San Diego's tuition is a burden, though she understands the tradeoff.
"I need the education and they need my money," she said.
Bloomberg News
(China Daily 12/30/2011 page17)