Noda's India tour part of strategy to build alliances
Updated: 2011-12-28 08:27
By Cheng Guangjin (China Daily)
| | | | | | | | | |
| --- | --- | --- | --- | --- | --- | --- | --- | --- |
|   | | Print | | Mail | | Large Medium  Small | 分享按钮 | 0 |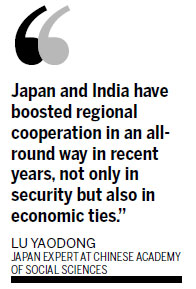 BEIJING - Japanese Prime Minister Yoshihiko Noda left Beijing for New Delhi on Tuesday to kick off a three-day visit to India, where he will attend the sixth annual India-Japan summit.
Boosting ties with India is part of Japan's strategy of strengthening alliances with Asia-Pacific nations with an eye on China, analysts said.
Noda's recent visit to Beijing was aimed at improving ties that were jeopardized by a maritime incident in which a Chinese trawler collided with a Japanese coast guard vessel in September 2010.
The India-Japan summit is a continuance of Japan's "Arc of Freedom and Prosperity" strategy, which has been widely interpreted as an effort to contain China, said Lu Yaodong, director of the department of Japanese diplomacy at the Institute of Japanese Studies of the Chinese Academy of Social Sciences.
Noda and India's Prime Minister Manmohan Singh are expected to sign a dollar swap accord worth up to $10 billion on Wednesday, under which Tokyo would provide capital when the rupee lunges against the US currency, according to the AFP.
The Times of India said India will raise the issue of nuclear cooperation with Japan during the prime ministers' meeting on Wednesday. India held three rounds of negotiations with Japan on civil nuclear cooperation, but the effort was suspended after Japan's nuclear crisis at Fukushima in March.
Shortly before Noda left Tokyo, he said he hoped to talk about beefing up Japan's ties with the rising Asian economic power, ahead of next year's 60th anniversary of bilateral ties, according to AFP.
"With Prime Minister Singh, I would like to discuss political, security, economic and human exchange, particularly Japan's readiness to help infrastructure projects in India," Noda told reporters.
"Japan and India have comprehensively boosted regional cooperation in recent years, not only in security but also in economic ties. And the cooperation has been moving from bilateral to multilateral, trying to include the United States, Australia and India in its 'Arc of Freedom and Prosperity'," Lu told China Daily.
The "Arc of Freedom and Prosperity" is a pillar of Japan's diplomacy initiated in 2007 by former foreign affairs minister Taro Aso. It has been interpreted as an effort to make allies to contain the rise of China in the Asia-Pacific region.
According to AFP, Noda's predecessor Naoto Kan met Singh in October 2010 and stressed the warm ties between their nations at a time of diplomatic tension between Japan and China.
Noda's visit to India comes after the first round of talks in Washington last week between the US, India and Japan, and an India-Japan defense ministers' meeting in Tokyo in November.
Takenori Horimoto, a professor of contemporary South Asian politics at Shobi University, said that there has been a renaissance in Japan-India relations since the 1990s, following their non-alignment during the Cold War.
With New Delhi's post-Cold War economic liberalization policies, India has become a new market for Japan, according to Horimoto.
"Meanwhile, the rise of China has meant that both Japan and India have increasingly eyed each other as potential strategic partners in the last five years," he said.
Difficulties in the US domestic economy have made it rely more on its Asian alliances to boost its presence in the Asia-Pacific region, after the withdrawal of its troops from Iraq and its gradual withdrawal from Afghanistan, analysts said.
China Daily
(China Daily 12/28/2011 page11)