Finland: Patriot missiles were destined for ROK
Updated: 2011-12-23 08:37
(China Daily)
| | | | | | | | | |
| --- | --- | --- | --- | --- | --- | --- | --- | --- |
|   | | Print | | Mail | | Large Medium  Small | 分享按钮 | 0 |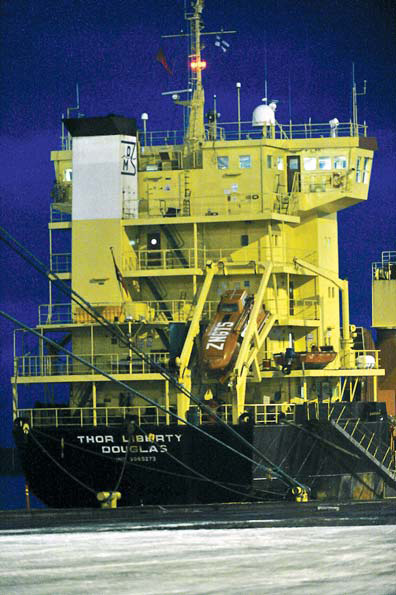 The British-registered Thor Liberty is docked on Wednesday in the Mussalo harbor of the port of Kotka, about 120 km from Helsinki, Finland. Kimmo Mantyla / Agence France-Presse
Earlier reports said weapons were bound for Shanghai
BEIJING - Finish authorities confirmed that a shipment of 69 surface-to-air Patriot missiles was destined for Republic of Korea (ROK) instead of Shanghai, as earlier reports said.
According to Finish national broadcaster YLE TV, the ship, which also carried around 160 tons of explosives, originated from Germany and was headed for the ROK. It made port in Finland to pick up a consignment of anchor chain for delivery to China.
The M/S Thor Liberty -a British-flagged cargo ship and owned by Danish firm Thorco - is registered in the Isle of Man, a self-governing territory under the British Crown.
Finnish police say they have detained two crew members.
Detective Superintendent Timo Virtanen of the Finish National Bureau of Investigation says the captain and first mate of the ship - both Ukrainians - are suspected of breaking Finnish laws that forbid the export of weapons.
Virtanen said on Thursday that "the missiles did not have the appropriate transit papers," adding that the police were questioning all the other 11 crew members, also Ukrainians.
The ship sailed from the north German port of Emden on Dec 13 and two days later docked in Kotka, southern Finland.
Finnish Customs spokesman Petri Lounatmaa said investigating officers didn't know the origin of the Patriot missiles or who was supposed to receive them.
"We have impounded the explosives and missiles and asked the Defense Ministry to transport and store them," Lounatmaa said.
Virtanen said dock workers found the explosives - picric acid - poorly stored on open pallets instead of in closed containers. They alerted inspectors who found the missiles in containers marked as holding fireworks.
Interior Minister Paivi Rasanen said she had not heard of a similar case.
"Of course, there are legal transports of weapons or defense material (through Finland), but in this case the cargo was marked as containing fireworks," Rasanen told YLE TV. "That is quite unusual."
Lounatmaa said customs officials and police have launched a joint investigation into a possible breach of Finnish export and weapons trading laws.
China Daily-AP-AFP
(China Daily 12/23/2011 page12)