Online courses get high marks
Updated: 2011-12-22 07:43
By Zhang Yue and Guo Shuhan (China Daily)
| | | | | | | | | |
| --- | --- | --- | --- | --- | --- | --- | --- | --- |
|   | | Print | | Mail | | Large Medium  Small | 分享按钮 | 0 |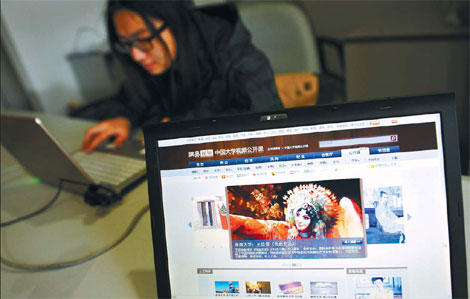 History of Chinese Theater, one of 20 online courses introduced by the Ministry of Education, is seen on a student's computer. Gong Lei / Xinhua
Following hot on the heels of overseas distance learning initiatives, the Ministry of Education is introducing online courses from China's universities. Zhang Yue and Guo Shuhan report.
'Supposing that you are taking an elevator with distinguished guests invited by your company. When the elevator door opens, whom do you think should get out first, you or the guests?" Liu Bing, a 26-year-old postgraduate student from Anhui province, thinks for a while and answers, "Usually, we should let the guests get in and out first to show respect." But the teacher has a surprise in store: "It is better to get in and out first so that you can guide the guests," she says with a laugh.
It sounds like a classic classroom situation, but actually Liu is sitting in front of her computer in her dormitory and watching an online lecture on modern manners taught by professor Yuan Difei at Hunan University, which is a long way away.
Distance learning is not a problem for Liu.
"For me it's no different from a real class," she says in a telephone interview, while the lecture can be heard in the background.
"Many elements mentioned in the lecture, such as how to introduce guests at a dining table in the right order and how to dress properly for an interview, are no less crucial than the skills learned at school."
Liu will graduate in six months, and is busily preparing for the job market. She thinks the lecture can help her behave correctly in an interview. She loves watching lectures with a cup of coffee to hand, a luxury that is seldom allowed in real class situations in China.
She is among the hundreds of thousands of Chinese netizens who now have access to free online university courses.
On Nov 9, 18 Chinese universities quickly moved to offer distance-learning courses to the public. It is the latest effort by the Ministry of Education to enable college students across the country to access lectures from top scholars.
Of the first batch of 20 courses, most featured humanities subjects and are available on NetEase, China Network Television (CNTV) and icourses.edu.cn.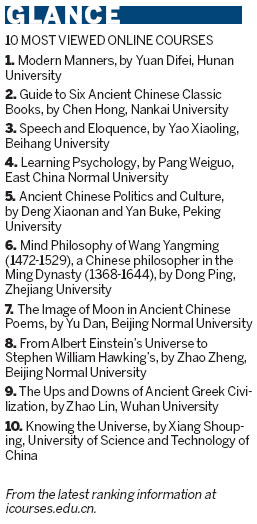 Up to 100 online open courses will be offered by the end of the year, and as many as 1,000 courses will be available by the end of 2015, the ministry says.
Cyberspace lectures have gained in popularity in China over the past two or three years, relying mainly on courses from foreign universities, subtitled in Chinese.
"We started to put overseas open courses online in October (2010), and soon got unexpectedly high downloading rates," says Zhan Yuanyuan from NetEase, the only commercial portal to join the ministry program. "At one time, the number of people who downloaded online courses surpassed downloads of American TV series."
NetEase confirms Positive Philosophy from Harvard University is one of the most viewed courses on the website, with 50 million hits since October 2010. In response, the website set up a team of more than 100 people to work on subtitling foreign courses.
"What we learn from real classes at school is kind of limited, and we want fresh ideas from lectures at other universities," says the 25-year postgraduate student Wang Ji, at Anhui University.
Diana E. E. Kleiner, director of the Open Yale Courses project at Yale University says in an e-mail interview that she is delighted to learn that Open Yale Courses have generated so much interest in China.
She says the university has been releasing its courses online since 2007, aiming to "expand access to educational materials for all who wish to learn".
"The classes are filmed at the same time they are being taught to regular students," Kleiner says. "I like to call this 'reality teaching' and it allows those taking the courses online to come as close as possible to being present in the actual Yale classroom."
Wang is now keen to take part in the online courses provided by Chinese universities.
NetEase says China's open online courses get 100,000 hits per day. The most popular courses at icourses.edu.cn are: Modern Manners, Guide to Six Ancient Chinese Classic Books and Speech and Eloquence.
For many of the participating lecturers, this is the first time their classes have been filmed - and watched across the nation. Even experienced lecturers say this is a different experience.
Yu Dan, a 46-year-old media scholar at Beijing Normal University, who attracted nationwide popularity for her televised lecture series on The Analects of Confucius, says she had to think carefully about the subject of her lecture.
"Online courses will be broadcast to the whole nation, from young students to the elderly, from people with limited education to renowned scholars," she says. "So I need to offer them something that is easy to start with, but is worth delving deeper into."
As such, Yu's online courses are centered on the theme of the moon's image in ancient Chinese poems, which she thinks is easy to access and is related to classical Chinese literature.
Over the past two weeks, the Modern Manners course that took the interest of Anhui student Liu Bing has topped the charts at icourses.edu.cn.
"This is one of our favorite courses," says 21-year old Zhu Lisha, a junior student at Hunan University. "At almost every class, there are so many students they have to stand at the back or on the floor."
"Some of my friends who watched Yuan's class noticed me in the video. They gave me a call and said, 'Hey, that's you on the screen!'" Zhu says, smiling. "It's interesting to be watched by so many people."
Yuan says she felt a lot of pressure to begin with, as she worried that her online students would not like her lecturing style and pick fault.
"But I found that it's not much different from my daily lectures, which I am confident about," she says. "So I gradually forgot about the camera in class."
Yuan often reads comments about her courses. She was surprised to learn that the suit she wears got high marks.
"Receiving so many compliments was a great pleasure," Yuan says. "As a teacher, I see this as my highest reward and very encouraging."
Yuan will attend an online talk show about her lecture on CNTV in early January, which includes interactions with netizens.
"I'm so looking forward to the chance to interact with them and find out how I can improve my lecture."
CNTV plans to offer some 30 online courses by the end of December, says general editorial assistant Wang Yiru.
Wang says the company's online course channel will develop into a comprehensive, free educational platform.
In addition to cooperating with the Ministry of Education, she says the channel is also seeking to collaborate with educational organizations, primary and middle schools and educational bureaus across the country.
By the end of 2012, video materials at the Web portal will expand to as many as 1,000 courses, ranging from primary school to university education level.
(China Daily 12/22/2011 page18)