Indian solar probe may hurt sector
Updated: 2011-12-22 07:42
By Du Juan (China Daily)
| | | | | | | | | |
| --- | --- | --- | --- | --- | --- | --- | --- | --- |
|   | | Print | | Mail | | Large Medium  Small | 分享按钮 | 0 |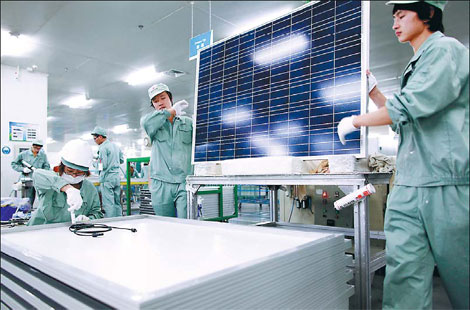 Employees assemble photovoltaic panels at Suntech Power Holdings Co's factory in Wuxi, Jiangsu province. According to experts, various large US and European solar companies have partnerships with Chinese companies and do not support the investigations. Qilai Shen / Bloomberg
Possible inquiry follows similar actions by US, European Union
BEIJING - If India starts an anti-dumping investigation into Chinese solar products in a month, as recent reports say, that could make the road ahead difficult for the industry following similar probes in the United States and the European Union, according to experts.
China is likely to see more trade disputes arise over the energy industry in the future, said Zhang Yujing, president of the China Chamber of Commerce for the Import and Export of Machinery and Electronic Products.
The Ministry of Commerce said on Monday that India may begin in a month to investigate whether China is "dumping" solar cells on its market.
The statement was a sign that a trade dispute between China and the US involving solar-energy products has expanded into India.
However, Reuters reported that the Indian Renewable Energy Development Agency has denied that it plans to start an investigation into such imports.
"China is getting unduly worried about this as it is a massive manufacturing center which feels it may not be able to participate in the Indian market," Debashish Majumdar, chairman and managing director of the Indian Renewable Energy Development Agency, was quoted by Reuters as saying.
Media reported in early December that the German-company SolarWorld AG, whose US unit petitioned the US government for an investigation into Chinese solar-energy products, is considering calling for a similar investigation in Europe.
The company, reached this week, declined to provide details about its plans.
Industry insiders, though, said the possibility of India starting an investigation poses little risk to Chinese solar companies. Only a small proportion of China's solar products are exported to India, the insiders said.
"India is an emerging market for the solar panel industry and is not a big importer from China," said Gao Hongling, deputy secretary-general of the China Photovoltaic Industry Alliance. "In the first 10 months of the year, up to 90 percent of China's photovoltaic solar products were exported to the United States and Germany, Belgium and other European countries."
When SolarWorld's US unit called for the investigation into China's alleged practice of dumping and subsidizing solar products, Li Junfeng, secretary-general of the Chinese Renewable Energy Industries Association, and other experts and officials expressed concern that other countries would make a similar move.
According to statistics from CCID ThinkTank, companies in the Chinese photovoltaic-solar industry have seen their profit rates decrease from 139 percent to 20 percent this year. One-third of those companies have halted production.
"These successive trade disputes are absolutely piling difficulties onto the industry," Gao said.
Faced with more trade disputes, the Chinese government is trying harder to protect domestic companies.
In November, China said it will investigate the support and subsidies the US government gives to the renewable energy industry. That comes after Chinese companies accused US companies of dumping polysilicon, a material used in the production of solar panels, into the Chinese market.
Dow Corning Corp, a major supplier of US polysilicon to China, said a trade war over solar products would put both countries' economies and the general strength of the solar industry at risk.
The company said China's Commerce Ministry "is not standing idle - they are gearing up for action. It appears they are serious about initiating their own measures in anticipation of the US advocating for trade remedies to be put in place".
According to Li and Gao, various large US and European solar companies have partnerships with Chinese companies and many of them do not support the US investigation.
"No matter how things go, the Chinese government and the companies should take every investigation seriously and should prepare to deal with these issues," Gao said.
China Daily
(China Daily 12/22/2011 page15)