GE Healthcare adding to staff, budget for R&D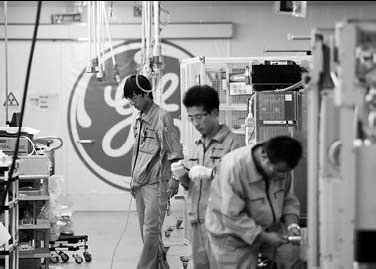 Employees at a production facility of General Electric Co healthcare unit assemble medical magnetic resonance imaging devices in Beijing. Nelson Ching / Bloomberg
CHICAGO/BEIJING - Multinational medical device and technology provider GE Healthcare, a division of General Electric Co, said it plans to employ another 200 Chinese engineers next year to support local research and development (R&D) work, along with a higher investment budget, to further expand its market share in second- and third-tier cities.
"The increase in the number of engineers in the coming year will be the same as that this year," said Rachel Duan, president and CEO of GE Healthcare China.
Duan said that more than 40 new products are scheduled to be introduced to China in the next three years, with 80 percent to be sold to local hospitals and clinics.
In 2011, the US-based company launched 10 new products that were customized for the Chinese market, including a portable ultrasound system and magnetic resonance apparatus.
R&D investment in China next year is likely to account for as much as 8 percent of the year's local sales revenue, Duan told China Daily.
"Investment in China is expected to increase faster because the industry may grow by over 20 percent a year in the next couple of years, mainly thanks to the rapid business expansion in smaller cities," said John Dineen, president and CEO of GE Healthcare. He declined to disclose the exact investment amount.
Dineen said simpler, more cost-effective products would be designed by more than 1,000 local engineers to expand the company's medical devices business in second- and third-tier cities as well as the rural areas.
The company sees localization of the whole industrial chain - from product design to sales - as one of the most important development strategies in the country, the fastest-growing market for GE Healthcare globally.
This development strategy, which focuses on local markets based on innovation of products and services, can support and complement the reform of the medical system that started in 2009, Duan said. The reform, which is intended to inject 850 billion yuan ($134 billion) into the medical care sector between 2009 and 2011, aims to provide nationwide healthcare access.
GE Healthcare plans to open its Chengdu Innovation Center, the first comprehensive center to include high-tech labs, an exhibition center and a marketing innovation center in China, in January 2012, Duan said. Construction started in January this year.
The center is part of the parent company General Electric Group's plan to invest $2 billion yuan in China by 2012 to expand innovative capacity and set up joint ventures with Chinese partners.
GE Healthcare already has three R&D centers, one each in Shanghai, Beijing and Wuxi.
According to a report by the China Association for Medical Device Industry, the average growth of China's medical devices market is expected to be 30 percent in the coming years.
In 2010, sales of medical equipment rose 35.8 percent to 61.4 billion yuan.
"More and more hospitals in China will be able to afford medical imaging products, such as mobile X-ray machines, in the coming years, and that will greatly stimulate market growth," said Hans Yuan, the industry research group manager of healthcare practice with Frost & Sullivan China, a corporate strategy consulting company.
A report from the Samsung Economic Research showed that GE Healthcare, Philips Healthcare and Siemens Healthcare account for about 70 percent of the high-end medical device market in China.
These multinational companies have been speeding up their development in local markets in recent years, adopting a number of strategies.
Siemens Healthcare China said that half of its business will come from the rural markets by 2015, compared with one-third at present. The company initiated the so-called SMART innovation strategy (simple, maintenance-friendly, affordable, reliable and timely to market) in emerging markets in 2009.
Philips Healthcare, for its part, has been competing with new and affordable products and solutions developed in cooperation with Neusoft Corp, a domestic provider of IT solutions and services.
However, the multinationals have met strong competition from Chinese companies in the local market. Price is one of the key factors that affects government purchasing, and it is a big advantage of local companies that they can provide devices at low prices, said Yuan.
"What's more, some big local companies have larger after-sales service teams, which can respond more quickly than international companies," Yuan added.
He suggested that international companies enlarge their local service teams, make new devices easier to maintain by improving product design and cooperate with third-party service providers, to further expand their business.
China Daily
(China Daily 12/21/2011 page14)
Today's Top News
Editor's picks
Most Viewed