What's on
Updated: 2011-12-16 07:35
(China Daily)
| | | | | | | | | |
| --- | --- | --- | --- | --- | --- | --- | --- | --- |
|   | | Print | | Mail | | Large Medium  Small | 分享按钮 | 0 |
Beijing
TV theme song singer takes stage
Taiwan singer Lee E-jun will stage a concert in Beijing on Dec 24 at the Great Hall of the People.
The 43-year-old started her musical career in 1987 and has released more than 30 albums, both in Mandarin and Hokkien.
She's known for singing theme songs for TV dramas adapted from the works of Taiwan romance novelist Chiung Yao.
She will sing all the hit TV series' songs at her upcoming concert, including Princess Pearl and the Six Dream Series.
The singer also joined hands with renowned publisher Sun Mian for a charity event, sending winter coats to retired soldiers around the country, especially those in remote areas. The event has extended to 28 Chinese cities and helped nearly 1,000 soldiers aged 86 to 110.
7:30 pm, Dec 24. Great Hall of the People, western part of Tiananmen Square. 400-700-5145
Looking back while moving forward
The Cafa Art Museum is hosting a retrospective show of works by artist and educator Jiang Feng (1910-82).
The exhibition features more than 40 of Jiang's woodblock prints, along with photos, letters, archives files, books, sketches and manuscripts. These illustrate the achievements of the revolutionary, artist and key founder of the Central Academy of Fine Arts, and the Central Academy of Arts and Crafts.
10 am to 5 pm, until Jan 8. 8 Huajiadi Nanjie, Chaoyang district. 010-6477-1575
Sublime design put to the public eye
More than 130 short-listed and award-winning works from the fifth Design for Sitting Competition are on display at the Cafa Art Museum.
Also on view are 50 works by renowned designers, such as Philippe Starck from France, Masayuki Kurokawa from Japan, Paolo Rizzatto from Italy and Vilker Albus from Germany.
The biannual design competition, which aims to promote young designers worldwide, attracted about 700 contestants from different parts of the world, says Central Academy of Fine Arts professor Jiang Li, who initiated the event in 2002.
10 am to 5 pm, until Dec 27. 8 Huajiadi Nanjie, Chaoyang district. 010-6477-1575
Young violinists play string thing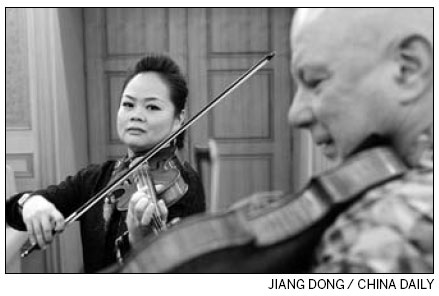 Chinese violinist Xie Nan will meet American contemporary Elmar Oliveira for a concert with the China Youngsters Symphony Orchestra.
Each violinist will, in turn, play two great ancient European violins - one Stradivarius and one Guarneri - and two new violins by Chinese violin-maker Cao Shukun afterward.
Oliveira will play Henryk Wieniawski's Mazurka, Chopin's Nocturne in C Minor and Ravel's Tzigane. Xie will play Gershwin's Summertime and A Woman Is a Sometime Thing. The two violinists will perform The Four Seasons by Vivaldi together.
At 6 pm on the day of the concert, Oliveira and Cao will give a free lecture about violins at the Forbidden City Concert Hall.
7:30 pm, Dec 20. Forbidden City Concert Hall, inside Zhongshan Park, northwest of Tian'anmen Square. 010-6559-8285; 010-6559-8306
Shanghai
Orchestra breaks sound barrier
The Austrian Radio and Television (ORF) Radio Symphony Orchestra Vienna is one of the world's most acclaimed. The symphony will make its debut tour to China, visiting Beijing, Shanghai and Chongqing municipalities.
Cornelius Meister took over as principal conductor in the autumn of 2010. The orchestra's repertoire is made up of late Romantic and contemporary works, together with seldom-performed or unjustly forgotten works.
7:30 pm, Dec 29. Shanghai Oriental Art Center, 425 Dingxiang Road. 021-6854-1234
Divine portraits of an everyman
In the Arhat, An Extraordinary Everyman series, Lo Ch'ing, for the first time in Chinese painting's history, created portraits of a group of arhats. The portraits demonstrate the various intrinsic and extrinsic dilemmas confronted by modern man with sensitive investigation and profound reflection. His ceramic paintings will also be on show.
11 am to 6 pm, Dec 10 to 25, closed on Monday. 99 Degrees Art Center, Room 101, Building 4, 50 Moganshan Road. 021-6276-0482
CCTV show provokes thought
In the exhibition of Zhang Qing, monitors from CCTV - closed-circuit television, that is, not China Central Television - open above and below the viewers. These images, real or imaginary, deliberate or unintended, all provoke thought. The artworks to be exhibited include video installations, conceptual installations and the single-screen video Learn by Tom Smith, completed during the Glenfiddich Artists in Residence Program. After a trip to a Scotch whisky factory, Zhang Qing renders with journalistic irony a worker against the background of Western capitalist society that displays the conflicts between cultures in a familiar language.
1pm to 6 pm, Dec 18 to Jan 28, ShanghART H-Space, Building 18, 50 Moganshan Rd. 021-6276-3275
Qingdao
Orchestrating Chinese hearts
The famous Vienna Strauss Orchestra will start its China tour on Dec 25in Qingdao, Shandong province, and end it on Jan 5 in Shanghai, stopping in Dalian, Shenzhen, Guangzhou, Wuhan, Changsha and Chengdu in between.
This is the first time the established Orchestra will perform in China.
The Vienna Strauss Orchestra was founded by Johann Strauss in 1825. The orchestra has been led by different conductors, while maintaining the original ensemble's tradition.
The orchestra is composed of 17 to 40 musicians, depending on the concert. Prominent European artists have performed with the orchestra, including tenor Luciano Pavarotti.
Prominent Hungarian violinist Edvin Marton has been the orchestra's new conductor and first violinist since 2009.
The China tour will showcase the orchestra's traditional masterpieces, including On the Beautiful Blue Danube, Vienna Blood, Tritsch-Tratsch polka and Radetzky March.
400-610-3721
China Daily
(China Daily 12/16/2011 page20)