Court: Shenzhen company is owner of iPad trademark
Updated: 2011-12-14 07:56
By Zhang Zhao (China Daily)
| | | | | | | | | |
| --- | --- | --- | --- | --- | --- | --- | --- | --- |
|   | | Print | | Mail | | Large Medium  Small | 分享按钮 | 0 |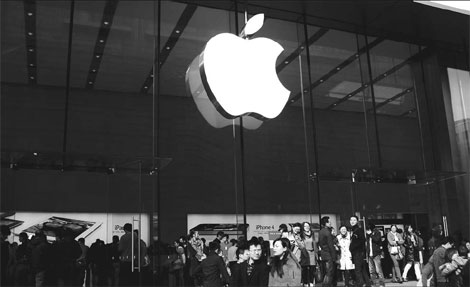 A ruling by the Intermediate People's Court in Shenzhen could mean a ban on sales of the popular iPad tablet in China if appeals and negotiations fail. Liu Jianmin / For China Daily
International electronics giant Apple might have to spend a small fortune in China or stop using the name iPad on its tablet computer because the iconic trademark has actually belonged to a little-known Chinese company for more than a decade.
On Nov 5, the Intermediate People's Court in Shenzhen, Guangdong province, rejected Apple's claims in a lawsuit against flat screen maker Shenzhen Proview Technology over the iPad trademark.
Back in 2000
As early as 2000 - long before Apple unveiled the iPad - Hong Kong-headquartered Proview International Holdings Ltd developed a tablet computer and registered the iPad trademark in markets including Europe, Mexico, South Korea, Singapore, Indonesia, Thailand and Vietnam between 2000 and 2004.
The company's Shenzhen subsidiary registered the trademark in China in 2001.
But compared to Apple's iPad, an immense hit across the world today, Proview's tablet bearing the same name was not successful a decade ago.
In late 2009, a Proview subsidiary in Taiwan sold 10 trademarks, including two related to the name iPad, to a small UK company called IP Application Development (IPAD) - which is owned by Apple - for 35,000 pounds ($54,600).
IPAD later transferred rights for the iPad trademarks to Apple Inc for only 10 pounds.
Apple applied for ownership of the two iPad trademarks before it began selling its tablet in China, but Chinese trademark authorities rejected the application because they were already owned by Proview Shenzhen, another affiliate of the Hong Kong parent Proview International, and not included in the Taiwan unit's sales to IPAD.
Apple and IPAD then filed a lawsuit in early 2010 against Proview Shenzhen, but the recent court verdict found that the Shenzhen company is not bound by the 2009 deal.
Countersuits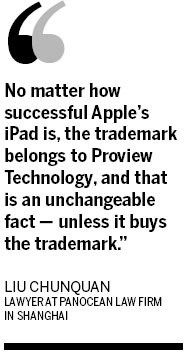 Proview in turn sued Apple retailers in the Guangdong cities of Shenzhen and Huizhou seeking an immediate ban on the sale of iPads.
It also plans to ask for 10 billion yuan ($1.6 billion) in compensation from Apple. Courts in the two cities will start hearing the cases later this month and early next month.
"No matter how successful Apple's iPad is, the trademark belongs to Proview Technology, and that is an unchangeable fact - unless it buys the trademark (from the Shenzhen company)," said Liu Chunquan, a lawyer at the Panocean Law Firm in Shanghai.
"Someone may ask if iPads will be banned from the Chinese market if Apple fails to win the case. The answer is yes - if we firmly execute the court's ruling," he said.
Smuggling rampant
But that does not mean iPads will vanish from China. More are smuggled from overseas than are purchased from authorized Apple outlets, said Li Yi, secretary-general of the China Mobile Internet Industry Alliance.
"But authorized Chinese retailers of the iPad would be greatly influenced," said Li.
He added that the likelihood of Apple finding a new name to call its tablet computer is "less than the chance of a comet hitting the Earth".
Liu agreed, noting that "most companies would not like to build a new brand instead of using one that already has good fame and solid base of consumers".
Xiao Caiyuan, a lawyer for Proview Technology, said that "Apple is such a giant and has a good image so people don't imagine it could possibly infringe on our intellectual property rights".
'We will endure'
"People always think it's the small companies infringing on large companies' IPR," he said. "But if Apple appeals, we will endure it."
Other observers note the Shenzhen company, now saddled with more than 400 million yuan in debt, is using the case to struggle out of financial trouble.
China Daily attempted to contact Apple's Beijing-based spokeswoman Carolyn Wu for comments, but she did not answer phone calls and requests to reach her were unsuccessful.
China Daily
(China Daily 12/14/2011 page17)