86 hepatitis C cases in two towns
Updated: 2011-12-14 07:55
By Shan Juan (China Daily)
| | | | | | | | | |
| --- | --- | --- | --- | --- | --- | --- | --- | --- |
|   | | Print | | Mail | | Large Medium  Small | 分享按钮 | 0 |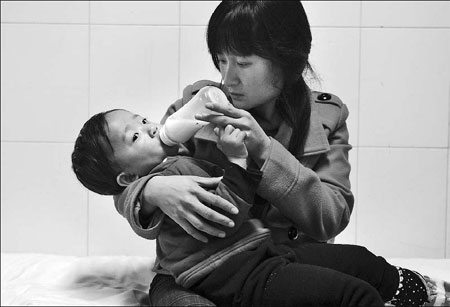 A family member feeds a child infected with hepatitis C virus who is being treated at the First Affiliated Hospital of Anhui Medical University in Hefei, capital of Anhui province. The child is one of the 86 people who contracted the virus in a suspected case of hospital-caused mass infection. Xinhua
BEIJING - Eighty-six people, including more than 20 children, in two townships have contracted hepatitis C virus (HCV) in a suspected case of hospital-caused mass infection, government investigations have confirmed.
Authorities are looking into the possibility that the source is a family-run clinic in Maqiao township, Yongcheng city, Henan province.
Of those proven infected, 63 were from Maqiao township, and the rest from Dancheng township, Guoyang county, in Anhui province, said Deng Haihua, a Ministry of Health spokesman, at a regular news conference on Tuesday.
"None of them were showing any symptoms, but they have received proper treatment. Further investigation, mainly by health authorities in the two provinces, are ongoing and the final results will be made public when they are ready," he said.
Jia Jidong, who leads the Beijing Friendship Hospital's liver-research center, told China Daily that the actual number of cases might be larger than reported ones, because 30 to 50 percent of those infected could clear their systems of the virus within six months and would test positive only for HCV antibodies.
Zhang Yinping, of Anhui's Guoyang county, said his 2-year-old son, who had previously tested positive for HCV antibody, tested negative during HCV RNA screening on November 30.
"Doctors said that he had spontaneously cleared himself of the virus," Zhang told China Daily on Tuesday.
According to Jia, those whose RNA test results come back negative could still test positive for the antibody after clearing their systems of the virus.
When the scandal first broke out, many, including Anhui health authorities, suspected that the family-run clinic in Maqiao township, about 8 kilometers from the border between the two provinces involved, may have been reusing infected needles.
But an initial probe in Maqiao found no contaminated needles at the clinic, said a statement issued online by the local government on Sunday.
However, Wu Zunyou, director of the National Center for AIDS and Sexually Transmitted Diseases Control and Prevention, has indicated that the needles might have been discarded or sterilized right before the investigation.
The statement said the investigation at the clinic continues, and the local health authority would increase supervision of hygiene and disinfection, particularly at grassroots village clinics.
"Subsequent analysis conducted among confirmed HCV patients would help identify similarities, such as clinics they may have all frequented before contracting the virus, and that would be significant for the investigation," Wu said.
"Other factors, like the patients' ages, have to be considered, too, before drawing any conclusion," he said.
The probe at Maqiao found that most of those confirmed to have been infected were age 45 and older, said a statement issued by the city of Yongcheng.
"For them, it is also possible that they were infected in the botched plasma-selling scheme in the mid 1990s," Wu said.
But the HCV incidence rate at Maqiao township, the probe found, stands at 1.22 percent, far higher than the national average of 0.43 percent. At the village of Shenlou in the township, the incidence rate reached 4.6 percent.
"Based on the surprisingly high incidence rate, we can tell that something must be going wrong there," Wu noted.
Li Jian, deputy director of the health bureau of Guoyang county, Anhui province, however, was cautious in discussing the latest findings of their probe.
Unlike Yongcheng in Henan, Li's bureau had not released detailed investigation results by Tuesday.
"We are still working on it, and, so far, it's too early to say the clinic in Maqiao is the culprit," he told China Daily on Tuesday.
But he disclosed that most of the 23 people confirmed infected in Dancheng were children, and local people had no contact with the plasma-selling scheme in the mid 1990s.
"Moreover, we've found that many of the infected children often went to the Maqiao clinic for treatment," he said.
HCV infections related to medical procedures are not rare on the mainland.
In late August, six officials in central Henan province were removed from their posts after a medical incident in which eight people contracted HCV.
Eight uremia patients got infected during blood dialysis at the Xin'an County People's Hospital in Henan province.
Lei Zhenglong, deputy director of the ministry's disease prevention and control bureau, said hepatitis C transmission through medical practices like blood transfusions, dialysis, and organ transplants are a concern, and the ministry would regularly conduct field inspections at health institutions across the country.
But he also conceded that clinics in rural areas are hard to manage and can hold a greater risk of infecting patients.
Currently, of the estimated 6 million hepatitis C patients on the mainland, "a majority acquired their infections before health authorities required mandatory HCV screenings in blood transfusions in 1993," said Jia Jidong.
"Most of the patients I received at my hospital got infected in the early 1990s, and we've not seen a lot of new infections in recent years," he said.
But susceptible groups, including AIDS patients and intravenous drug users, are hit harder, he added.
Sixty to 90 percent of China's reported AIDS patients are also infected with HCV.
China Daily
(China Daily 12/14/2011 page5)