Rural two-child policy gives birth to new possibilities
Updated: 2011-12-08 08:00
By Duan Yan and Shan Juan (China Daily)
| | | | | | | | | |
| --- | --- | --- | --- | --- | --- | --- | --- | --- |
|   | | Print | | Mail | | Large Medium  Small | 分享按钮 | 0 |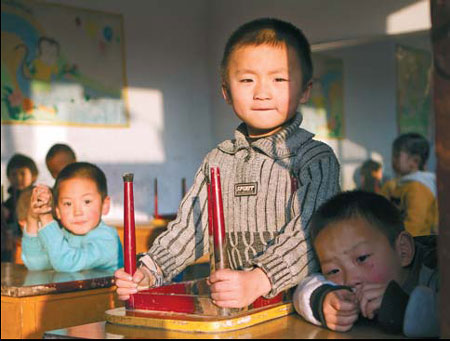 Kids at a kindergarten in Yicheng county, Shanxi province, are growing up in a region that has a two-child policy which experts say is resulting in better demographic indicators than many other places. Zhang Tao / China Daily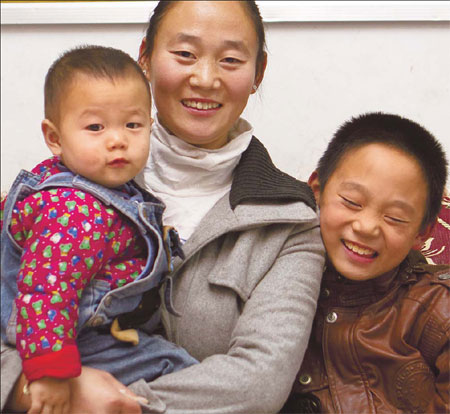 Chen Aihua enjoys having two sons, Wang Zichen (in her arms) and Wang Ziqin, 8. Not everyone who is eligible for more than one child has chosen that option. Zhang Tao / China Daily
Pilot program carried out 26 years ago proves good for demographic structure, Duan Yan in Shanxi and Shan Juan in Heilongjiang report.
When Wang Wei works his night shift at a steel plant, his wife Chen Aihua can tend to the housework without having to entertain their 8-year-old son.
The boy can, instead, play with his little brother thanks to a policy implemented 26 years ago.
The family lives in Yicheng county of North China's Shanxi province - one of the four regions that the central government chose in the 1980s to test a policy allowing two children in rural families.
Ethnic groups and families in remote border areas can also enjoy the two-child policy.
Demographic indicators in these special zones have turned out better than the national average, and they have provided valuable references for China's family planning policy, according to Gu Baochang, professor of demography at Beijing-based Renmin University of China.
A 2005-2007 study that Gu led found that a two-child policy is both practical and better for healthy population development.
It is also true in the eyes of a mother.
"Two is better than one," Chen said as she held her boys beside her in their sparsely furnished home.
"They've even learned to share their toys."
"We have to consider the economic situation when it comes to having babies," Tian Xiuju, 30, said while watching her 2-year-old son in the early education program that is provided, free, by the local family planning department.
A mom of two now, Tian said that if her firstborn had been a boy she wouldn't have had the second. "Many in the village of around 200 people choose to have only one today."
Like most others who live in Luoguhe, in Northeast China's Heilongjiang province near the Russian border, Tian isn't interested in having a second child, as is allowed.
Many in Yicheng have enjoyed a similar policy, but 8,430 households (about 12.5 percent of those eligible) have waived their rights to a second chance at parenthood.
Liang Rongrong, 28, is caring for 5-year-old Liang Zhenjiang while her husband works in Guangzhou, in South China. Burdened with medical bills for her son's cardiac surgery - 30,000 yuan ($4,730), equal to the family's average yearly income - Liang said she could not afford another child.
"Taking care of my son is our priority."
Fears unrealized
In 1985, when most couples were allowed to have just one child, demographer Liang Zhongtang noticed the conflicts when villagers' desires for fertility clashed with the national policy.
Liang was a teacher at the Party School of Shanxi Provincial Committee of the Communist Party of China then, and he suggested to the central government a "second-child" pilot program, but with strings attached.
China's marriage law, then and now, sets the minimum marriage age at 20 for women, 22 for men. Under Liang's proposal, women could not marry until they were 23, men at 25. Women could have a first child at 24 and a second at 30.
Local cadres worried that a relaxed family planning policy would lead to a quick and explosive increase in population. It didn't happen.
Two decades later, population is growing slower in Yicheng county than the average for all of Shanxi province. In 1985, Yicheng had 258,000 residents, 1 percent of Shanxi's total. In 2007, the county had 316,000 people, 0.92 percent of the provincial population.
"If the law allows people to get married (and start having children) at 20, within a century there will be five generations of people. By delaying the childbearing age for four years, there will be only four generations of people," explained Wu Baotang, director of Yicheng county family planning bureau.
More important, demographic indexes turned out to be more balanced than the national average. Statistics from Wu's bureau show that 104 boys are born for every 100 girls in Yicheng. The national average in last year's census was about 118 boys to 100 girls.
Unlike Yicheng, where couples need to wait six years to have a second child, the policy in Heilongjiang's border area lets couples set their own timetable.
"Population growth and development in our two-child policy areas appear to be more healthy than the general situation of the country," said Jia Yumei, the family planning chief for the province. And there has been no significant increase in the total fertility rate, the number of children a woman has during her lifetime.
"People's desire for reproduction has kept weakening here," she said, "and some places in our province, like the Greater Hinggan Mountain area, have seen negative population growth for several years."
New challenges
Fertility in the special zones has decreased as economic development and urbanization have increased. The national average is less than 1.5 children over a woman's lifetime, which is well below the replacement level of 2.1, said Lu Jiehua, a sociology professor at Peking University. In Yicheng, the rate stands at 2.0 children.
China's total fertility rate "is the lowest among the developing world and even among the lowest in industrial countries," Lu said. "To increase human productivity is even more difficult than curbing it."
The government credits family planning with averting 400 million births, said Li Bin, minister of the National Population and Family Planning Commission. Less pressure on food and other critical resources allowed China to achieve its economic wonder of the past 30 years and largely improve people's quality of life, she said.
Li did concede, however, that the success of family planning also led to surging demographic challenges - a serious and rapid increase in the aged as a proportion of population, a skewed sex ratio at birth and a dwindling labor force.
Gu, the Renmin University demographer, once said that for the first half of his life he worked to curb population growth and for the rest he would strive for relaxation of the family planning policy. He would like to see two children be allowed nationwide to help address the problems that Li cited.
But decision-makers have yet to reach consensus on easing the family planning policy and are highly cautious about a change, said Yuan Xin, a professor at Nankai University's population and development institute in Tianjin.
Research based on the 2010 census put the total fertility rate at nearly 1.5 but some academics doubt that figure's credibility. They say many children born in contravention of the family planning policy might not be counted and a fertility rate of around 1.8 was more trustworthy, Lu said. "Thereafter, the agenda to ease the policy has been put off," he said.
Personally, Lu agreed with 1.5 as the rate.
'What if . . . ?'
The fears of uncontrolled population today resurrect memories from 26 years ago, when Liang made his proposal and its approval shocked many officials in Yicheng county.
"I couldn't believe my ears when Professor Liang was talking about allowing people to have a second child," said Feng Caishan, who was then the county chief of Longhua town. "Are you sure he said 'second'?" Feng asked others.
"When we told villagers about the news, they welcomed the decision," Feng said. But like many local cadres, he worried about the possible fallout. "What if they want a third kid, or a fourth?"
Population did not surge. And the policy change in Yicheng made enforcement easier.
Before 1985, villagers often cursed Che Yuelian, a local enforcer, when she walked down the street. "Even my mom couldn't understand me." After the policy eased, "Our relations with villagers were much more harmonious."
Che is 65 now and still wears the badge to work at what she described as "the most difficult job on earth" before 1985.
In the early stages, financial punishment was used to enforce the policy. "Anyone who got married or had a child earlier than the required age would be fined 100 yuan," An Dousheng, Yicheng's family planning chief 1980-1990, remembered. At the time, An said, the local average monthly income was 20 to 30 yuan.
In time, local enforcers realized that a relaxed policy meant people were more willing to abide by the rule. The 2000 census showed that only 0.7 percent of families had broken the rules and had more than two children. The provincial average was 7.49 percent and the national average 4.29 percent.
"Experiments in these areas made us rethink the policy, particularly in terms of huge implementation costs, in money, staff, and public perception," Lu, the sociologist, said.
Latest development
Local governments have fine-tuned the policy for years. Around 1990, for example, Shanghai pioneered a policy letting urban couples who are only children to have a second child. Last month, Central China's Henan province became the last province in the country to make that allowance.
Meanwhile, family planning departments have issued a series of policies and measures favoring families that strictly follow family planning policy, particularly in rural areas where more children are considered vital to support the parents in old age.
To date, more than 12 billion yuan has been spent on subsidies for 300,000 such families, benefiting more than 4 million people, Li Bin reported recently to the China Family Planning Association, a government-backed civil organization to help carry out policies.
Sun Ruisheng in Shanxi contributed to this report.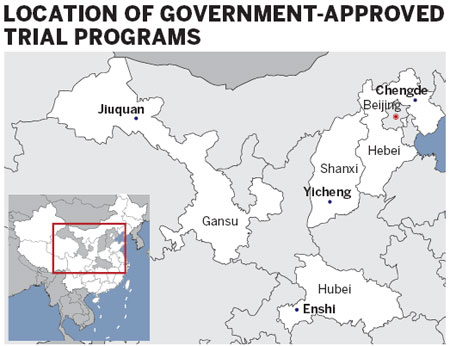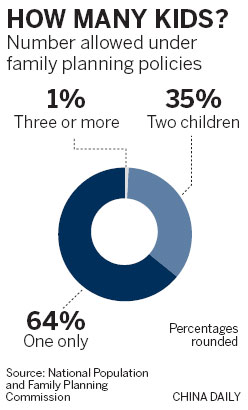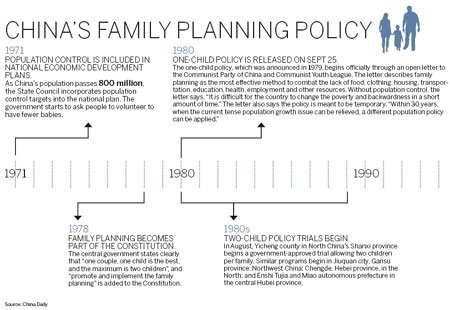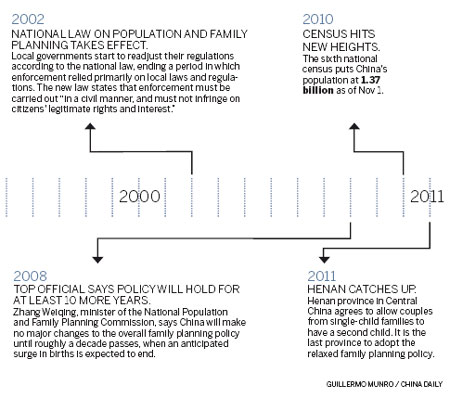 (China Daily 12/08/2011 page1)