Changing the learning paradigm
Updated: 2011-12-08 07:54
By Wang Hongyi (China Daily)
| | | | | | | | | |
| --- | --- | --- | --- | --- | --- | --- | --- | --- |
|   | | Print | | Mail | | Large Medium  Small | 分享按钮 | 0 |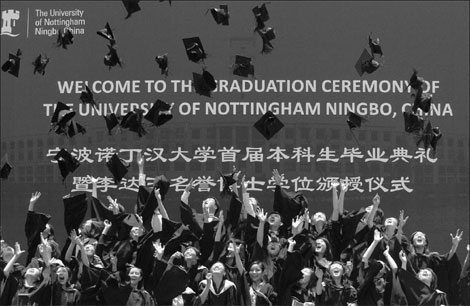 Students toss their caps at a graduation ceremony at the Ningbo campus of the UK-based University of Nottingham. Opened in 2004, the campus was one of the first Sino-foreign joint university projects in China. Provided to China Daily
Foreign schools eager to set up partnerships with Chinese universities
SHANGHAI - With more Chinese students going abroad for education, overseas universities are looking to open more branches in China or establish partnerships with Chinese universities.
The Guangdong University of Foreign Studies and UK-based Lancaster University have agreed to establish a new university in Guangzhou, Guangdong province.
The university, to be called Guangwai-Lancaster University, will offer graduate and post-graduate programs and degrees such as an executive doctorate in business administration.
"We will explore new mechanisms and models to run the university," said Zhong Weihe, president of the Guangdong University of Foreign Studies.
Guangwai-Lancaster University won't be the first Sino-foreign joint university in China. In 2004, the UK-based University of Nottingham was given permission to open a foreign campus in China, and the school opened in Ningbo a year later.
Ground was broken in March on the country's first international university co-established with a US-based higher education institute, the NYU Shanghai campus.
The university, approved by the Ministry of Education, was co-established by the US-based New York University (NYU) and East China Normal University (ECNU). It is expected to open in the fall of 2013.
In 2006, a university co-established by Xi'an Jiaotong University and Liverpool University opened in Suzhou, Jiangsu province.
"The 21st century is Asia's century, and China's in particular. Its economic strength and the growing demand for higher education, with a move toward establishing a knowledge economy, means that it is the perfect place for universities to be focusing their attention," said Nick Miles, provost and chief executive officer of the University of Nottingham Ningbo China (UNNC).
"The demand for international higher education is strong and only a limited section of the population can afford to travel overseas to experience it."
The University of Nottingham's decision to establish campuses in Asia was a mutually beneficial one as it can provide Nottingham's globally renowned experience to a broader population of students in China and Malaysia, even as it gains an opportunity to have better understanding of the places where it operates, Miles said.
The overseas higher education system has long been the envy of China's students and their parents, and this is what these Sino-foreign joint higher education programs are using to attract students.
For instance, UNNC offers a British education and all its degree programs, exams and coursework conducted in English.
According to the university, the method of education used is different from what is found at a typical Chinese university in that the emphasis is on learning rather than being taught.
Students, for example, decide what they want to study and how they will assimilate, apply and develop this knowledge.
The theory behind this logic is that students are most likely to excel in disciplines and subject areas that suit their personality and they are interested in.
The university also encourages students to learn to appreciate the importance of continually deepening their knowledge in their areas of expertise throughout their lives.
Yu Lizhong, president of ECNU, said that NYU Shanghai will work as a US-style selective university offering a full range of academic majors.
It has a four-year undergraduate college and graduate and professional programs. All classes will be taught in English.
Students at NYU Shanghai will be able to apply to study for one to three semesters at NYU's other campuses and overseas centers and broaden their global prospective.
The initial courses being offered include business and finance, economics, history, Chinese studies, biology, chemistry, physics, mathematics, neurosciences and engineering. Students will receive degrees offered by NYU Shanghai and NYU.
The universities also adopt a blended approach when it comes to selecting students. At UNNC, Chinese students must qualify in the Division One (national college entrance exam, or gaokao) if they are from the Chinese mainland and have a minimum score of 115 in English.
Students from other parts of the world are required to provide evidence of proficiency in English if their entry qualifications were not obtained in the medium of English.
According to NYU Shanghai, Chinese students will be selected through the gaokao and a separate exam given by ECNU. International students can apply for NYU Shanghai through NYU's global admissions system.
China's 10-year education plan is an important part of the country's next phase of economic development. The plan makes provisions for a new style of higher education, like the type offered in Ningbo, that encourages creativity and innovation and generally equips citizens to take the lead in global business and scientific endeavors, said Miles.
Though the country's top leaders have been promoting higher education and seeing more Sino-foreign universities functioning here, problems still exist.
According to the Ministry of Education, more than 70 percent of the applications for Sino-foreign co-run programs from provinces and cities this year were rejected. The low quality of proposed foreign education and unreasonable agreements between the two sides were the main reasons for rejection.
There are more than 1,200 Sino-foreign education programs in China, but education experts have questioned the quality of some of the programs.
"More overseas schools want to increase their presence and market share in China. Students can easily get a degree with money.
"In this regard, these programs have become nothing but diploma mills," said Xiong Bingqi, deputy director of the 21st Century Education Research Institute.
"To introduce quality foreign education resources is the key to developing Sino-foreign education programs, as it determines their success," said Lin Jinhui, head of Xiamen University-The University of Hong Kong Joint Research Center of Chinese-Foreign Cooperation in Running Schools.
"In reality, many joint schools lack clear positions and goals and are unable to provide quality services. This is not only harming the schools' credibility but also disrupting the whole education environment," he said.
China Daily
(China Daily 12/08/2011 page16)