Cold storage industry sees a hot market in mainland
Middle-class consumers' concerns about food safety driving growth
SHANGHAI - International cold storage experts see China as a market where the industry can offset sluggish revenues in developed countries, building on growing middle-class demand for clean, safe and convenient food.
PFS YIDA Logistics (HK) Group Co Ltd, a joint venture between the US-based Preferred Freezer Services LLC (PFS) and Yida Group, is venturing into China's cold storage market.
PFS owns a 60 percent stake in PFS YIDA Logistics (HK) Group Co Ltd, while the Dalian-based Yida Group holds the other 40 percent.
The venture is opening its first cold storage facility, which has a capacity of 40,000 tons, in Shanghai.
The facility "is a first small step to what will be a national network of world-class refrigerated food-handling facilities," said John Galiher, president and CEO of PFS, at the opening ceremony of the facility this past1 week.
Building the network will take years and cost more than 7 billion yuan ($1.1 billion), Galiher said.
The second facility, which has a storage volume of up to 30,000 tons, will open in the Waigaoqiao area of Shanghai in February.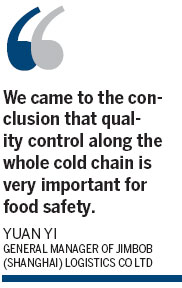 The company also broke ground on a 30,000-ton facility in Tianjin on Nov 28 and is set to start work on a facility in Shenzhen, according to Tim McLellan, the company's managing director of international business.
After reading domestic media reports about contaminated quick-frozen dumplings, "we came to the conclusion that quality control along the whole cold chain is very important for food safety", said Yuan Yi, general manager of Jimbob (Shanghai) Logistics Co Ltd, a logistics and cold chain consulting company.
The bright side of the dumpling problem is that it will "raise attention about the cold chain. A single company cannot completely change the whole industry chain, and only by making sure that each stage of the chain is high quality can the food's safety and quality be maintained," said Yuan.
The central government has identified three mega-economic zones: the Bohai Bay, the Yangtze River Delta and the Pearl River Delta.
McLellan said the company will establish facilities in all three regions, but it will also "follow the market" as inland areas develop.
He noted that China's economy was on track to grow 8.9 percent, which might be more slowly than in the past, but that the rest of the world was growing at only about 1.5 percent.
"When you think of 8.9 percent, it is still tremendous growth."
Jiang Liqiang is operations director of the quality control center at RCS Group, which handles logistics and delivery for some big-name fast-food companies in southern China.
Jiang has been working in the cold storage industry for several years, and he said it was very hard to find a high-standard cold storage facility in China.
"The participation of companies like PFS in China will greatly improve the industry's standards and service," said Jiang.
Liu Xianfeng, distribution and cold storage manager of McCain Foods (Harbin) Co Ltd, a major French fry supplier for YUM! Brands Inc's chain KFC and McDonald's Corp, said that although a lot of investment was going into cold storage, only a few facilities could achieve strict temperature controls.
In recent years, China's food industry demand for cold chain logistics has expanded at an annual rate of more than 8 percent.
However, the existing cold storage volume could only satisfy 20 to 30 percent of the market demand, a situation that results in about $9.25 billion of losses during farm product transportation, according to the Economic Daily.
Yuan forecast that the nation's cold chain industry will be thoroughly restructured in the next five to 10 years and standards for transportation and storage will be unified.
China Daily
(China Daily 12/07/2011 page15)
Today's Top News
Editor's picks
Most Viewed