Weibo proves effective at promoting charity
Updated: 2011-11-28 08:03
By Shi Jing (China Daily)
| | | | | | | | | |
| --- | --- | --- | --- | --- | --- | --- | --- | --- |
|   | | Print | | Mail | | Large Medium  Small | 分享按钮 | 0 |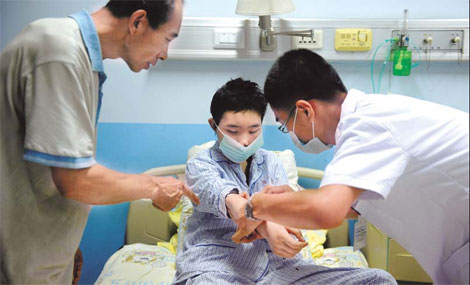 Jia Yue, who suffers from aplastic anemia, being treated by a doctor at a hospital in Beijing. Jia, a middle school student in Taiyuan, in North China's Shanxi province, was sent to the Beijing's hospital this summer with the help of netizens who shared information through Weibo with each other. The netizens donated more than 440,000 yuan ($68,750) for Jia's treatment at the hospital because the boy and his family are too poor to afford the hospital costs. Wang Yixuan / for China Daily
Clothes pour in for the less well-off after text forwarded 120,000 times
SHANGHAI - When Wang Xinwenchi posted a message on Weibo, a Twitter-like microblog service in China, on Sept 23 asking people to donate old clothes to poor children in Northwest China's Qinghai province, she never expected it would be forwarded more than 120,000 times.
"We have sent at least 700 packs of clothes to a community service center in Qinghai which we have been helping. We covered all the delivery fees incurred," said Wang, chief executive officer of Jinchi.com, a Beijing-based group-buying website.
People active on the Chinese version of Twitter have shown great enthusiasm toward Wang's message, which came attached with pictures showing children in ragged clothes and torn shoes barely capable of shielding them from the winter cold.
"The community service center we have been working with said it had enough clothes now. Therefore we are now sending the donated clothes to Beijing Ren Ai Charity Foundation. They will classify and sterilize the clothes to make sure that every one receives clean clothes that are the most suitable," said Wang.
As Weibo is mostly favored by young people, it can be inferred that people above the age of 20 or younger mothers have responded most generously to Wang's initiative. Some Chinese students studying abroad have even sent clothes to her from overseas.
Calling for people to give a helping hand to the underprivileged children has helped Wang to win a growing number of followers on Weibo. But she made it clear that she acted entirely out of personal goodwill and "it has nothing to do with playing up her group-buying website".
With the help of volunteer teachers, Zhang Chengke, director of the teaching and research group at Longba Nine-year School in West China's Gansu province, has received clothes donated from Sichuan, Shenzhen, Shanghai among other regions.
"Clothes we have received that are donated by university students, office workers and volunteer teachers are mostly quite clean. Those that look less hygienic will be washed before we give them to those in need. It is not an easy job to send the clothes here from all over the country. Of course, we should take good care of them," said Zhang, a volunteer teacher who has been working at the school for about three years.
"We are really grateful to those who have given a helping hand to the children here, who used to be in desperate need for appropriate clothes. It is really good to see people using novel means such as Weibo to help the people who need help. Thumbs up to the warm-hearted people," he said.
Not all stories about donating clothes via the Internet have such pleasant endings. Zhang Li, founder of the Lhasa-based Tibet Pende Targye Vocational Technical Welfare School put up a notice on the school's official website in October last year saying that while most of the clothes sent to the children there were nice and clean, they also received high heels, suspenders and even bikinis that were totally inappropriate for children. They were also astonished to find that someone even sent unwashed underwear and smelly clothes to them.
"It took us a lot of time and water, which is quite scarce in Tibet, to wash the clothes. We have also spent a lot of money delivering clothes beyond our needs that were sent to us to other places outside Lhasa," said Zhang in the notice.
Chen Yingwei, a Beijing-based charity expert, suggested clothes should be professionally processed before allocating them according to people's needs.
"Despite those unpleasant incidents, it is good to see people turning to Weibo to make charitable donations. For one thing, Weibo is more reliable than online forums because the former requires real-name registration so people can guarantee the authenticity of every message posted," said Chen.
"But the more important thing is, charity found its home on Weibo - that is coming from people and serving people. At times of uncertainty in the charity field, especially when the Red Cross Society of China encountered so many rumors recently, people have come to realize that smaller organizations that have little inherited bureaucracy have more flexibility in this area," she added.
Great progress in information technology has allowed almost everyone to make his or her voice heard on a public platform, she said.
"People in an age of rapid economic growth will naturally attach more importance to the well-being of the people around them than to themselves. Later, they might show more interest in environmental protection and even become altruistic," Chen said.
China Daily
(China Daily 11/28/2011 page22)