Bid to bar Chinese audit firms criticized
BEIJING - US Senator Charles Schumer's call to bar Chinese agencies from auditing firms trading on the US market is the latest reflection of the US government's protectionism in service trades and does not benefit either country, local companies and industry experts said on Wednesday.
"Schumer's proposal actually reflects protectionism in service trades. And I am afraid that cooperation between US accounting firms and Chinese ones will be affected," said Liu Dongdong, a partner at the China branch of Grant Thornton, a leading accounting and consulting organization
Liu told China Daily that many Chinese companies traded on the US market are audited by small US accounting firms and only a few audits are made by Chinese agencies.
Liu added that when China's accounting firms develop businesses abroad, they will seek foreign counterparts to cooperate or set up their own overseas branches, as foreign firms do in China. He is concerned that if the proposal were adopted, they would lose all work in the US.
The Wall Street Journal reported on Tuesday that Schumer said in his letter to the Public Company Accounting Oversight Board that it should suspend or revoke its registration of Chinese accounting firms that it has been blocked from inspecting, thus barring them from preparing audit reports on companies that trade on US markets.
According to the newspaper, Schumer criticized the oversight board's "failure to do what it was created to do - particularly in the face of Chinese corporate accounting scandals".
Since March, 15 Chinese companies listed in the US have suspended trade and five have gone private, largely because of financial scandals.
CICC Equity Strategist Hong Hao said that China concept stocks have faced some challenges, but many of them are of high quality and welcomed by US investors.
"When the US economy is not good, companies' financial problems are more easily exposed. Other companies should regard it as a warning and look after their own financial conditions. However, we can see that China concept stocks such as New Oriental, Home Inns and Mindray are very good and popular among investors.
"Though Chinese companies think it an honor to get listed on the US market, the proposal may prevent some of them from going public abroad because working with foreign accounting firms that know little about China can be difficult. US investors also will not like this," Hong said.
A senior accountant at one of the "Big Four" accountancies (PricewaterhouseCoopers, KPMG, Ernst & Young and Deloitte) who declined to be named, said that Chinese accounting firms and global companies' China branches can work with Chinese companies much better than others.
"When you audit a Chinese company, you should understand China, including its language, laws, and cultures. I do not think a company with no experience in China can make it well," the accountant said.
China Daily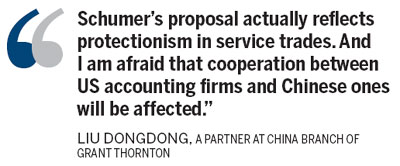 (China Daily 11/24/2011 page15)
Today's Top News
Editor's picks
Most Viewed