Cooking up skills for the mentally impaired
Updated: 2011-11-14 07:56
By Shi Yingying (China Daily)
| | | | | | | | | |
| --- | --- | --- | --- | --- | --- | --- | --- | --- |
|   | | Print | | Mail | | Large Medium  Small | 分享按钮 | 0 |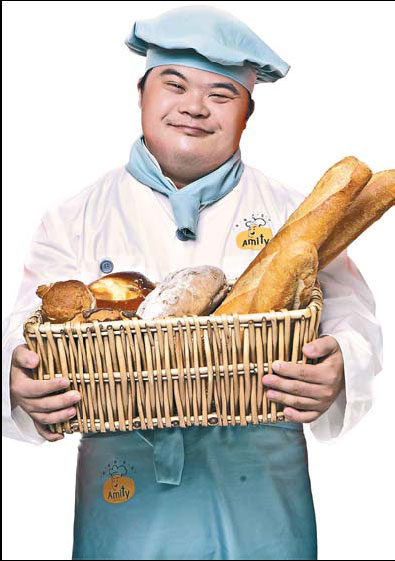 A billboard advertising Zhou Jian and Amity Bakery where he works. The 34-year-old, who suffers from Down syndrome, is one of three mentally challenged people who work in the kitchen. The bakery offers vocational training to another 16. Provided to China Daily
Bakery prepares the handicapped for the world of work with training
NANJING - Wearing a big smile and holding a basket of freshly baked bread, Zhou Jian's photo is used on bookmarks and brochures to promote Amity Bakery, a tiny street corner business.
The 34-year-old, who suffers from Down syndrome, is one of three mentally challenged people who work in the kitchen. The bakery offers vocational training to another 16.
"I never thought I could be a baker one day," said Zhou, pointing to the hot pineapple bun he had just made. "I took the steps (of learning how to bake) very slowly - one by one."
Zhou, who started work at the bakery when it opened in 1997, is not only Amity Bakery's most loyal employee. He is also the "chief mate" after pastry chef Li Aibing - the only one among the three handicapped employees who has the privilege of using a knife in the kitchen. The others are not allowed to because of safety concerns.
Despite his impairment, poor cognitive ability and weak sight and hearing caused by the syndrome, Zhou is still chef Li's favorite worker. "Training the mentally challenged is something hard to explain to normal people. It requires enormous patience - sometimes, years of patience," said Li, who had previous experience of working with deaf people before joining Amity Bakery.
"To start with, they have almost no sense of space, time and color. A very simple example would be teaching them how to place cookies on the tray. They knew how to place the first piece - in the corner, of course - but after that, they would have no idea of where to place the second cookie," he said.
Li said it took him more than six months before his students knew how to put cookies in rows on trays.
After a few years of training, all three mentally challenged employees had learned how to make a variety of cookies. Zhou surprised Li by developing skills such as working with dough as well as making the simplest plain bread and pineapple buns.
"What turns out to be more important is that these skills help to stop the impairment from progressing. That means one step closer to a normal life," said Li, who cited as an example Huang Wenhui.
Huang, 26, also suffers from Down syndrome. The shy girl would cry and try to hide in a corner if she met a stranger when she first joined Amity in 1997. "She improved a lot after working with us but, unfortunately, Huang decided to quit in 2009 when we moved premises. Our new bakery was too far away from her home," said Li.
She returned to the shop this year when her parents realized she was no longer taking proper care of herself and was not communicating well with others. They figured it's better for her to have a job," said Li.
Amity wants to emulate Japan's Swan Bakery, which is famous for offering employment opportunities to the disabled, said Zhu Guangquan, general manager of the business. "Swan Bakery has more than 26 shops across Japan while we're currently selling bread and cookies from the basement without a proper outlet," he said.
Occupying two floors in a rented building, Amity Bakery uses its 50 square meters (sq m) of space in the basement as the kitchen and 60 sq m on the third floor as a training center for the mentally challenged. That leaves no space for an actual shop.
"We simply couldn't afford the rent," said Zhu. "The initial fund to start the bakery was about 500,000 yuan. We borrowed the money from the Amity Foundation, an independent Chinese voluntary organization."
With daily sales of 20 to 30 loaves of bread, it's almost impossible to break even," he said.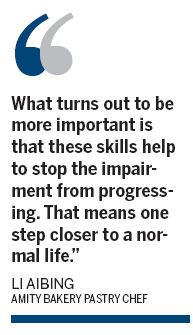 Zhou Weihong, Amity's sales manager, said he would be better referred as a Taobao salesman because most of the baker's cookie, bread and cake are sold through the e-platform. "We don't make too much (bread) every day because we can't afford the waste," said Zhou. "The amount of bread and cookies we bake is based upon daily orders. The worst thing is I can't promote our bakery as a charity mainly because many Chinese have a poor impression of the mentally retarded. They worry about food safety," he said.
Xu Qionghe, a regular customer of Amity Bakery, was surprised to learn Zhou made his bread. "The only reason I'm buying from Amity is because of its good online reputation, plus it was sponsored by the Amity Foundation," said Xu. "I know a bakery associated with this kind of organization wouldn't lie about the quality of its produce to buyers."
Zhou Ye is the teacher and carer on the third floor. "Don't imagine it as a baking class because it isn't," she said. "We need to give lessons in the very basics - meaning things like how to put on your clothes and apron, how to sweep the floor and clean the kitchen as well as register one's attendance. It's not at all a short-term class."
Zhou said her class of 16, aged from 19 to the mid-40s, might need one to two years of training before starting work. "It's tricky because they've never been exposed to the working environment before. It's more like role play for them in order to get a serious sense of what work is," she said.
Currently, students in Zhou's class are ready to enter the kitchen and use measuring cups. "It takes at least three months to learn what a measuring cup is and how to use it," said Zhou. "The problem is that they keep forgetting things. Classes on Mondays are the hardest because they barely remember anything after the weekend."
The biggest challenge of all is finding a company to hire the trainees after they graduate from the center.
"It's almost impossible for our tiny bakery to hire 16 more employees," said Zhu. "And you don't get an easy 'yes' from other businesses."
China Daily
(China Daily 11/14/2011 page22)