English teaching gets lost in translation
Updated: 2011-11-11 08:03
By Li Yang in Qiqihar and Hu Yinan report in Beijing (China Daily)
| | | | | | | | | |
| --- | --- | --- | --- | --- | --- | --- | --- | --- |
|   | | Print | | Mail | | Large Medium  Small | 分享按钮 | 0 |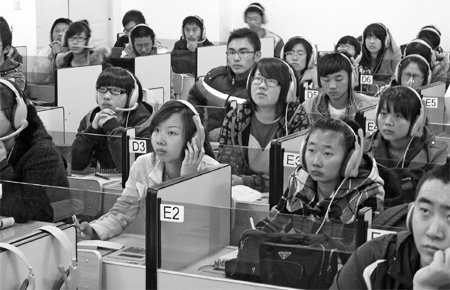 It's not Shakespeare, but popular culture provides exposure to everyday English. These freshmen at Qiqihar University are watching the animated movie Ice Age 2 in their English class. Li Yang / China Daily
Lack of unified approach confuses students, Li Yang in Qiqihar and Hu Yinan report in Beijing.
Li Lei, a biology freshman, had studied English for years at school. But he was soon at a loss in English class at college when he could not understand sentences read aloud in a listening test.
Li's teacher spent 10 minutes explaining, word by word, the meaning of "rolling stones get no moss", a misstatement of the adage. But at the end, he was still confused.
"I don't think there's a natural transition in teaching English from middle school to college," Li said. A native of Shaanxi province, he attends Qiqihar University in Heilongjiang province, 2,500 kilometers northeast of his home.
English teaching in China has come a long way since the first national syllabus for college English was published in 1979, a year into the reform and opening-up initiative. It is now taught, as a requirement, in virtually all Chinese postsecondary institutions.
However, English teaching is designed without coordination for elementary schools, secondary schools and postsecondary institutions. That makes the transition from one stage to the next difficult, especially for students with test-conscious teachers and obsolete textbooks.
College English teaching for non-English majors is divided into six progressive levels, known as College English Test (CET) Bands 1-6. Every non-English major must take 280 hours of English courses - roughly five hours a week for 17 weeks, a semester - to meet the requirements of the twice-yearly CET-4.
Students must pass that test, or risk being disqualified for graduation or a job with the many employers that require a CET-4 certificate. Test results remain the sole criterion of CET assessment.
How valid is it?
In recent years, the exam-oriented structure of English education in China has come under severe criticism as not being able to evaluate or improve a person's proficiency in English. Even at the primary school level and even for native speakers.
The daughter of Rupert Hoogewerf, a British native and the publisher of Hurun Report, which tracks the wealthiest Chinese, was recently found to be among the poorest in her class in English test performance in Shanghai.
"This doesn't mean her English is substandard. It can only reflect the problems in our English exams," the Xinhua Daily Telegraph wrote in September.
Official figures show that some 400 million Chinese have studied English in the past 30 years. But teachers and analysts say the number truly reflects neither the general public's English level nor the limited use of English in real life.
Zhao Yong and Keith Campbell, scholars at Linfield College in Oregon, the United States, observed in 1995 that most Chinese do not use English to communicate among themselves. They only "have to demonstrate their English ability for social mobility and/or promotion". There is little difference today.
A stepping stone
Le Yucheng, director-general of policy planning at the Ministry of Foreign Affairs, proudly compares the number of English learners in the country over the past three decades with the number of Chinese whose living standards have improved during the same period - both 400 million. "Without learning from the West, we could not have raised so many people out of poverty, at least not so fast," he has said.
This mindset may help explain the determination of students who are learning English in remoter parts of the country, and the challenges they face.
Qiqihar, for example, is a sparsely populated industrial hub with little Western influence. Korean is the most commonly used foreign language. Before that, Russian courses were mandatory in primary and secondary schools for decades in all of Heilongjiang province.
But today, English is the foreign language to be studied in school. More than half of the 23,000 students at Qiqihar University are from rural areas around China, each excelling in English tests after overcoming years of improper training, which may have meant reciting from outdated textbooks.
A daunting ratio
Such problems are magnified at the university, which is the only postsecondary institution in Qiqihar and the largest English studying community in western Heilongjiang, an area roughly the size of California.
While competent English teachers are desperately needed, those in place are confronted with a tight schedule to get the job done. The university employs 65 instructors to teach its non-English majors, a student population of roughly 20,000. For each instructor, that translates into an average of 18 teaching hours a week in classes of 60-plus students.
"It's obvious that the teaching tasks are too heavy for us. But there is no big difference from one university to the other in China," said Gao Yan, teaching secretary of the university's English department for non-English majors.
Official estimates show that the ratio of English teachers to students in Chinese colleges stands at 1-to-130. About 73 percent of these teachers have no more than a bachelor's degree, according to Shu Dingfang, a senior English educator at Shanghai International Studies University.
Different goals
The test-centered curriculum doesn't make things easier. Xu Jie, a teacher of English for non-majors for 10 years, said it is essential to maintain a balance between teaching English and preparing students for tests.
"The (CET-4) test puts the students in a state of war and makes them nervous," Xu said. "After passing the competitive gaokao, they expect lively and interesting English classes in college. But I'm afraid CET-4 may disappoint them." (English is a core subject in gaokao, the national college entrance examination.)
Zhu Shuang, a geography senior, experienced exactly that.
"Upon entering college, there might have been a time when I fantasized that I could actually get to learn English as a language instead of a subject. I simply like English," she said. "But I soon realized that passing CET-4 would become the ultimate goal for my English studying in college."
Yao Laijing, former chairwoman of the university's English club, put it this way: "We have about 500 members, but most of them are freshmen. In the second year, CET-4 takes away their desire to learn English.
"People's interest in the language itself is our most cherished asset," she said. She recalled the first time she organized an outdoor reading session, a freezing, snowy morning when more than 100 students stamped their feet and read aloud essays by 16th century English author Francis Bacon.
Access matters
The exam does have its merits. Studies show that CET-4 results correlate directly with students' language proficiency, wrote Yang Huizhong, an English instructor at Shanghai Jiao Tong University, in the Foreign Language World journal. Yang also said that how well each school performs is statistically relevant to its national standing.
But subsequent pressure on teachers complicates the situation. At Qiqihar University, Zhang Lili, deputy dean of the non-English majors department, said students are placed into four classes that reflect their English results in gaokao.
The department assigns its most experienced teachers to the bottom class, and students can be promoted to a higher level if their end-of-term exam results are high enough. Zhang stressed that this is a regular practice among Chinese universities.
For the best students, teachers can have more freedom to teach them to master the language as a language. For the bottom students, the teachers' main task is to motivate the students to learn and at least prepare them for the test.
Stephen Hunter from Boston and John Dell from Virginia have taught English at the university for more than two years. For them, the challenge lies in ways to motivate students to study the language.
"As foreign teachers, why do we go to the class? Do we go there to entertain the students? Help the students? What they like? What should they like? I am going to teach them something," Dell said.
Compared with their counterparts in more affluent areas of China who have more access to English speakers, it is more difficult to motivate students in Qiqihar to learn English, Hunter said.
"Most Americans learn language through interaction," he said, giving an example. "If I want to learn French and I find you can speak French, I will come to bother you to teach me French and I can teach you English.
"But students in Qiqihar don't have such an environment. It can be frustrating to use Western approaches in a Chinese class where the students don't interact."
Hunter and Dell are granted the freedom to design their own final exams for their students - about 350 each - as well as to choose and edit their own textbooks. But their students still have to take CET-4.
'A hallucination'
In the end, some of their students have opted for popular training schools designed specifically for students eager to pass the test.
Ma Dong, dean of the non-majors program, had this to say about those schools: "The trainers create a hallucination that as long as you can pass the test, you can learn English well, and that the easiest way to do that is to attend their training."
In general, preparations for CET-4, in classrooms and beyond, do not help students communicate competently in English, according to Sun Ao with the English department at Ghent University in Belgium.
Nationwide CET-4 and CET-6 exams are coming up in December. Nearly 9.1 million students took the exams in June. CET-6 is optional, but a good score can help students find better jobs.
Test fraud has been a major concern for years, as students fueled and took advantage of an underground industry that sells answers to exam questions.
Since last December, students caught cheating could find that written in their records.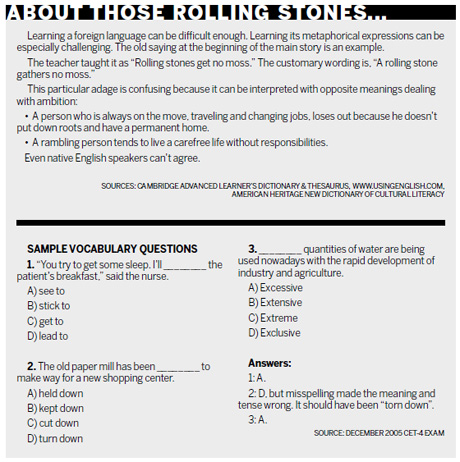 (China Daily 11/11/2011 page1)