Real estate meltdown fears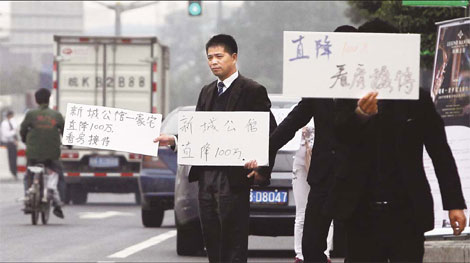 Agents' price-cutting boards fail to attract passing trade in Shanghai on Nov 5. Some real estate agencies are closing outlets as the government's ongoing property-tightening measures cause transactions to slump and the price of pre-owned homes to hit a record low. Yong Kai / For China Daily
Government's tightening policies result in downturn for the industry
BEIJING - A number of leading real estate brokerages have started shutting outlets, as the government's ongoing property-tightening measures cause transactions to slump and the price of pre-owned homes to hit a record low.
In Shenzhen, the brokerage giant Centaline Property Agency Ltd on Thursday announced it will close 60 outlets and lay off 1,000 workers nationwide. The wave of shutdowns has also spread to Beijing, with several large-scale property brokerages following suit.
Century 21 Real Estate LLC closed 34 outlets across the country in the first two quarters, according to its financial statement. The number increased further in the third quarter, according to reports in the Beijing News, which didn't provide figures.
An industry insider, who declined to be named, estimated that around 3,000 outlets might close this year, leaving some 50,000 real estate brokers facing redundancy.
Liu Jun, chairman of Geland Real Estate Co Ltd, a Beijing- based real estate brokerage, said the company closed 50 of its outlets in February, following the government's announcement that its property policies would remain in force.
The slump in transactions is the major reason for the wave of brokerage shutdowns.
"The first three quarters saw pre-owned home transactions fall to around 8,000 units from 10,000 in Beijing, the lowest point since 2009," said Liu.
And according to one Beijing property transaction website, sales of pre-owned homes dropped to 7,262 units in October from 8,750 in September, a year-on-year decline of 48.7 percent and a month-on-month fall of 17 percent.
Zhang Dawei, a marketing analyst with Centaline, said the transaction volume for pre-owned homes in the last three months is approaching "a record low", as also happened in the second half of 2008.
"Pre-owned home sales in Beijing have been below 10,000 units for seven consecutive months, hitting the lowest point in the past 34 months in October," said Zhang.
Moreover, the transaction price for pre-owned homes has also declined.
According to the brokerage Home Link, the price of a pre-owned home dropped 3.2 percent in October month-on-month to 22,967 yuan ($3,627) a square meter, a decline of 6.7 percent compared with January.
Zhang Yue, chief analyst at Home Link, said the decline in prices has been accelerating.
Home Link's statistics show that the average price of a secondary home fell 1,326 yuan a square meter over the five months that followed the launch of the home-restriction policy. The price fell 826 yuan from September to October.
Despite the cooling market, the central government has no plan to loosen its tightening measures.
Premier Wen Jiabao said on Sunday that the property market policies will remain in force. "We would like to stress that there is no possibility of loosening the real estate policies. Our target is to let the property price fall to a reasonable level," said Wen.
Growing financial difficulties, coupled with plummeting sales, also point to an imminent industry reshuffle.
In equity-exchange venues at Beijing, Shanghai, Tianjin and Chongqing, sales by property companies or projects exceeded 600 this year, more than double the number in 2010, according to the China Securities Journal.
Chen Keyu contributed to this story.
China Daily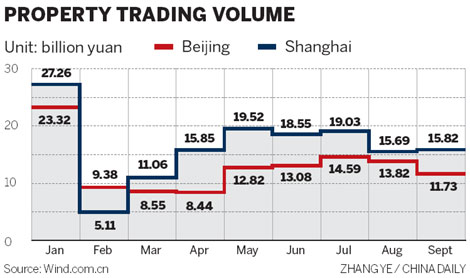 (China Daily 11/08/2011 page13)
Today's Top News
Editor's picks
Most Viewed