Number of hotel rooms set to soar
Updated: 2011-11-08 07:53
By Yang Yijun (China Daily)
| | | | | | | | | |
| --- | --- | --- | --- | --- | --- | --- | --- | --- |
|   | | Print | | Mail | | Large Medium  Small | 分享按钮 | 0 |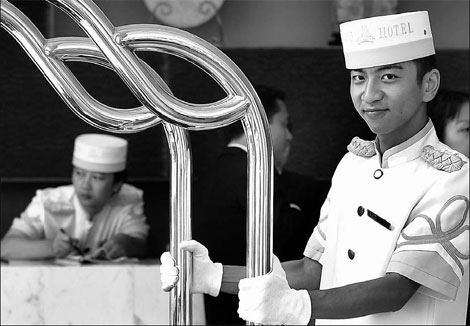 A hotel bellboy serving customers at a hotel in Nanjing, capital of East China's Jiangsu province. An Xin / For China Daily
But some observers raise concerns about an oversupply in the domestic market
SHANGHAI - China's hotel market is expected to overtake the United States to be the world's largest from 2025, according to a report issued by InterContinental Hotels Group (IHG), the largest hotel company in the world by number of rooms.
It is estimated China will have 6.1 million hotel rooms by 2025, the same as the United States by then. By 2039, the number of China's hotel rooms will reach 9.1 million, four times of the size it is today, said the report, which was based on the figures from the National Bureau of Statistics in China and the United Nations World Travel Organization.
In 2009, the State Council added tourism as another pillar industry in the 12th Five-Year Plan (2011-2015), which is widely believed to be the major factor that propels the country's hotel industry.
According to the Opinions of the State Council on Accelerating the Development of Tourism Industry released in 2009, tourism will contribute 4.5 percent to China's gross domestic product by 2015 and revenue will grow by 12 percent annually.
A report released by the Boston Consulting Group this year predicts that China will surpass Japan to become the world's second largest tourist market by 2013, holding 8 percent of the global tourist market share.
China National Tourism Administration also expects the number of inbound travelers to reach 3.3 billion by 2015.
A rapidly emerging group of upper-middle class is another crucial driver of the country's hotel market.
McKinsey Insights China and statistics from the US Census Bureau showed that in less than 15 years China's wealthy and upper-middle class combined will be twice the size of its US counterparts.
"Many of China's biggest cities already have as many wealthy consumers as major US ones. This is leading to a dramatically increasing demand for leisure travel. Affluent consumers are increasingly willing to spend on luxury experiences and not just on luxury goods," said Keith Barr, chief executive officer of IHG Greater China.
"Compared with their counterparts in the West, Chinese consumers prefer famous brands, which signal quality in their eyes," he added.
Major international hotel chains are planning a big expansion in China by opening hotels not only in first-tier cities, but also second- and third-tier cities.
IHG, which currently manages 154 properties in China, has 142 in the development pipeline, the largest in China and a quarter of the company's total globally.
Hilton Worldwide said it will have 100 hotels in China by 2014, four times the number of properties it manages in the country now. China will then become its second largest market, after the US.
Starwood Hotels and Resorts with 70 existing hotels in China has more than 90 new hotels in development.
However, the rapid growth of the hotel portfolio in China has aroused concerns of oversupply.
"The oversupply of hotel rooms in China is inevitable," said Zhao Huanyan, a tourism industry expert with the Shanghai Academy of Social Sciences.
"If we compare the average occupancy rate and room rate of the hotels in Beijing and Shanghai with those in Hong Kong and New York, we can see a sign of oversupply on the Chinese mainland," he said.
For instance, in April, the average occupancy of five-star hotels in Beijing and Shanghai was 64 percent, while that in Hong Kong and New York was 88 percent.
Zhao said that the country will have more than 1,500 new hotels each year from 2010 through 2015, with total investment of nearly 400 billion yuan ($62.5 billion).
But the hotel operators remain optimistic.
IHG's interim financial results showed that the company's revenue per available room (RevPAR) in China was 12.7 percent up year-on-year, including rate growth of 7.1 percent, while its global RevPAR growth was 6.7 percent.
RevPAR is a performance gauge in the hotel industry. It is calculated by multiplying a hotel's average daily room rate by its occupancy rate.
"Morgan Stanley forecasts continued annual GDP growth for China in excess of 9 percent through 2015. Given the only modest reduction in GDP, Morgan Stanley forecasts China's hotel industry could experience double-digit RevPAR growth," said Barr.
The booming tourist market in China has brought changes to international hotel operators. Various international hotel chains have tailor-made packages to serve the unique preferences of Chinese travelers.
For instance, Hilton Worldwide and Starwood Hotels and Resorts launched similar programs in their properties in gateway cities around the world in the third quarter, which feature additional guest room amenities including kettles and slippers and Chinese food such as congee.
"Today, more than 50 percent of our guests in China are Chinese. The Chinese are beginning to become a major global travel force as well," said Simon Turner, president of global development for Starwood.
"When they travel abroad, the Chinese will stay with the hotel brands they know from home, which underscores the significance of our growing footprint of flagship hotels in China and its halo effect on Starwood's hotels around the world," he said.
IHG has moved a step further by developing a new five-star hotel brand especially for the mainland market. The first hotel under the new brand is scheduled to open in late 2012 or early 2013.
The company has signed 12 contracts for the new brand on the mainland, the name of which has not yet been unveiled. The new brand will be built in Beijing and Shanghai, but the majority will be located in second- and third-tier cities. The company plans to spread the brand globally two or three years after the first hotel opens.
China Daily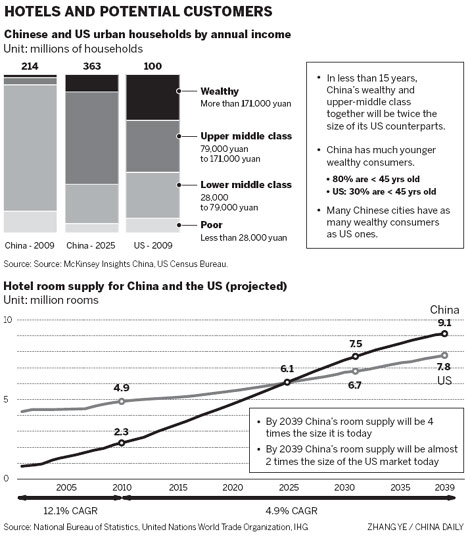 (China Daily 11/08/2011 page14)