Laughs in translation
Updated: 2011-11-04 07:59
By Kelly Chung Dawson (China Daily)
| | | | | | | | | |
| --- | --- | --- | --- | --- | --- | --- | --- | --- |
|   | | Print | | Mail | | Large Medium  Small | 分享按钮 | 0 |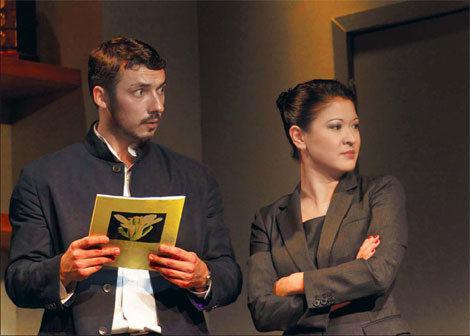 Stephen Pucci and Jennifer Lim star in the new Broadway comedy Chinglish. Photos by Michael McCabe / For China Daily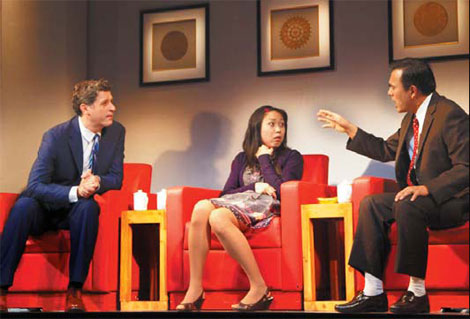 A scene from Chinglish.
A Broadway play looks at the sillier side of the linguistic and cultural miscommunications that arise when East meets West. Kelly Chung Dawson reports from New York.
David Henry Hwang's new comedy, Chinglish, which opened on Broadway last week, explores the often-hilarious misunderstandings that separate the United States and China - not only through linguistic mistranslations but also through navigating major cultural differences. The show, directed by Leigh Silverman, premiered in Chicago over the summer. It centers on a hapless businessman from Cleveland, who hopes to score a big contract in China for his sign-making company. Negotiations are conducted mostly in Chinese, with inept translators.
His "small, family-run firm" becomes "a tiny, insignificant" company from the "small village" of Cleveland.
When the American, Daniel Cavanaugh (played by Gary Wilmes), pleads that his hands are tied, his listeners are told that he's "into bondage".
Subtitles of exact translations are projected on the walls of the set, so the audience can appreciate the misunderstandings as they occur.
Much of the comedy works because of the light-hearted authenticity Hwang has brought to the play, taking care to create multidimensional characters.
"Sometimes, you get the correct translation, but you still don't fully understand what the other person is saying," the playwright tells China Daily.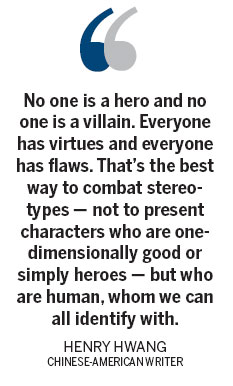 "The concepts, and the way the different cultures understand and view different ideas like love (and) honesty, can be very different. But, ultimately, I hope that it's very evenhanded, in terms of: Yes, we make fun of the Chinese, but we also make fun of the Americans."
As he puts it: "No one is a hero and no one is a villain. Everyone has virtues and everyone has flaws. That's the best way to combat stereotypes - not to present characters who are one-dimensionally good, or simply heroes - but who are human, whom we can all identify with."
Hwang is best known for his 1988 play M. Butterfly, which won a Tony Award for best play and a nomination for the Pulitzer Prize, the US' highest literary honor.
He has often written on Asian themes in works that include Golden Child (1998), the revised book for the musical Flower Drum Song (2003) and Yellow Face (2008), which earned him a second Pulitzer nomination.
While Hwang does not speak Chinese, it was important to him that Chinglish contained Mandarin dialogue, he says.
"I've never seen a show or movie about a Westerner in China where the Chinese characters have the dignity of their own language," he says.
"Whenever an American character goes somewhere else, people from other countries always speak in bad English, which makes them seem less than smart. And that's not the reality of that experience. I wanted the Chinese characters to have the dignity of speaking in Mandarin."
Hwang, who was born and raised in the US, traveled to the mid-sized city of Guiyang, capital of Guizhou province, to research the play in 2010.
Every American confronts major cultural differences when traveling to China, Hwang says.
"When Americans try to do business in China, we believe that everything revolves around the contract, whereas in China, it's only a suggestion," he says, with a laugh.
"That's a fundamental misunderstanding: They are completely different premises. They talk, talk, talk, without ever realizing that there is a difference in the fundamental premise."
The concept of love is another area in which Chinese and Americans often differ, Hwang says.
In the play, a feisty Chinese contact (played by Jennifer Lim), who helps the American character, calls love an "American religion".
Chinglish seems to argue that marriage in China is about placing the strength of partnership above romantic love.
Since the Chinese characters were required to speak in both English and Chinese, most of the actors are either Chinese-American or bilingual overseas Chinese. For some, it was important that the play never went too far in poking fun at Chinese culture.
"When we were performing in Chicago, I was worried about how Chinese audience members would react," Larry Zhang, who plays a Chinese minister of culture, says.
"I didn't want to present anything inaccurately or overly negatively. But, ultimately, I did agree with the script about the cultural differences. I spoke to Chinese audience members who came to the shows in Chicago, and 95 percent also agreed with the play in both the positive and negative points made about the two cultures."
Johnny Wu, who plays both a translator and judge, agrees.
"The play jabs at both governments, both cultures," he says.
"You do this very differently from us, and we (both Chinese and Americans) find that funny. That's universal," he continues.
"I found that there were a lot of Chinese audience members, and, for the most part, they would be very excited to speak with us. A lot of American audience members were excited, too, because they've traveled over there and they related to the material."
Wu believes the play couldn't have come at a better time.
"I think that Chinglish is very relevant to a huge global issue that exists now, which is that in 2011, the US and China are desperately trying to understand each other and make this work," he says.
"It's two global powerhouses that are trying to coexist and be mutually beneficial to each other. The humor is in the misunderstandings, but it's also important to explore how diligent we can be in how we understand and connect with each other."
If there is a message in Chinglish, Hwang says, it was to acknowledge how much work goes into creating that understanding across cultures.
"You can't just assume that someone in the other culture is going to have the same values or see the world in the same way," he says.
"You have to pay attention, and you have to try and understand things from the other person's cultural point of view."
(China Daily 11/04/2011 page18)