Austria seeks trained language teachers
Updated: 2011-11-01 08:04
By Fu Jing (China Daily)
| | | | | | | | | |
| --- | --- | --- | --- | --- | --- | --- | --- | --- |
|   | | Print | | Mail | | Large Medium  Small | 分享按钮 | 0 |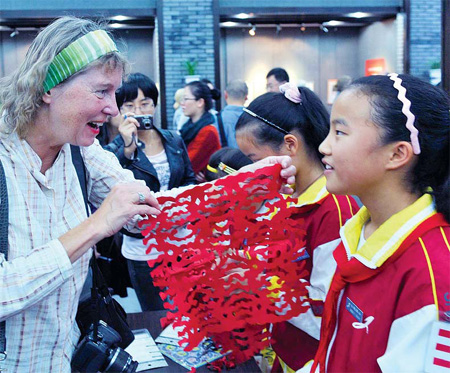 An Austrian visitor holds up the handiwork of pupils from primary schools in Shaoxing, Zhejiang province, at the Austrian Paper-cut Exhibition in Hangzhou, capital of the province, earlier this month. Yuan Yun / China News Service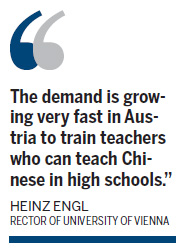 First batch of Chinese tutors rolls out of university
VIENNA - Austrian universities have begun a training program for students who will become teachers of Chinese in high schools where the language is an optional course.
This comes in the wake of China studies attracting growing attention in Austrian universities, and increased academic exchanges between the two countries.
"The demand is growing very fast in Austria to train teachers who can teach Chinese in high schools," Professor Heinz Engl, rector of University of Vienna, told China Daily on Monday.
Engl signed an agreement with the Chinese Ambassador to Austria, Shi Mingde, on the extension of the Confucian Institute in his university on Monday.
"I think education has played a unique role to boost bilateral relations," said Engl, who added that President Hu Jintao's visit to Austria would have a big impact on Sino-Austrian and Sino-EU relations, especially as the European Union is going through a difficult time.
Ten years ago, there were only about five or 10 students learning China studies at University of Vienna. Now there are at least 200 students learning Chinese language, politics, economics and law.
He said people-to-people exchanges and youth education are going to be useful tools to achieve mutual understanding.
"It is unbelievable that Chinese has become an optional course in high schools in Austria, while about 25 years ago the contact was nearly nothing," said Engl, whose daughter has just finished half a year of language studies in China.
He said his university became the first in Austria this semester to produce teachers who can teach Chinese in high schools after four years of training.
In Austria, every student in high school learns English, while Spanish, French and Chinese are optional courses.
Engl on Monday also suggested strengthening high-tech research between China and Austria.
"I think molecular biology should be a priority between us and we can build a joint laboratory," said Engl, adding that Vienna is a European center for this research with the Austrian Academy of Sciences and his university playing pioneering roles.
He said the institutes are seeking to cooperate with Fudan University in Shanghai or Peking University in Beijing on molecular biology.
Building trust
Regarding Hu's visit to Austria, Member of the European Parliament Eva Lichtenberger said the dialogue can help further build trust and confidence toward relations now and in the future.
"The current high-level dialogue is very important and interesting because we can easily misunderstand each other amid different cultural backgrounds and so these consistent dialogues can help remove barriers to understanding and bring more cooperation," said Lichtenberger.
"Meanwhile, it is easier for us to achieve such mutual understanding because Austria is one of the few European powers without a colonial history, it has not left an unhappy memory for people in Asia, Latin America and Africa," she said.
She is proud that Austria's exports to China have increased rapidly recently because of her country's strong position in high-tech and green technologies for energy saving, and climate-friendly solutions.
"As China is undergoing a rapid urbanization process, I think sustainable housing, public transportation and tourism are potential areas for us to cooperate," said Lichtenberger.
"If the cooperation continues, China can avoid some mistakes Europe has experienced."
She also said the triangular relations between China, the United States and Europe are very important and complicated, and they need to set up some common standards such as how to peacefully live together and improve the situation of people now living in the lower stratum of the society.
As for China's complaint that the EU often follows the US in taking some major decisions such as not granting China market economy status and not lifting its arms embargo, she said: "This is not always the case that we follow in the steps of the US we also have conflicts."
China Daily
(China Daily 11/01/2011 page3)