Micro credit providing a lifeline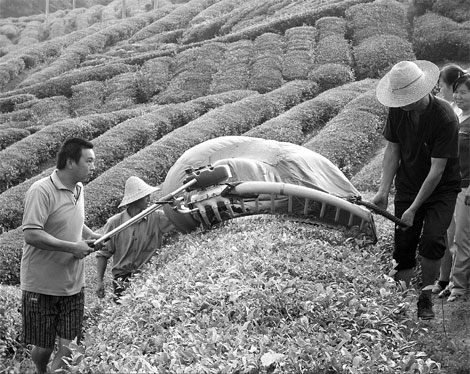 Farmers pick tea at a farm in Xixiang county, in southern Shaanxi province. Spring is not only the busiest picking season, but also the time that the growers are in greatest need of funds. Local female farmers find it convenient to borrow money from the Women's Development Association, a non-governmental micro-finance organization. Chen Jia / China Daily
Small-business owners are becoming more reliant on non-governmental organizations to provide capital. Chen Jia reports from Shaanxi province.
Chinese farmers finding it hard to obtain bank loans are turning to micro-credit organizations to help them launch their own businesses, amid the accelerated expansion of the non-governmental financial system.
With savings of only 1,000 yuan ($157) and no other income five years ago, Li Wenqin, a farmer in her 50s, never thought that she would earn more than 300,000 yuan annually, selling tea not only in her hometown but also nationally.
Li's success story began in 2006 with a loan of 3,000 yuan over one year from a local non-governmental organization, the Xixiang county Women's Development Association (WDA), in southern Shaanxi province.
With the money she'd borrowed and her savings, Li rented a tea plantation of 2.66 hectares in the first year. "There was no way to get a loan from the bank at that time, because I had no valuable assets to pledge. Also, very few friends were willing to lend me money because they were worried about whether I could pay them back," she said.
"Actually, I paid back the loan the next year," Li said. According to the loan agreement, the WDA charged interest of 10.8 percent annually and so every quarter Li had to repay 750 yuan as principal and 81 yuan in interest.

In the past five years, Li has reinvested 200,000 yuan to buy equipment and rented a further 4 hectares to develop her business. Last year, she made a net profit of more than 100,000 yuan.
With a population of 410,000, Xixiang is famous for two things: green tea and poverty. In recent years, many men have left the county to seek employment in cities, leaving the women to look after the family and work on the farms.
In September, the busiest season for tea picking is long over. One grower, Wang Cuiping, who borrowed 3,000 yuan from the WDA for the first time in 2007, had time to sit down and invite me to drink her produce. Three tea-drying machines stood idle in the yard.
Spring is not only the busiest picking season, it is also the time that the growers are in greatest need of cash. "We usually meet a cash shortage that time of the year because wholesale buyers only pay at the end of the year. I borrowed a further 5,000 yuan this spring to pay the salaries of my temporary workers," said Wang.
"It is convenient to borrow from the micro-finance organization without collateral. I can get the money the day after I submit the application," she said.
Wang employs her female neighbors during the picking season, with each worker earning around 200 yuan a day.
Han Li, an official from the Xixiang local government, said that women have become the main force in agricultural production, especially in the tea-planting sector. "Small loans supported their businesses and helped improve the quality of life, and even promote a positive life attitude," she said.
The Xixiang WDA was launched in 2005 and by the end of July this year, the organization had provided loans totaling about 23 million yuan to more than 8,000 women. Each loan was less than 5,000 yuan.
"According to our research, rural women who are married and younger than 60 years old have a better credit rating. So it's a relatively lower risk to issue loans to this group," said Qin Xiuping, the head of the Xixiang WDA. "Now about 1,700 women are utilizing loans worth 4.6 million yuan in total."
Among the commercial banks, the Postal Savings Bank of China Co Ltd (PSB) and the Agricultural Bank of China Ltd (ABC) provide lending services for farmers, but both impose rigid regulations.
Borrowers should already have secured the fixed assets for production before they apply for loans from the PSB. The loans range from a minimum of 1,000 yuan to a maximum of 50,000 yuan. The longest loan period is 12 months.
To obtain a loan from the ABC, prospective borrowers are required to use their homes as collateral. The amounts lent range from 3,000 to 30,000 yuan, and the maximum term is three years.
In July, the People's Bank of China, the central bank, raised the one-year benchmark interest rate to 6.56 percent, the fifth hike since October 2010, to tame soaring inflation. In addition, the bank has ordered the nation's lenders to set aside a record 21.5 percent of their cash in reserves to reduce market liquidity.
This tight monetary policy has almost dried up the cash flow of small- and medium-sized companies. Farmers with limited collateral are finding it much more difficult to secure loans from commercial banks.
The WDA now has total capital of 4.84 million yuan, including 1.64 million yuan provided by international poverty relief projects and 1 million yuan from micro-credit companies. Meanwhile, China Development Bank Corp issued a discounted government loan of 500,000 yuan. Although the association provides collateral-free loans, borrowers are required to have a "five-household joint guaranty", which means if one person can't repay the loan, the others in the group have an obligation to make the payment.
"During the last six years, the number of non-performing loans for our association was zero," said Qin. Besides the joint guaranty scheme, officials from the association visit borrowers every month to check their cash flow and ensure that they can pay back the money on time.
At present, there are approximately 196,000 women in Xixiang county and more than 90,000 of them have an annual income of less than 2,600 yuan, meaning that they have a greater need to borrow money, according to Qin's association. "The micro-financing service has huge potential," she said.
In the next five years, the Xixiang WDA plans to attract 6,000 more customers and expand its loan service to 80 more villages to satisfy an expected financial requirement of 12 million yuan.
Potential risks
However, Liu Fan, a professor of business and finance with the China Youth University for Political Sciences in Beijing, expressed concern that the rapid expansion of loans might increase the risk to the lenders.
As most of the money available comes from poverty relief organizations, the capital is limited and unsustainable, which may lead to increased cooperation with financial institutions.
"It requires more strict supervision and risk-control management to avoid bad loans. It is just what the non-governmental organization lacks right now," according to Liu.
It is also a challenge facing micro-credit companies with a business relationship with the association.
CreditEase Business Consulting Co Ltd, a Beijing-based financial services company, was the first in China to provide an online peer-to-peer (P2P) lending platform. It evaluates the creditworthiness of applicants through a comprehensive risk-control system that focuses on a person's ability to repay.
Lenders can search for information on borrowers on the Internet and assess their creditworthiness. CreditEase charges the borrower 1 percent of their total loan for providing its services.
Tang Ning, the company's CEO, said that the micro-credit sector is in its infancy in China, and the most important thing is to provide an inclusive credit service. "Our aim is to offer a platform for clients to have face-to-face communication and provide customized credit services, supported by cutting-edge technology," Tang said.
In 2009, Tang launched the P2P lending platform and began cooperating with the Xixiang WDA. Currently, about 1 million yuan of the association's funds come through the online platform.
However, there are still no regulations governing P2P loans in China, nor have the micro-credit service institutions have been placed under the supervision of the authorities.
On Aug 23, the China Banking Regulatory Commission warned that without strong external independent supervision, P2P companies may chase profit by accepting deposits and then lending them out, a practice classified as illegal fundraising.
"Micro-finance has played an important part in developing personal credit ratings. But a better way to avoid the potential risks is to strengthen the credit education and information system," said Zhao Fengwu, director of the China Market Credit Management Association.
The government is expected to improve the nationwide credit information system and support the ratings agencies, which will help improve the micro-credit services, said Zhao.
"The construction of China's rural credit system is developing rapidly," Zhao said, pointing out that more than 70 million farmers obtained loans totaling 2.95 billion yuan from micro-credit organizations in 2010.
(China Daily 10/26/2011 page13)
Today's Top News
Editor's picks
Most Viewed