Breaking up is not so very hard to do... if done online
Updated: 2011-10-17 07:56
By Shi Jing (China Daily)
| | | | | | | | | |
| --- | --- | --- | --- | --- | --- | --- | --- | --- |
|   | | Print | | Mail | | Large Medium  Small | 分享按钮 | 0 |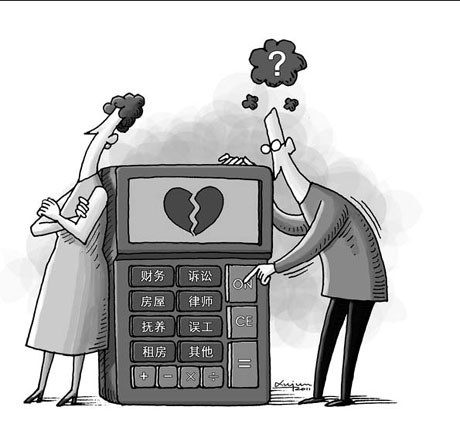 Will the number of break-up agent websites surpass that of match-making ones on the Internet in the near future? The number of them has increased lately. In China, a break-up agent charges as much as 10,000 yuan ($1,563) for one client. Xu Jun / For China Daily
Agents offer end-of-relationship service that is now burgeoning
SHANGHAI - Shaoxing resident Tu Weiming's job as a visual merchandiser with Adidas, which involves arranging the clothes in the most eye-catching and profit-making way, leaves him plenty of time for a more interesting sideline.
The 25-year-old specializes in acting as a "break-up" agent. In other words, he is paid by one half of a couple to tell the other that the relationship is over.
Tu launched his business in November last year after watching the Korean film Sad Movie, in which the hero plays the same role.
"As a visual merchandiser I have plenty of spare time because I do not have to stay at the office all the time. It is good that I can find something interesting to do instead of idling away my spare time," said Tu.
He started by posting an advertisement on E0575.com, the most popular local forum in Shaoxing, just for fun.
"I was taken by total surprise when a young man called me to ask if I would tell his girlfriend their relationship was over. I was taken aback by his timidity and refused to carry out the job. The fact that his girlfriend lived far away was also a good excuse for turning him down," laughed Tu.

However, since then the young man has performed the unromantic task half a dozen times. He charges 200 yuan ($31) to 300 yuan for those who live or work in the city center and 400 to 500 yuan for those who live or work in the suburbs.
"Be it man or woman, they are all stunned to hear that his girlfriend or her boyfriend has asked an agent to inform them of the break-up. Their first response is to call their partner to confirm the news," said Tu.
Inevitably, Tu's work has produced some interesting anecdotes. One man gave him 500 yuan to impart the bad news to the woman who was no longer the love of his life.
"Stunned at the beginning, the woman quickly collected herself and threw 500 yuan at me, saying, 'Tell him it is I who dump him, not the other way around'," laughed Tu. "I earned money from both of them."
Tu's main job pays him a monthly salary of 4,000 yuan so he treats his sideline as a source of pocket money and an opportunity to observe and take part in something few outsiders witness. He has now opened a store on Taobao.com, the most widely used shopping website in China, and posted an advertisement on his personal account with Weibo.com, the Chinese version of Twitter, seeking customers.
Other people have also seen the potential for profit from such enterprise. There are now 26 break-up agencies on Taobao in Beijing, Shanghai, Zhejiang and elsewhere. Nine of the 26 agencies are in Zhejiang.
An agency in Wenzhou said it only provides a face-to-face service in Wenzhou and Lishui. In other cities such as Hangzhou, it provides only telephone, QQ and mail services.
The charges vary from 10 yuan to 10,000 yuan. Representatives said the price depends on the customer's demands. About 80 percent of break-ups carried out by the store were successful.
Hong Bo, an IT critic and former editor-in-chief of DoNews, a large IT forum in China, said it is perfectly reasonable to find store owners on Taobao offering break-up services on behalf of disenchanted lovers.
"For one thing, some couples meet each other in the cyber world, or via the Internet. It is of course rational that they opt for a similar cyber way to say goodbye to each other," said Hong.
"So long as the store owners are conducting the business in a legal way and provide the service at relatively low prices, break-up agents or agencies are totally acceptable to me. If people ask for such a service, it means there is demand in the market and thus the existence of such stores on Taobao is totally understandable."
But Zhang Zhouping, a senior analyst from Hangzhou-based China E-commerce Research Center, was more conservative.
"It is emotionally unacceptable that your boyfriend or girlfriend has found a stranger to say that he or she is breaking up from you. It will also help to encourage immoral conduct as far as I am concerned," said Zhang.
"With the development of e-commerce, it could be predicted that some novel or even eccentric businesses would develop through the Internet. For leading customer-to-customer platforms such as Taobao, they should closely track the deals that might infringe social norms. They should work as a gatekeeper and prevent immoral things from happening at the very beginning."
China Daily
(China Daily 10/17/2011 page17)