Rail contractors forced to suspend projects as govt's payments dry up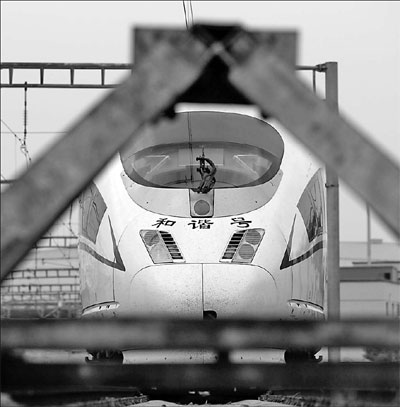 A high-speed train stops at Beijing South Railway Station. China Network Television has reported that the Ministry of Railways was 1.98 trillion yuan in debt at the end of the first quarter, with an asset-liability ratio of 58.24 percent. Zhao Yun / for China Daily
SHANGHAI - China's two biggest railway construction contractors have been forced to suspend some of their projects after the Ministry of Railways delayed payments to them, local media reported on Thursday.
Wang Mengshu, academician of the Chinese Academy of Engineering, was quoted by the Economic Information Daily as saying that the ministry is holding back 60 billion yuan ($9.38 billion) in payments to China Railway Group Ltd (CRGL) and China Railway Construction Corp Ltd (CRCCL).
The report is the latest sign that the ministry is under increasing financial pressure after a series of problems on China's high-speed rail system this year, including a major fatal collision in July, hit investor confidence and forced the nation to reconsider its high-speed rail investment.
"Building railways requires a lot of investment, but monetary policy is tight and local governments are reluctant to lend money," Wang was quoted as saying.
"The ministry's financial status will be hard to improve in the near future."
China Network Television has reported that the ministry was 1.98 trillion yuan in debt at the end of the first quarter, with an asset-liability ratio of 58.24 percent.
This year, the ministry has issued bonds and commercial paper several times to alleviate its debt burden.
The crash in July on a high-speed rail link killed 40 people and injured nearly 200, spurring rare expressions of public outrage and allegations that China was sacrificing safety in its rush to develop.
Analysts and economists have been watching for signs that the country's five-year railway investment plan of 2.8 trillion yuan might be scaled back, affecting confidence in the sector.
Zhang Hongbo, an analyst with Citic Securities Co Ltd, wrote in a research note that if construction of high-speed rail lines was halved in terms of length, as many have forecast, spending would be cut to less than 2 trillion yuan.
In August, fixed-asset investment in rail projects declined by more than half year-on-year to about 35 billion yuan, according to figures from the ministry.
A reduction in investment, analysts said, could jeopardize a trillion-yuan level industry that revolves around the high-speed railway project, including CRGL and CRCCL.
Since February, the shares of Hong Kong-listed CRGL have fallen by 70.2 percent, while those of CRCCL have declined 63.6 percent, against a 23 percent decline in the Hang Seng Index.
Li Hao, an analyst with Beijing-based consulting firm Anbound, said that companies whose main businesses are linked with high-speed railways will definitely be hit hard.
But he noted that high-speed lines only account for a small part of China's rail network and a slowdown won't hurt overall railway spending.
"Shares of some railway companies, including CRGL and CRCCL, are oversold. High-speed railways are only a part of their business," he said.
"Many railway companies and suppliers still have great potential even if construction of high-speed lines slows. China is set to build a lot of freight lines connecting the west and the east."
China Daily
(China Daily 09/30/2011 page14)
Today's Top News
Editor's picks
Most Viewed