The power of brand marketing
Updated: 2011-09-29 06:53
(China Daily)
| | | | | | | | | |
| --- | --- | --- | --- | --- | --- | --- | --- | --- |
|   | | Print | | Mail | | Large Medium  Small | 分享按钮 | 0 |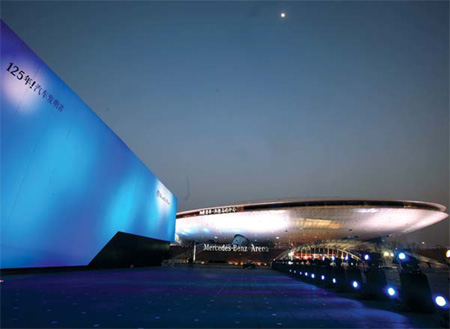 The Mercedes-Benz Arena is one of the new landmarks in Shanghai.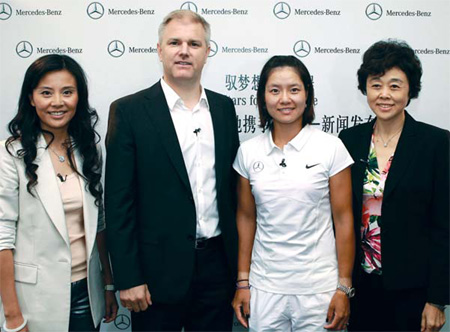 From left: Mao Jingbo, Vice-President, Head of Marketing for Mercedes-Benz (China) Ltd, Bjrn Hauber, Executive Vice-President, Sales & Marketing, for Mercedes-Benz (China) Ltd, Li Na, Grand Slam Winner and Sun Jinfang, Vice-President of the Chinese Tennis Association at the Partnership Launch Ceremony.
When the Mercedes-Benz Arena was revealed this year, an undeniable wave of awe rippled through the audience. Such a spectacular event could only happen in China and it reflects the dedication and confidence Mercedes-Benz has in the market.
Until 2007, the Mercedes-Benz image was predominantly shaped by the iconic S-Class, hence its 'Big Benz' nickname being deeply rooted in the minds of Chinese consumers.
The epitome of success, the S-Class represented the ultimate achievement for China's emerging elite. Today, however, the brand represents much more than being a mere 'must have' item.
Through the joint efforts of Daimler's business units, the Mercedes-Benz brand has undergone an amazing journey - by continuously enhancing its rich, diversified product offerings and allowing more people to appreciate its significance, Mercedes-Benz has become identifiable with true leadership.
'The best or nothing'
As a leader in brand image and spirit, Mercedes-Benz has a more intriguing story to tell than any other carmaker.
January saw the grand opening of the first Mercedes-Benz Arena outside Germany, following an historical 10-year agreement for the naming rights to this iconic Shanghai landmark - the first such partnership for an international brand here. The inauguration was the first of many ongoing global highlights to mark the 125th year of inventing the automobile.
"Acquiring these naming rights marked a milestone in Mercedes-Benz's commitment to, and support of, the arts, sports and entertainment in China," says Bjrn Hauber, executive vice-president of sales & marketing for Mercedes-Benz (China) Ltd (MBCL).
Through this gesture, Mercedes-Benz is sending out a clear message - it is not just about incorporating Chinese elements with token symbols, but deeply integrating the company's 125-year culture with China's 5,000-year culture. It is about living and breathing Chinese elements in everything Mercedes-Benz does, to resonate in the hearts of Chinese consumers.
According to Hauber, "Future competition depends on whether or not a brand can live and grow alongside Chinese culture."
The company is not new to China's arts and cultural scene, having been a strategic partner of the prestigious National Center for the Performing Arts for the past three years - the first brand to do so.
By partnering with the best, Mercedes-Benz stays true to its core brand value of the 'The best or nothing', with its 'Ambition to Lead'.
'The best or nothing' was officially adopted in June 2010, but has always been an integral part of the brand, being the principle that Mercedes-Benz's founding father, Carl Benz, the inventor of the automobile, lived by. This motto clearly demonstrates the commitment Mercedes-Benz has to its customers.
"We set 'The best or nothing' as the highest standard for ourselves," says Hauber. "For us, being the best is a constant, continual pursuit. Bearing this in mind, we believe we can keep achieving new heights through passion and innovation."
Creating dreams
"We don't just sell cars, we sell dreams," says Mao Jingbo, vice-president and head of marketing for MBCL.
Mercedes-Benz is no stranger to creating the ultimate dream. With a dazzling array of brand platforms, ambassadors, events and marketing initiatives, it reinforces itself as a credible partner among China's elite, as well as an object of desire and fascination for China's aspiring youth.
The company engages in a wide spectrum of brand partnerships, from golf to tennis and music to fashion.
With a long fashion association, this year the company became the first-ever title sponsor for what is now Mercedes-Benz China Fashion Week, after sponsoring over 30 fashion weeks worldwide.
Mercedes-Benz also initiated the International Music Festival and Art Beijing, reinforcing the brand's image as innovative, young and dynamic.
Talking of dynamic, nobody represents this better than Mercedes' 'people', an enviable line-up of ambassadors, consisting of international stars: 16-time Grand Slam Champion Roger Federer, NBA superstar and basketball icon Kobe Bryant, Formula 1 World Champion Mika Hakkinen and,the latest addition, George Clooney; as well as home-grown icons: French Open Winner Li Na, and well-known actors and actresses Fan Bingbing, Zhang Ziyi, Lin Chiling, Zhang Hanyu and Lu Yi.
But it's not just about fame - Federer and Li Na are also ambassadors for Mercedes-Benz's 'Swing for the Stars' Junior Tennis Development Program - a collaboration with the China Tennis Association since 2008 - demonstrating the company's dedication to developing grassroots tennis.
A loyal, ardent tennis supporter here for over 15 years, Mercedes-Benz has sponsored the ATP tour since 1996 and supports the 'Mercedes-Benz Cup' Tennis Grand Prix and China Open, being the official presenting sponsor for the fifth time.
Brand rejuvenation
The past four years have seen a series of successful campaigns by Mercedes-Benz in China, the focus being to rejuvenate its brand image and let young, ambitious customers experience its diversity.
With a "Think big!" principle - from title sponsorship of the Mercedes-Benz Arena to the bold, innovative choice of having Kobe Bryant fronting the smart "Big, in the city" campaign - Mercedes-Benz has created a young, dynamic image via emotional communication.
Fascination is something Mercedes-Benz strives to instill in consumers, by fully exploring existing platforms and exploiting exclusive, premium opportunities to create 'money-cannot-buy' experiences.
A series of successful marketing campaigns have helped rejuvenate the brand, fascinating and attracting an increasing number of customers who, in return, will help shape Mercedes-Benz's future brand image in China.
But Mercedes-Benz is far from satisfied.
Following the success of the first phase of brand rejuvenation, the company is now forging ahead with the second phase, to broaden the target audience and create a more emotional resonance with modern youth, by engaging with consumers and excelling in customer care.
The next frontier to overcome is to demonstrate and communicate Mercedes-Benz's brand values through dynamic elegance.
So what's next for Mercedes-Benz?
With its massive ambition "to become the most desired and fascinating brand in the premium car segment, and beyond" by 2015, the Mercedes-Benz brand will be a force to be reckoned with. It will be interesting to "watch this space" and relish how the 125-year-old brand fulfils its ambition, through innovative marketing.
(China Daily 09/29/2011 page20)