Novel way to root out online pirates
Updated: 2011-09-28 07:54
By Hao Nan (China Daily)
| | | | | | | | | |
| --- | --- | --- | --- | --- | --- | --- | --- | --- |
|   | | Print | | Mail | | Large Medium  Small | 分享按钮 | 0 |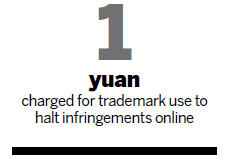 An online game company from Ningbo, Zhejiang province recently found a novel way to improve the intellectual property (IP) rights situation in the Internet business when it decided to let anyone use the trademark of its most popular game at an astonishingly low price - 1 yuan ($0.15).
Chinese analysts admitted that this was indeed a new approach.
The Ningbo-based Lian Lian Kan Network Tech Co owns the rights to a game of the same name, Lian Lian Kan, a very popular game with a large number of downloads.
More than 500 million Chinese have played it and some less honest people love it too. It is one of the most pirated brands.
"We got the trademark in 2006 but still some companies are using it without authorization," said Lu Ye, the company's CEO, at a press conference in Beijing on Sept 20.
The law-breakers include large portals, hundreds of game platforms, and professional download websites.
So, "To cut through the massive amount of infringement cases and come up with a winning strategy, we're gonna charge only 1 yuan for trademark use," Lu said.
"If they sign a contract with us within the set time, companies or individuals can use the trademark without any threat."
The grace period lasts for three months, from Sept 21 to Dec 21.
After that time, the company will not hesitate to deal with the pirates through any legal means available.
"The online gaming industry is full of chaos, and infringement is commonplace and many cases remain unsettled even after several court hearings and the parties involved can both suffer a lot from wasted time, money and energy," Lu noted.
"The 1-yuan deal is a new way to solve the immense infringement problem," he continued.
"We're looking at these violators with an open mind, as partners so to speak, and bringing them in to jointly develop this online game to make it better and more competitive."
Lu also explained that the action comes in response to the State Council's call for greater IP protection.
Zhu Xuezhong, a member of the China Intellectual Property Society, said that poor IP rights protection has really hindered the development of China's online gaming industry.
Many companies have even stopped spending money on new game development because the piracy allows people to gain the greatest profit in a shortest amount of time with the smallest investment.
"The Ningbo company's decision is an inspiration as well as a new mode of online IP protection," Zhu concluded.
China Daily
(China Daily 09/28/2011 page17)